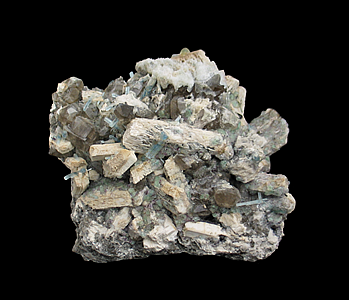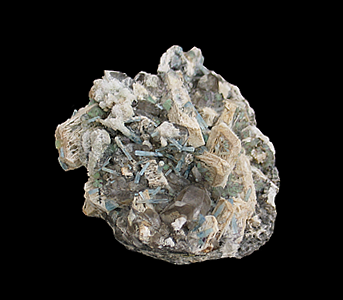 click on image for larger view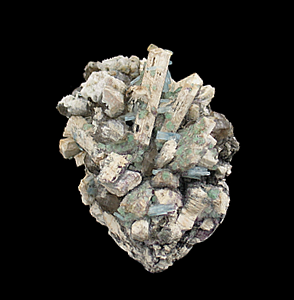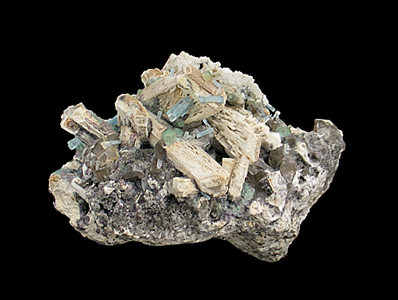 click on image for larger view
B-256 Aquamarine, Microcline, Smoky Quartz, Fluorite & Opal-AN (Hyalite) $850
Ex. Russ Rizzo Collection
Erongo Mountains, Karibib Constituency, Erongo Region, Namibia
15.6 x 13.4 x 9.4 cm
This large specimen consists of many twinned Microcline crystals measuring to 7 cm that serve as a host for numerous crystals of Aquamarine and Fluorite. The Aquamarine crystals range in color from sky blue to a light, inky-blue hue. The Fluorite crystals that seem to be everywhere on this specimen are found as cubes, some of which are modified on their edges and range in color from mint to medium green. There is one yellowish Fluorite crystal on this specimen that was suggested to me as possibly being Yttrofluorite but I have not had it tested. Also present on this specimen are partially clear crystals of Smoky Quartz measuring up to 3cm. The white mineral on the top portion of this specimen is Opal-AN, also called Hyalite and is fluorescent. All of crystals on this specimen are complete and undamaged. An aesthetic and very 3-dimensional specimen that can be displayed with several different orientations and always look good.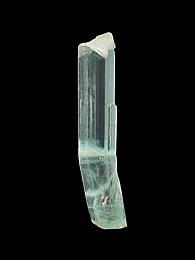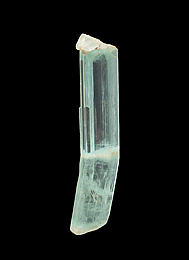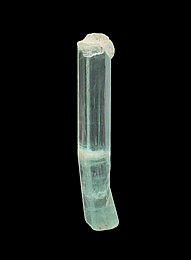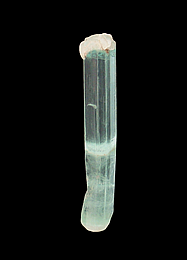 click on image for larger view
B-245 Aquamarine $225
Shengus, Haramosh Mountains, Skardu District, Gilgit-Baltistan, Pakistan
7.3 x 1.7 x 1.3 cm
A slightly bent (due to tectonic forces) and double terminated crystal of Aquamarine. This specimen has great color. The upper portion of this crystal is gemmy and has a glass-like lustre. The lower portion below the bend has veil-like inclusions but is still pretty clear. The top of this crystal is crowned with several oddly-formed crystals of colorless Beryl.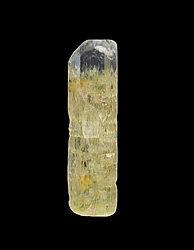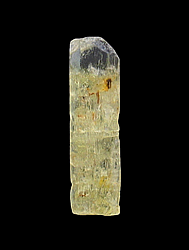 click on image for larger view
B-200 Heliodor $100
Padre Paraíso, Minas Gerais, Brazil
5.3 x 1.5 x 1.2 cm
A bicolored beryl crystal from Brazil. This crystal has a medium yellow color and an Aquamarine-colored, modified termination. This crystal shows unusual etching patterns around its surface which makes for a texture that feels just a little bit rough to the touch, although it certainly appears smoother from a distance. The visual effect is to make the surface more sparkly from the extra minute reflection points. Classic Brazilian Beryl from a modern-day classic location.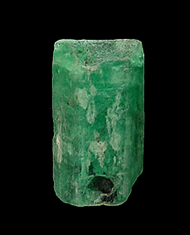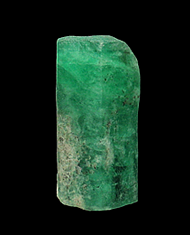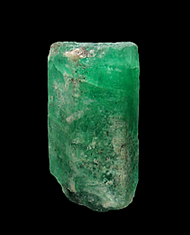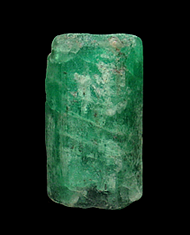 click on image for larger view
B-247 Emerald (double terminated) $650
Ex R. Rizzo Collection
Krupskoye Deposit, Izumrudnye Kopi Area, Malyshevo, Sverdlovsk Oblast, Russia
4.2 x 2.3 x 1.9 cm
A double terminated and richly colored Emerald Specimen from near Malyshevo, Russia. This specimen was mostly covered Biotite when I acquired it and after being prepared it was revealed that it possessed a good translucency and a pleasing inner glow with out being backlit. The upper termination of this Emerald dimpled on one edge. There is no damage to this specimen. The gem deposits in the Malyshevo area were first discovered in the 1830's. Since then the locality has provided superb crystals and gem cutting material of emerald and phenakite.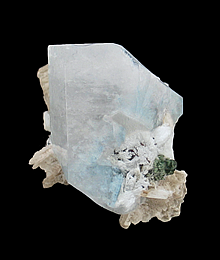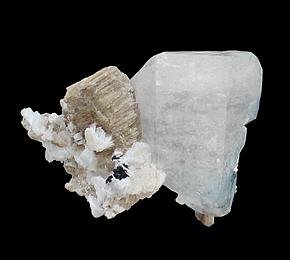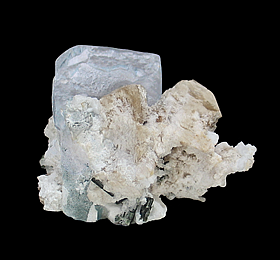 click on image for larger view
B-244 Beryl with Albite & Muscovite $120
Baha, Braldu Valley, Skardu District, Gilgit-Baltistan, Pakistan
7.5 x 6.5 x 5 cm
Here we have a combo specimen of bi-colored Beryl, bronze\brass-colored Muscovite and massive, white Albite. The Beryl crystal is double-terminated and has a glassy lustre. An interesting specimen from one of Pakistan's lesser know pegmatite localities.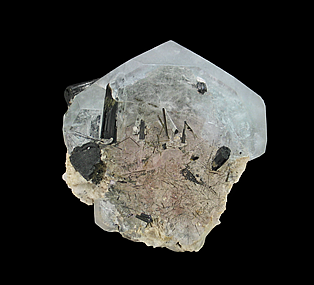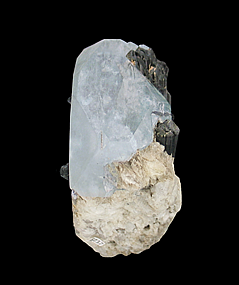 click on image for larger view
Morganite-Aquamarine combination crystals are pretty rare and when you can find them they are almost always Morganite with an Aquamarine center or one side is pink and the other is blue. You almost never see a bi-colored tabular Beryl with a Morganite core and the outer part of the crystal being Aquamarine. The combination of the pink and blue of the Beryl crystal along with the dark-green\black Tourmaline crystals (some of which penetrate the Beryl crystal with several of them being olive-green in color) and a whitish jacket of Albite make for a good contrast of colors. This specimen has no damage and is a complete crystal. The largest of the Tourmaline crystals shows signs of having broken while in situ, but has been re-healed, as is indicated by the growth hillocks that are visible on the end of the crystal. This aesthetic specimen was often used in my competitive exhibits and has been part of numerous 1st place displays.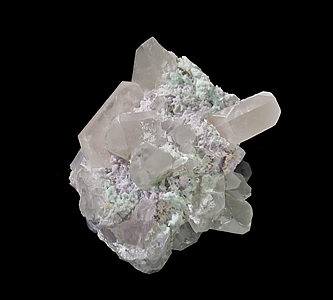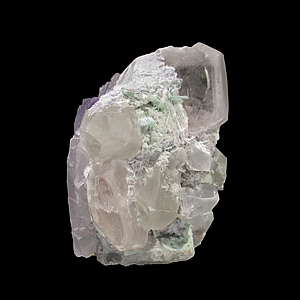 click on image for larger view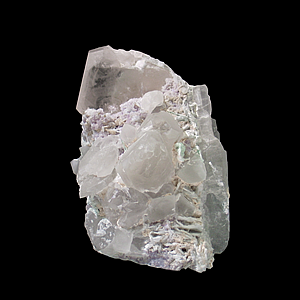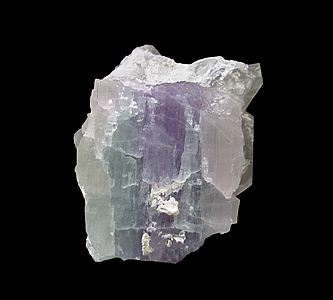 click on image for larger view
B-255 Morganite & Kunzite with Quartz (fluorescent) $350
Mawi Pegmatite, Nilaw-Kolum Pegmatite Field, Nuristan, Afghanistan
12.4 x 11.3 x 9.3 cm
A pair of faintly-colored Morganite crystals on a matrix of Cleavelandite with several Quartz crystals and a large, fragmented crystal of Kunzite. The Morganite crystals are complete, with one of them having an incipient fracture perpendicular to the c-axis. One of the Quartz crystals has an incomplete termination. It was only recently that I discovered that all of the Morganite specimens from this lot were fluorescent. Fluorescent beryl is very rare. The Morganites on this specimen fluoresce a very good blue-white hue under SWUV illumination. The Kunzite has average magenta colored fluorescence under both LW & SWUV illumination.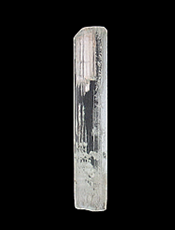 click on image for larger view
B-241 Aquamarine $40
Padre Paraíso, Minas Gerais, Brazil
5.1 x .9 x .6 cm
A very clear Aquamarine with a light blue color and a hollow center that has been filled with pocket clay. This crystal is much clearer the the photos convey. Oddly, unlike almost all of the beryl found at this location, this crystal is not etched at all.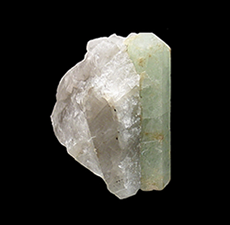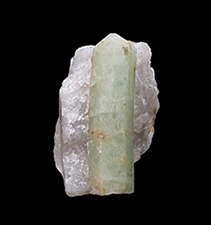 click on image for larger view
B-205 Aquamarine on Quartz $250
Tirschenreuth, Oberpfalzer Wald, Upper Palatinate, Bavaria, Germany
4.8 x 3.4 x 4.6 cm.
An exceptionally nice (especially for Germany) translucent, pale green-blue aquamarine crystal, perched on a matrix of Quartz. Beryl specimens from Germany are few and far between and are usually not terminated. When they are it is usually a flat termination that is often crude. Not only is this Aquamarine terminated, the termination is a Pyramidal one. This is most likely an older German specimen from the 1800's.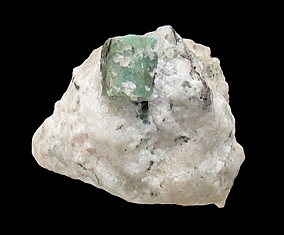 click on image for larger view
B-211 Emerald $50
Ex Brian Kosnar Collection
Pizzo Marcio North Dike, Pizzo Marcio, Trontano, Ossola Valley, Piedmont, Italy
5 x 4 x 3.5 cm
This piece is a classic Val Vigezzo Emerald featuring a prismatic, light green, hexagonal crystal measuring 1.5 cm on matrix. The locality of Pizzo Marcio in Italy is one of the more unique localities in the European Alps. It's a pegmatite locality that is most well known for its Emerald specimens, but it also produces zeolites, metallic oxides and even rare-earth species.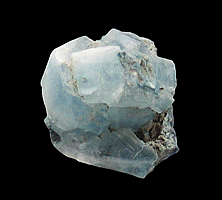 click on image for larger view
B-222 Aquamarine $30
Deo Darrah, Khash & Kuran Wa Munjan Districts, Badakhshan, Afghanistan
2.7 x 2.5 x 1.6 cm
An example of alkali-rich Aquamarine from a region in Afghanistan that is better known for its endless Lapis deposits and fine-quality Hackmanite specimens. This specimen features 4 translucent, color-zoned, tabular Aquamarine crystals. Blue Beryl crystals from this locality were originally described as Vorobyevite, however analysis has shown no noticeable cesium level (but with higher levels of sodium and calcium) so it is essentially an alkali-rich beryl.