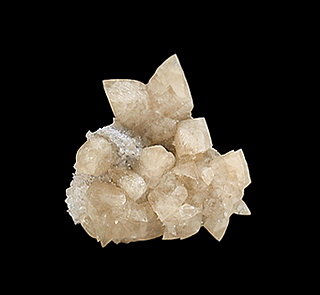 click on image for larger view
C-227 Calcite on Celestite $45
Stoneco White Rock Quarry, Clay Center, Ottawa County, OH
6.5 x 6.3 x 3.9 cm.
A cluster of lustrous, light-yellow, scalenohedral Calcite crystals, some of which are double-terminated on a matrix that is sprinkled with many millimeter-sized crystals of Celestite. The Calcites are translucent and all are undamaged. Uncommon material from a mine that is better known for its Fluorite And Celestite specimens.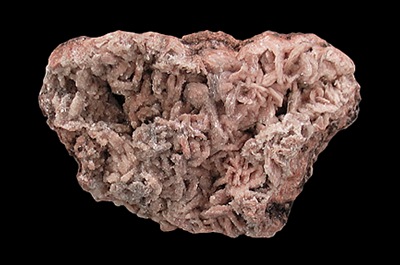 click on image for larger view
C-262 Calcite SOLD
Charcas, Municipio de Charcas, San Luis Potosí, Mexico
9.1 x 5.7 x 2.3 cm
This matrix specimen is covered on the with opaque, pink Calcite crystals. The Calcites are coated with a second generation of tiny, colorless Calcite crystals, lending a bit of sparkle to the specimen. This specimen exhibits a creamy-white fluorescence under LWUV. These pink Calcite specimens are hard to come by these days.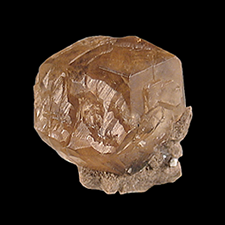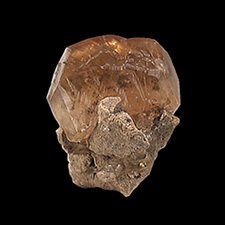 click on image for larger view
C-249 Calcite $45
Berry Materials Corp. Quarry, North Vernon, Jennings County, IN
3 x 2.8 x 2.9 cm.
The Berry Materials Corp. Quarry has a reputation for producing outstanding Calcite crystals. This translucent and lustrous Calcite crystal sits on a matrix of Limestone. The Calcite has the color a good Calvados or Armagnac. Calcites from this location are eagerly sought after by collectors which is no surprise since the Calcite crystals from this Quarry are considered to be some of the best that America has to offer.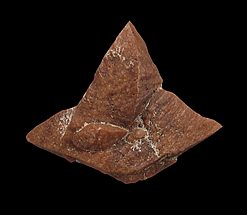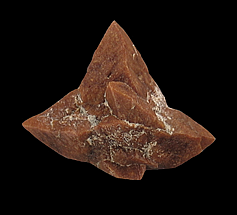 click on image for larger view
C-267 Glendonite (Calcite pseudomorph after Ikaite) $30
Olenitsa River, White Sea Coast, Murmansk Oblast, Russia
4 x 3.3 x 2.1 cm
A very interesting pseudomorph of Calcite replacing a group of crystals of the rare the Calcium Carbonate mineral Ikaite. Ikaite dehydrates to Calcite above 8°C. The resulting pseudomorph of Calcite after Ikaite is known as "Glendonite."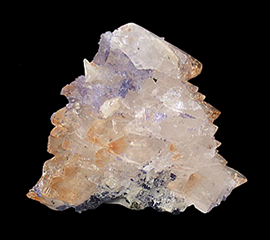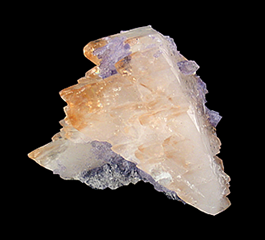 click on image for larger view
C-229 Calcite with Fluorite $40
Elmwood Mine, Carthage, Central Tennessee Ba-F-Pb-Zn District, Smith County, TN
6.4 x 5.4 x 2.9 cm.
Good Elmwood Mine specimens are getting kind of hard to come by. This Specimen features a lustrous Calcite on which are perched many small, purple-hued Fluorite crystals. This is one nice specimen and is damage free unlike a lot of the leftovers from Elmwood that are in circulation out there these days.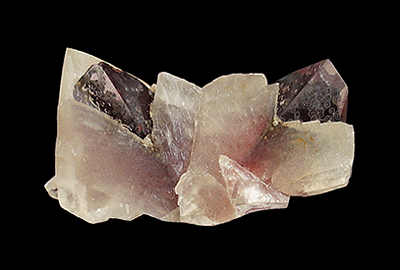 click on image for larger view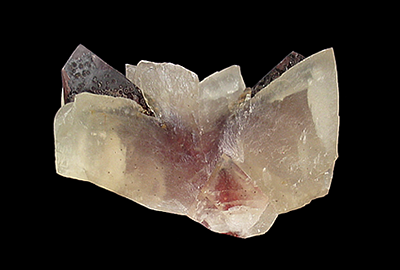 click on image for larger view
C-244 Calcite with Hematite $120
Ex. A. Rosenzweig collection
Santa Eulalia District, Municipio de Aquiles Serdán, Chihuahua, Mexico
7.5 x 4.6 x 4.7 cm.
This is a type of Calcite that came out a long, long time ago from Santa Eulalia and has been unavailable - until a recent find in 2007. These Calcites are instantly recognizable by their strange form: an earlier generation of dark, opaque, hematite-included scalenohedral crystals seeming to emerge from within a later generation of translucent crystals of a lighter color. This specimen is from the original find.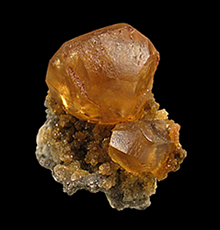 click on image for larger view
C-234 Calcite $50
Gralex Quarry, Mont-sur-Marchienne, Hainaut, Belgium
3.5 x 3.2 x 2.5 cm.
This lustrous, translucent, well-formed crystal has very rich golden-amber color that glows when backlit and is perched on a sliver of matrix that is dusted with much smaller, gemmy, Calcites of a slightly lighter hue. The Gralex Quarry is considered to be a world-class locality for the specimens of Calcite that have been found there. This well-known locale has been inactive since 1998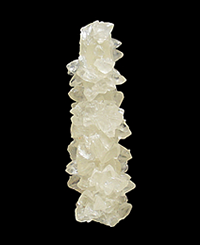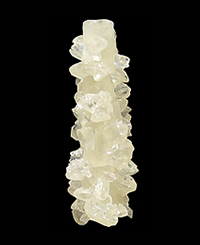 click on image for larger view
C-235 Calcite $50
Crystal Springs No. 2 Quarry, Lecanto, Citrus County, FL
7 x 2.5 x 2.2 cm.
Here we present a southern United States classic. Florida produces attractive Calcites every now and then. This specimen appears to be a stalactite with an overgrowth of scalenohedral Calcite crystals. A not to often seen example of Calcite from a state that isn't exactly well-known for its mineral specimens.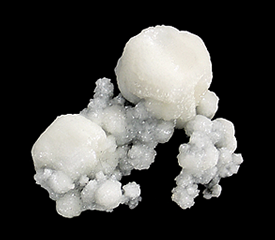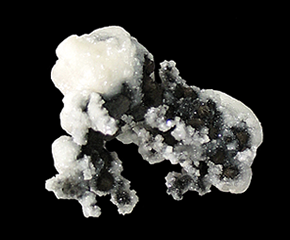 click on image for larger view
C-236 Calcite on Boulangerite $50
Herja Mine, Chiuzbaia, Baia Mare, Maramures County, Romania
5 x 4 x 2.3 cm.
Here is a neat specimen from the famous Herja Mine. This specimen features several generations of lustrous Calcite on a matrix of ball-like bundles of Boulangerite. The Herja Mine has been producing some of the world's finest well-crystallized specimens for over a century. I think that this specimen is a good example of why this location has such a reputation.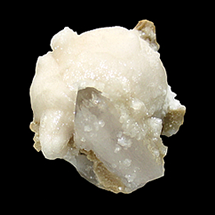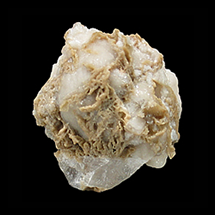 click on image for larger view
C-232 Calcite & Quartz $50
Freiberg District, Erzgebirge, Saxony, Germany
4.4 x 4 x 3.4 cm.
A very lustrous ball of Calcite which is partially encapsulating a 3 centimeter Quartz crystal. Dating back to the 12th century, Freiberg has been mined for its many treasures. The last mine closed in 1969.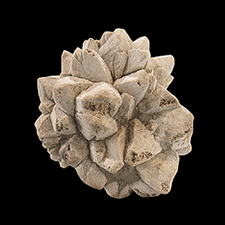 click on image for larger view
C-219 Calcite pseudomorph after Ikaite (Glendonite) $50
Bol'shaya Balakhnya River, Taimyr Peninsula, Eastern-Siberian Region, Russia
3.8 x 4 x 3.1 cm.
An interesting pseudomorph of a star burst-like cluster of the rare mineral Ikaite having been replaced by Calcite. This very well formed pseudomorph is better than most of the of these specimens that I've encountered in the past few years.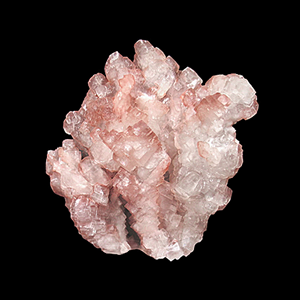 click on image for larger view
C-183 Calcite with Hematite $60
Tsumeb Mine, Tsumeb, Oshikoto Region, Namibia
9.1 x 8.8 x 4.2 cm.
Here we have a cluster of Calcite crystals that have been included with microscopic crystals of Hematite. These inclusions of Hematite, along with its lustre, give this specimen a good contrast of colors. The backside of this specimen is completely infused with brick-red Hematite. Tsumeb Calcites come in a wide range of habits and colors, making them one of the most diverse species from this historic and prolific locality.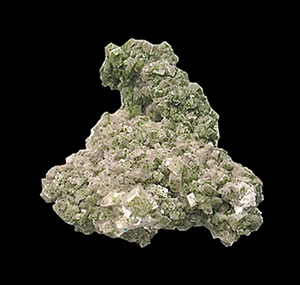 click on image for larger view
C-161 Calcite with Duftite $50
Tsumeb Mine, Tsumeb, Oshikoto Region, Namibia
7 x 7 x 2.8 cm.
A Tsumeb classic, this plate of well-formed Calcite crystals is sprinkled with the Lead and Copper arsenate mineral Duftite. This specimen is a classic Tsumeb mineral association.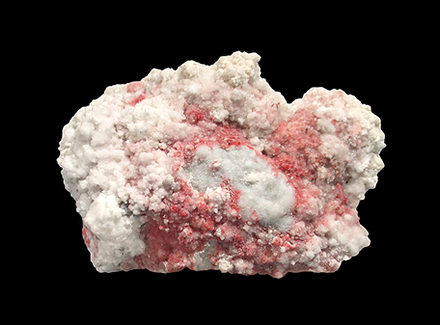 click on image for larger view
C-158 Calcite with Realgar inclusions $75
Getchell Mine, Adam Peak, Potosi District, Humboldt County, Nevada
14 x 10 x 4.8 cm.
Here we present a specimen from a location that is world famous for the realgar specimens that it has produced. This mound of Calcite crystals are included by a myriad of almost microscopic sized crystals of the mineral Realgar. An eye-pleasing specimen from a famous Nevada location.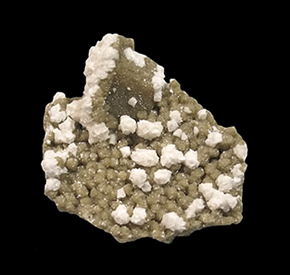 click on image for larger view
C-123 Calcite on Siderite $60
Turt Mine, Satu Mare, Maramures, Romania
7 x 6.5 x 3 cm.
A very interesting specimen from a well-known Romanian mineral location. This specimen features a 2 x 2 cm. crystal of Siderite that has replaced the mineral Calcite, with many smaller sphere-shaped stacks of Siderite, upon which sit numerous clusters of Calcite exhibiting the same peculiar habit.