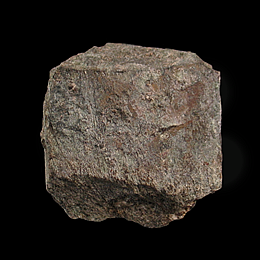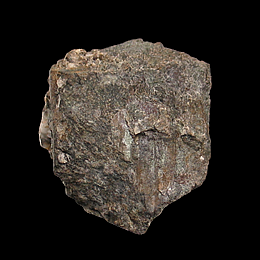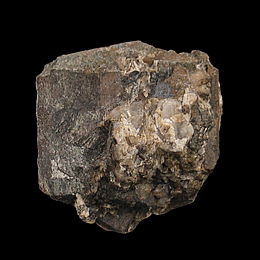 click on image for larger view
M-076 Muscovite var. Sericite pseudomorph after Tourmaline $300
Ex. R. Whitmore Collection, Ex. R. Rizzo Collection
Noyes Mountain Quarry, Greenwood, Oxford County, ME
7 x 6.8 x 6.2 cm
A good-sized Tourmaline crystal that has been partially replaced by silvery-green crystals of Sericite (a variety of Muscovite). This specimen has a shallow termination on the upper portion with a more crudely-formed termination on its bottom. The composition of the Tourmaline from this location is an intermediate between Schorl and Dravite. These specimens were collected in the early 1980's and are highly prized by collectors. This quarry was worked briefly by Loren Merrill and Arthur Valley in 1921-1922 for the benefit of Kenneth K. Landes, then a Harvard University student. Landes' dissertation, Paragenesis of the Granitic Pegmatites of Central Maine (American Mineralogist, 1925, v. 10, p. 355-411) was based on this quarry and the Bennett Quarry in Buckfield and his thesis revolutionized ideas about how pegmatites crystallize.
Q-552 Quartz pseudomorph after Gypsum (fluorescent) $50
Crawford Dam, Crawford, Dawes County, NE
9.5 x 8.7 x 7 cm
Nebraska is not necessarily the first state that one thinks of when it comes to mineral specimens, but these pseudomorphs from Crawford are some of the more noteworthy specimens from anywhere in the Cornhusker State. This piece is a group of what were originally Gypsum blades that were completely replaced by Quartz. Areas of the interior portion of this specimen exhibit yellowish fluorescence under LWUV light and other areas have bright green fluorescence under SWUV illumination which suggests that specimen is made up of both Chalcedony and Quartz. Fluorescence in Quartz is rarely observed.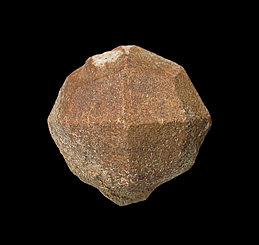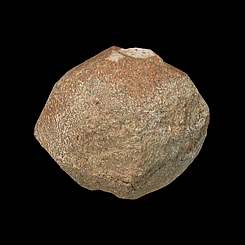 click on image for larger view
F-287 Orthoclase pseudomorph after Leucite (Pseudoleucite) $35
Loucná, Ostrov, Karlovy Vary District, Karlovy Vary Region, Czech Republic
4.3 x 4.2 x 3.9 cm
A pseudomorph of Orthoclase after Leucite with a tetragonal trisoctahedron form.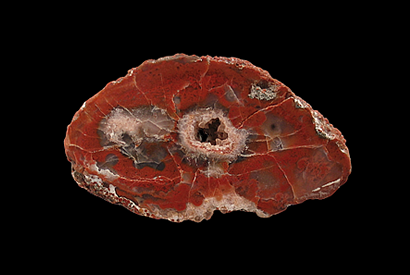 click on image for larger view
AD-193 Agate & Quartz pseudomorph after Horn Coral $35
Red Horn Coral Occurrence, Rileys Canyon, Woodland, Summit County, UT
8.7 x 5.2 x 2.3 cm
Here we have an Agatized red horn coral, Caninia contorta, from east of Salt Lake City, Utah. The coral is close to 350 million years old and was once buried under a layer of volcanic ash that provided the silica for the Agates that fill in the coral skeleton. Meanwhile the central part of the former calcareous skeleton has been entirely replaced by Quartz.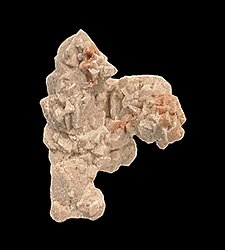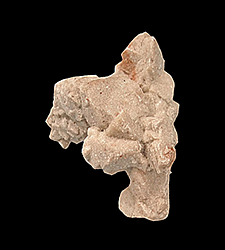 click on image for larger view
C-135 Calcite peudomorph after Barite $35
Taouz, Er Rachidia Province, Meknès-Tafilalet Region, Morocco
5.6 x 3.1 x 3.5 cm.
Here we are offering a really neat specimen; a stalactite-like stack of interpenetrating crystals of Calcite as large as 2.2 cm. that have replaced the mineral Barite. The contrast between the sand color and the orange-red portions of this mineral specimen make for interesting specimen.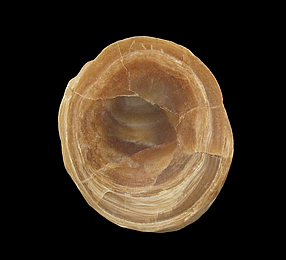 click on image for larger view
A-119 Aragonite stalactite section $30
Wheeler Peak, White Pine County, NV
7 x 5.8 x 5.5 cm
Here we have a polished section of an Aragonite stalactite from a remote location from the easternmost part of central Nevada.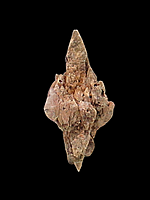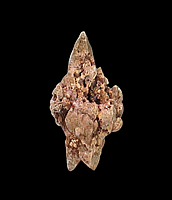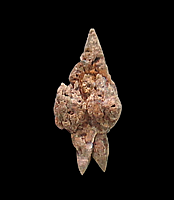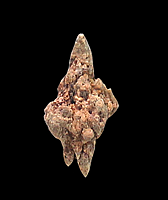 click on image for larger view
R-045 Rutile pseudomorph after Anatase SOLD
Cuiabá, Gouveia, Minas Gerais, Brazil
2.5 x 1.3 x 1.1 cm
A very colorful pseudomorph. This specimen features 2 different Titanium Oxides. The specimen consists of a group of silvery-tan colored, prismatic Anatase crystals. They are accented by small metallic golden-red colored Rutile crystals towards the center of the specimen which have partially replaced the Anatase. A very colorful pseudomorph.