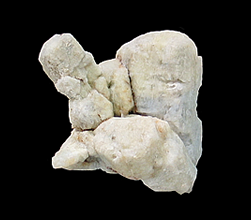 click on image for larger view
F-295 Orthoclase replacing Marialite $50 $25
Pitwak Mine, Ladjuar Medam, Sar-e Sang, Koksha Valley, Badakhshan, Afghanistan
4 x 4 x 3 cm
A group of Marialite crystals from small finds made 7-8 years ago. The Marialite crystals are pseudomorphing to Orthoclase. This specimen seems to have almost completely altered to Orthoclase as very little fluorescence is observed. The blue color of these specimens is thought to be most likely due to minute Fe impurities that transition between Fe+2 and Fe+3.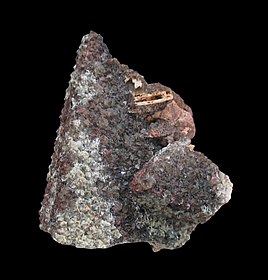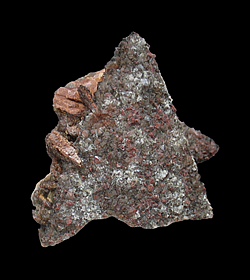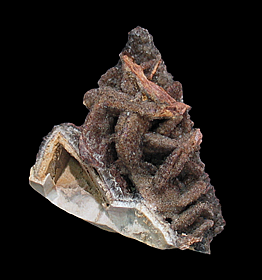 click on image for larger view
Q-485 Quartz & Hematite cast after Calcite & Barite SOLD
Wölsendorf Fluorite Mining District, Upper Palatinate, Bavaria, Germany
9.3 x 7.7 x 7.2 cm
This specimen shows the scalenohedral form of the Calcite crystal that it has replaced as well as the form of the blade-like Barite crystals. The Quartz crystals on this specimen are included by Hematite which makes for a nice contrast of colors. These specimens are ucommon, rarely do you see one of these Quartz after Calcite casts from Wölsendorf offered for sale.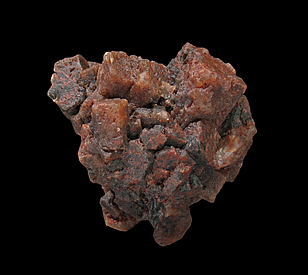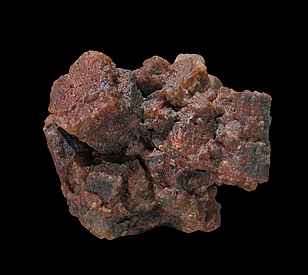 click on image for larger view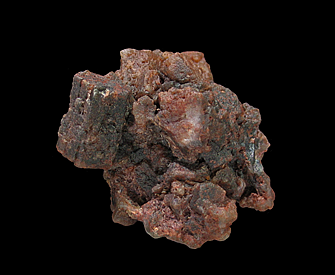 click on image for larger view
Q-549 Chalcedony pseudomorph after Aragonite $65 $32.50
Valle de las Plumas, Paso de Indios Department, Chubut Province, Argentina
9 x 7.6 x 7 cm
This group of Aragonite crystals have been pseudomorphed by Quartz, included by Hematite which gives it its reddish tone. So what you have is Quartz in the exact form of the prior Aragonite crystals, having preserved their form perfectly. There is some translucence at the terminations of the crystals. Once abundant, I don't see these for sale too often these days.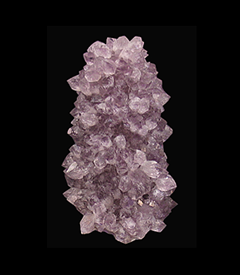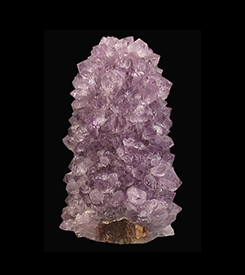 click on image for larger view
Q-443 Amethyst cast after Calcite $95 $55
Artigas, Artigas Department, Uruguay
7.5 x 4.1 x 3.5 cm.
Here we have a complete all-around Amethyst cast after Calcite. This specimen consists of a tower of numerous medium-purple Amethyst crystals. If you look up the bottom of the specimen you will see the sharp, pseudohexagonal form of the dissolved Calcite crystal. The Calcite was completely etched away by corrosive solutions in the pocket, leaving the Amethyst. These specimens are one of nature's better looking mineral oddities.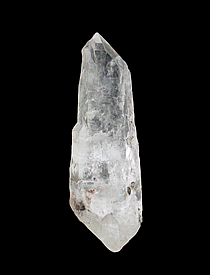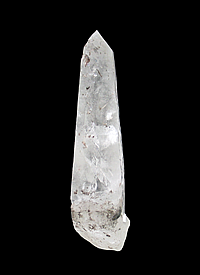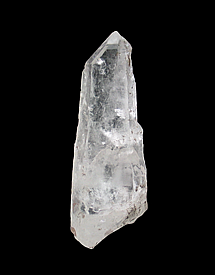 click on image for larger view
Q-558 Quartz (modified by lightning) SOLD
Serra de Espinhaco Mountains, Diamantina, Minas Gerais, Brazil
12 x 4 x 3.1 cm
An example of Quartz that, inside the rock where it was formed, was submitted to a high electrical voltage created by lightning hitting the rock (not the Quartz crystal). Due to its piezoelectrical properties, the Quartz crystal submitted to this high voltage will expand or contract (depending on the signal of the electrical field, positive or negative). The result is a weird crack pattern that develops on the crystals faces of the Quartz. For many years, crystal miners in the Serra de Espinhaco Mountains of Brazil, where there are frequent thunderstorms, have reported finding these oddities. But only in the last 8-10 years have any, in limited quantities been available to collectors.
The Espinhaco Mountains are constantly affected by orographic thunderstorms, which generate a high number of lightning bolts. These orographic flashes have some special properties: they reach speeds of up to 160,000 m\s and thereby generate plasma temperatures of 30,000 ° C in nanoseconds. There is a paper about these type of crystals that was published by Prof. Joachim Karfunkel et. al., from University of Minas Gerais, who found the explanation for these weird crack patterns. You can read about it (in German) here: Link to article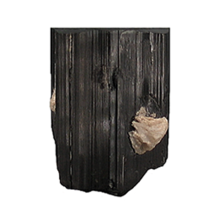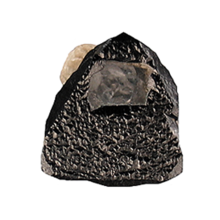 click on image for larger view
T-308 Schorl with Beryl inclusion $60 $40
Dara-i-Pech Pegmatite Field, Chapa Dara District, Konar Province, Afghanistan
2.8 x 2.4 x 2.5 cm.
Just when you think that you've seen it all from Afghanistan, there's this specimen A lustrous crystal of Schorl that is include by a clear, colorless Beryl crystal. The Beryl continues down the length of the specimen with a small portion protruding from the Schorl's bottom. Another neat feature of this specimen are the pronounced and well-formed growth hillocks on its beveled termination. I have sold a good amount of material from Afghanistan over the last 27 years and I have only seen one other specimen like this.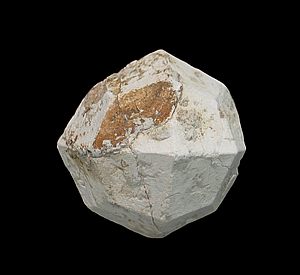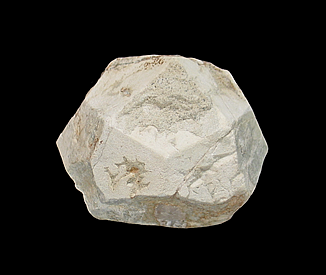 click on image for larger view
F-286 Orthoclase pseudomorph after Leucite (Pseudoleucite) $65 $45
Kalehöyük, Kaman District, Kirsehir Province, Turkey
6.2 x 6.1 x 5.5 cm
A single equant crystal of Leucite that has been replaced by chalky white Orthoclase. A very rare and fine pseudomorph from an obscure locale.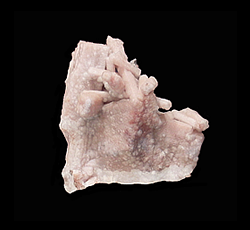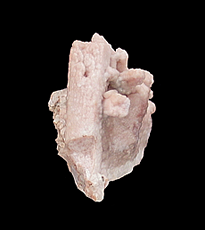 click on image for larger view
Q-451 Chalcedony pseudomorph after Anhydrite $120 $75
Agua Fria River, New River Station Area, Yavapai County, AZ
4.5 x 4.3 x 2.6 cm
These dramatic Chalcedony pseudomorphs after Anhydrite were collected over a period of 10 years by my friend, Al Rose. This material has the distinction of being mentioned not once but twice in The Mineralogical Record's what's new in minerals. Not many of these were found and are much sought after by collectors of Arizona minerals as well as by pseudomorph collectors.