Q-544 Blue Lace Agate with Chalcedony pseudomorphs after Calcite RESERVED
Ysterputz Mine, Ysterputs Farm 254, Karasburg West, Karas Region, Namibia
13.3 x 9.2 x 3.7 cm
A large specimen of Blue Lace Agate in layers below Chalcedony that has replaced Calcite. The Agate provided the silica for replacement of the Calcite crystals that were originally inside a vug. In other words, this piece preserves the full geological context of the pocket, with crystals in a vug in the ground, changing over time to another mineral due to alterations in the chemistry and environment. Many people label these specimens as being Chalcedony pseudomorphs after Fluorite. To me, the shape of the replaced crystals appear to be rhombs which rules out fluorite.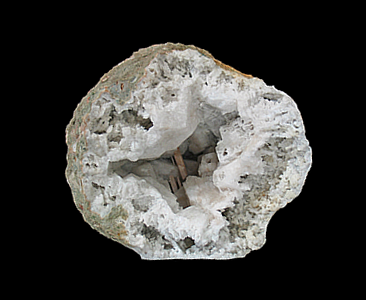 click on image for larger view
AD-226 Quartz pseudomorph after Apophyllite $135
Summer Storm Claim, Challis, Bay Horse Mining District, Custer County, ID
12.8 x 13.7 x 9 cm
A large and fully intact vug of Apophyllite crystals that have been completely replaced by Quartz. Also present in this specimen are several flattened Calcite crystals set deep inside the vug. These pseudomorphs were a limited find made by John Cornish (Rat's Nest Claim Heulandite) in the early 2000's. This was, according to the miner, the only intact vug recovered from this find.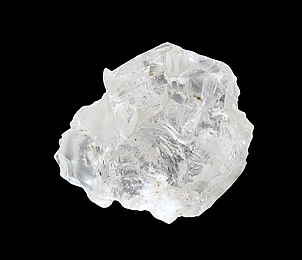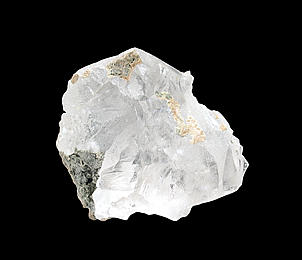 click on image for larger view
Q-534 etched Quartz $50
Hachupa, Shigar District, Gilgit-Baltistan, Pakistan
6.2 x 5.7 x 4 cm
An extremely gemmy & transparent etched Quartz crystal. An interesting feature of this specimen is that some faces of the crystal are slightly frosted and some are water-clear. These Quartz crystals are a result of dissolution effects in a pocket, where an already formed crystal was later exposed to new hot fluids that removed molecules from the Quartz bit by bit, to create these surface effects. Resulting in these beautiful crystals with fascinating patterns.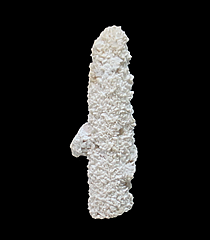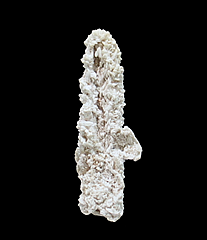 click on image for larger view
F-288 Orthoclase pseudomorph after Eosphorite $50
Linópolis, Divino das Laranjeiras, Minas Gerais, Brazil
4.6 x 1.7 x .7 cm
A brilliant-white-colored example of Orthoclase that has replaced the phosphate mineral, Eosphorite. these specimens are very uncommon and are rarely offered for sale.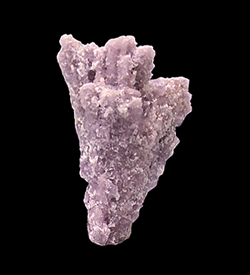 click on image for larger view
F-237 Fluorite & Barite pseudomorph after Anhydrite $180
Moffat Tunnel, Cripple Creek District, Teller County, Colorado
6.6 x 4.5 x 2.3 cm.
This specimen is from a small find made a few years back. This specimen consists of lustrous, lilac-purple Fluorite cubes covering intersecting sprays of flattened, elongated, white Barite. The Barite is thought to be epimorphs after Laumontite. The contrasting colors make for a very aesthetic specimen. The perceived color of these Fluorites varies depending on the color temperature of the lighting that it is viewed under. This find was documented on Season 4, Episode 4 of the television show, Prospectors.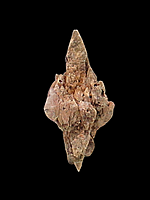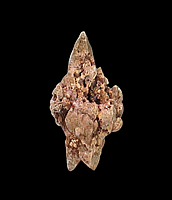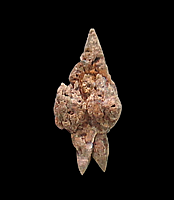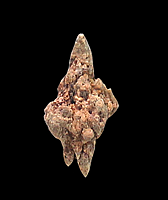 click on image for larger view
R-045 Rutile pseudomorph after Anatase $50
Cuiabá, Gouveia, Minas Gerais, Brazil
2.5 x 1.3 x 1.1 cm
A very colorful pseudomorph. This specimen features 2 different Titanium Oxides. The specimen consists of a group of silvery-tan colored, prismatic Anatase crystals. They are accented by small metallic golden-red colored Rutile crystals towards the center of the specimen which have partially replaced the Anatase. A very colorful pseudomorph.