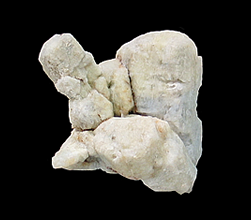 click on image for larger view
F-295 Orthoclase replacing Marialite $50 $25
Pitwak Mine, Ladjuar Medam, Sar-e Sang, Koksha Valley, Badakhshan, Afghanistan
4 x 4 x 3 cm
A group of Marialite crystals from small finds made 7-8 years ago. The Marialite crystals are pseudomorphing to Orthoclase. This specimen seems to have almost completely altered to Orthoclase as very little fluorescence is observed. The blue color of these specimens is thought to be most likely due to minute Fe impurities that transition between Fe+2 and Fe+3.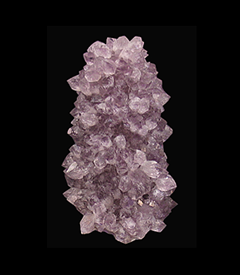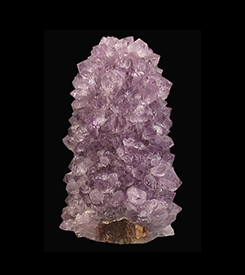 click on image for larger view
Q-443 Amethyst cast after Calcite SOLD
Artigas, Artigas Department, Uruguay
7.5 x 4.1 x 3.5 cm.
Here we have a complete all-around Amethyst cast after Calcite. This specimen consists of a tower of numerous medium-purple Amethyst crystals. If you look up the bottom of the specimen you will see the sharp, pseudohexagonal form of the dissolved Calcite crystal. The Calcite was completely etched away by corrosive solutions in the pocket, leaving the Amethyst. These specimens are one of nature's better looking mineral oddities.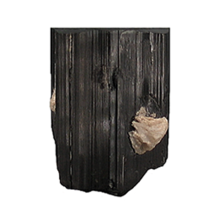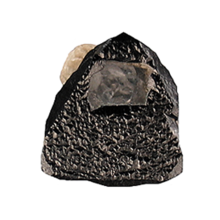 click on image for larger view
T-308 Schorl with Beryl inclusion $60 $40
Dara-i-Pech Pegmatite Field, Chapa Dara District, Konar Province, Afghanistan
2.8 x 2.4 x 2.5 cm.
Just when you think that you've seen it all from Afghanistan, there's this specimen A lustrous crystal of Schorl that is include by a clear, colorless Beryl crystal. The Beryl continues down the length of the specimen with a small portion protruding from the Schorl's bottom. Another neat feature of this specimen are the pronounced and well-formed growth hillocks on its beveled termination. I have sold a good amount of material from Afghanistan over the last 27 years and I have only seen one other specimen like this.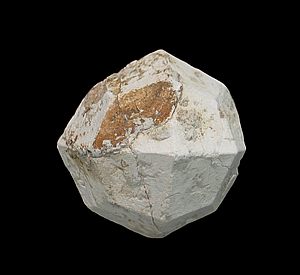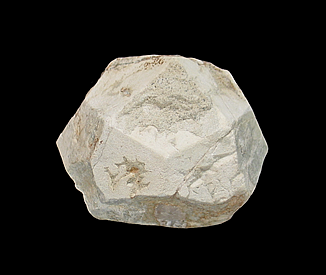 click on image for larger view
F-286 Orthoclase pseudomorph after Leucite (Pseudoleucite) SOLD
Kalehöyük, Kaman District, Kirsehir Province, Turkey
6.2 x 6.1 x 5.5 cm
A single equant crystal of Leucite that has been replaced by chalky white Orthoclase. A very rare and fine pseudomorph from an obscure locale.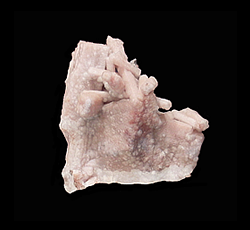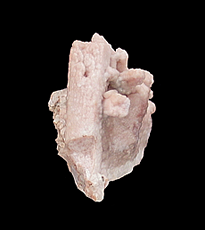 click on image for larger view
Q-451 Chalcedony pseudomorph after Anhydrite $120 $80
Agua Fria River, New River Station Area, Yavapai County, AZ
4.5 x 4.3 x 2.6 cm
These dramatic Chalcedony pseudomorphs after Anhydrite were collected over a period of 10 years by my friend, Al Rose. This material has the distinction of being mentioned not once but twice in The Mineralogical Record's what's new in minerals. Not many of these were found and are much sought after by collectors of Arizona minerals as well as by pseudomorph collectors.