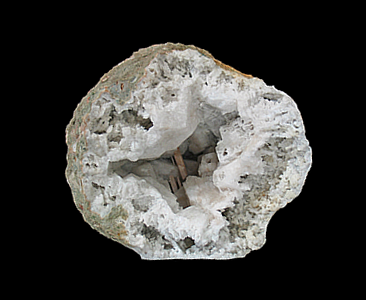 click on image for larger view
AD-226 Quartz pseudomorph after Apophyllite $135
Summer Storm Claim, Challis, Bay Horse Mining District, Custer County, ID
12.8 x 13.7 x 9 cm
A large and fully intact vug of Apophyllite crystals that have been completely replaced by Quartz. Also present in this specimen are several flattened Calcite crystals set deep inside the vug. These pseudomorphs were a limited find made by John Cornish (Rat's Nest Claim Heulandite) in the early 2000's. This was, according to the miner, the only intact vug recovered from this find.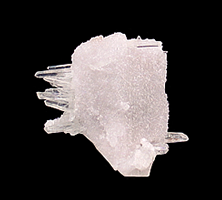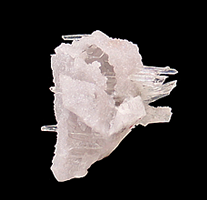 click on image for larger view
T-342 Topaz pseudomorph after Augelite with Quartz $50
Mundo Nuevo Mine, Mundo Nuevo, Huamachuco, Sanchez Carrion Province, La Libertad, Peru
3.1 x 2.7 x 2 cm
A highly unusual cast pseudomorph from a small pocket found around 2012. This is a cast of sparkly transparent Topaz crystals that formed over a large Augelite. This specimen is complete except for one quartz crystal whose termination is absent. It amazes me that such fragile hollow casts can survive the mining after having been in the earth for millions of years.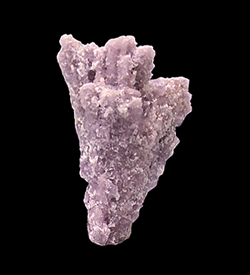 click on image for larger view
F-237 Fluorite & Barite pseudomorph after Anhydrite $180
Moffat Tunnel, Cripple Creek District, Teller County, Colorado
6.6 x 4.5 x 2.3 cm.
This specimen is from a small find made a few years back. This specimen consists of lustrous, lilac-purple Fluorite cubes covering intersecting sprays of flattened, elongated, white Barite. The Barite is thought to be epimorphs after Laumontite. The contrasting colors make for a very aesthetic specimen. The perceived color of these Fluorites varies depending on the color temperature of the lighting that it is viewed under. This find was documented on Season 4, Episode 4 of the television show, Prospectors.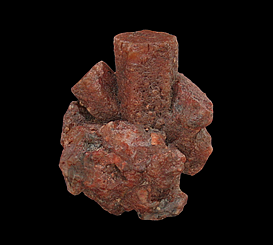 click on image for larger view
Q-530 Chalcedony pseudomorph after Aragonite SOLD
Valle de las Plumas, Paso de Indios Department, Chubut Province, Argentina
6.8 x 5.6 x 4.5 cm
A cluster of Aragonite crystals have been pseudomorphed by Quartz, included by Hematite which gives it its reddish tone. So what you have is Quartz in the exact form of the prior Aragonite crystals, having preserved their form perfectly. There is some translucence at the terminations of the crystals. This specimen is complete with no damage. Once abundant, I don't see these for sale too often these days.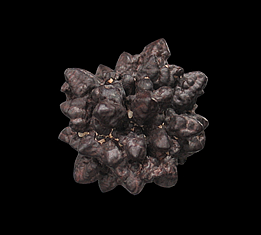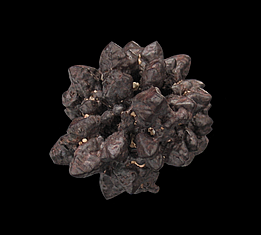 click on image for larger view
H-096 Hematite pseudomorph after Marcasite $50
White Desert, Farafra Oasis, New Valley Governorate, Egypt
4 x 3.8 x 3.8 cm
These dramatic pseudomorphs were originally formed as Marcasite crystals on the ocean bottom. These unusual specimens were later pseudomorphed to Hematite making for a very three-dimensional and attractive mineral specimen. These radial bursts of crystals were found in the remote west central desert of Egypt and dug up by French dealer Alain Carion. This find was made a number of years ago and I have not heard of any new material being found.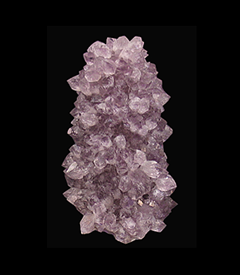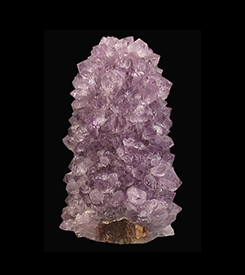 click on image for larger view
Q-443 Amethyst cast after Calcite $95
Artigas, Artigas Department, Uruguay
7.5 x 4.1 x 3.5 cm.
Here we have a complete all-around Amethyst cast after Calcite. This specimen consists of a tower of numerous medium-purple Amethyst crystals. If you look up the bottom of the specimen you will see the sharp, pseudohexagonal form of the dissolved Calcite crystal. The Calcite was completely etched away by corrosive solutions in the pocket, leaving the Amethyst. These specimens are one of nature's better looking mineral oddities.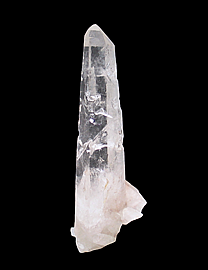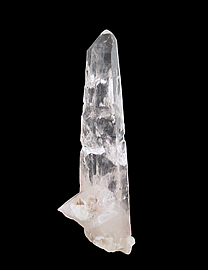 click on image for larger view
Q-520 Quartz (modified by lightning) RESERVED
Diamantina, Minas Gerais, Brazil
10.9 x 3.5 x 2.6 cm
A very gemmy Quartz crystal that, inside the rock where it was formed, was submitted to a high electrical voltage created by lightning hitting the rock (not the Quartz crystal). Due to its piezoelectrical properties, the Quartz crystal submitted to this high voltage will expand or contract (depending on the signal of the electrical field, positive or negative). The result is a weird crack pattern that develops on the crystals faces of the Quartz. For many years, crystal miners in the Serra de Espinhaco Mountains of Brazil, where there are frequent thunderstorms, have reported finding these oddities. But only in the last 8-10 years have any, in limited quantities been available to collectors.
The Espinhaco Mountains are constantly affected by orographic thunderstorms, which generate a high number of lightning bolts. These orographic flashes have some special properties: they reach speeds of up to 160,000 m / s and thereby generate plasma temperatures of 30,000 ° C in nanoseconds. There is a paper about these type of crystals that was published by Prof. Joachim Karfunkel et. al., from University of Minas Gerais, who found the explanation for these weird crack patterns. You can read about it (in German) here: Link to article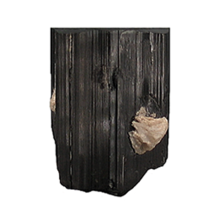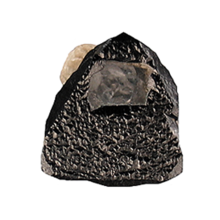 click on image for larger view
T-308 Schorl with Beryl inclusion $60
Dara-i-Pech Pegmatite Field, Chapa Dara District, Konar Province, Afghanistan
2.8 x 2.4 x 2.5 cm.
Just when you think that you've seen it all from Afghanistan, there's this specimen A lustrous crystal of Schorl that is include by a clear, colorless Beryl crystal. The Beryl continues down the length of the specimen with a small portion protruding from the Schorl's bottom. Another neat feature of this specimen are the pronounced and well-formed growth hillocks on its beveled termination. I have sold a good amount of material from Afghanistan over the last 27 years and I have only seen one other specimen like this.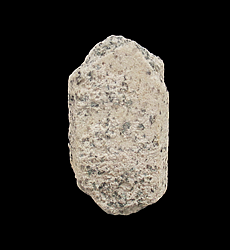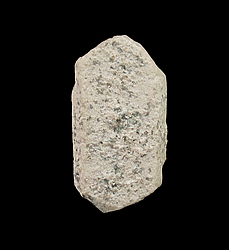 click on image for larger view
K-007 Cassiterite in Kaolinite pseudomorph after Orthoclase $50
Ex R. Rizzo Collection
St Austell Mining District, Cornwall, England, UK
6.4 x 3.4 x 1.4 cm
An excellent double-terminated & tabular, Carlsbad-twinned Orthoclase crystal that has been pseudomorphed by Kaolinite. Embedded in this specimen numerous crystals of the tin oxide mineral, Cassiterite. Kaolinite pseudomorphs after Orthoclase from Cornwall are not particularly rare but those that are included by Cassiterite are few and far between and are highly prized.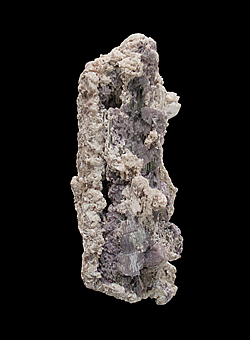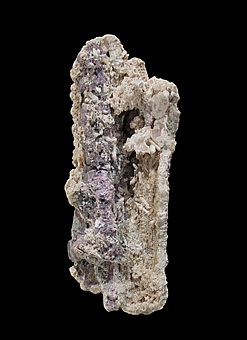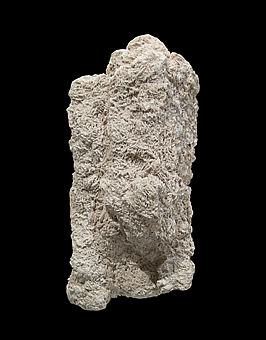 click on image for larger view
L-038 Lepidolite, Quartz & Cookeite pseudomorph after Elbaite Tourmaline $120
Coronel Murta, Minas Gerais, Brazil
14.2 x 6.1 x 4.6 cm
A magnificent example of the replacement of one mineral species by another. This specimen features an Elbaite Tourmaline that has mostly been replaced by Lepidolite with just a few small areas of green where the Tourmaline was not replaced set in a vug of cookeite that encased the original Tourmaline. Also present in the cookeite "shell" are well-formed crystals of Quartz.


click on image for larger view
AD-206 Quartz geode with Quartz pseudomorph after Anhydrite $65
Juan Aldama, Municipio Aldama, Chihuahua, Mexico
8.7 x 8.1 x 2.9 cm
This is one of the more striking lithophysae (thunderegg) nodules that I have seen from Mexico. The cavity of this specimen is lined with a druse of shimmering Quartz crystals. The feature that really makes this specimen stand out is the Anhydrite crystals that have been fully replaced by Quartz. as a rule, Mexican thundereggs aren't exactly known to be the sexiest specimens around but this one is an exception to that rule.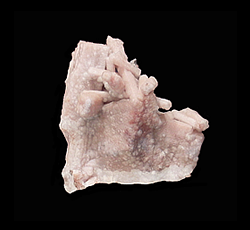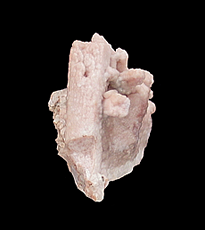 click on image for larger view
Q-451 Chalcedony pseudomorph after Anhydrite $100
Agua Fria River, New River Station Area, Yavapai County, AZ
4.5 x 4.3 x 2.6 cm
These dramatic Chalcedony pseudomorphs after Anhydrite were collected over a period of 10 years by my friend, Al Rose. This material has the distinction of being mentioned not once but twice in The Mineralogical Record's what's new in minerals. Not many of these were found and are much sought after by collectors of Arizona minerals as well as by pseudomorph collectors.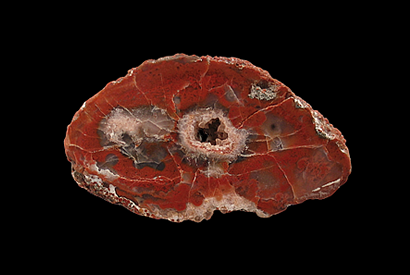 click on image for larger view
AD-193 Agate & Quartz pseudomorph after Horn Coral $35
Red Horn Coral Occurrence, Rileys Canyon, Woodland, Summit County, UT
8.7 x 5.2 x 2.3 cm
Here we have an Agatized red horn coral, Caninia contorta, from east of Salt Lake City, Utah. The coral is close to 350 million years old and was once buried under a layer of volcanic ash that provided the silica for the Agates that fill in the coral skeleton. Meanwhile the central part of the former calcareous skeleton has been entirely replaced by Quartz.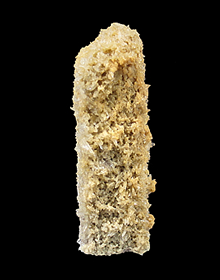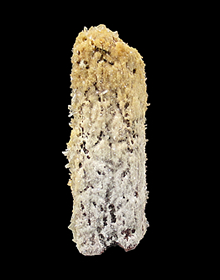 click on image for larger view
Q-439 Quartz on Hematite pseudomorph after Epidote SOLD
Bessemer Ridge, Green Mountain, King County, WA
6.6 x 2 x 1.7 cm.
The pseudomorph specimens from this location have always been one of my favorites. They consist of an Epidote crystal that has been entirely replaced with Hematite faithfully retaining its original form. A later generation of Quartz crystals then grew on the faces of the pseudomorph. You almost never see these Quartz covered pseudomorphs offered for sale anymore.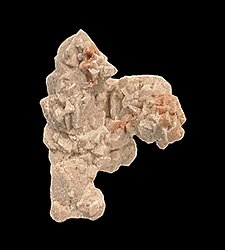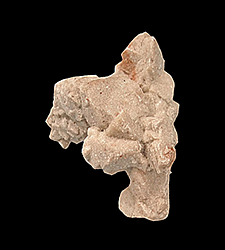 click on image for larger view
C-135 Calcite peudomorph after Barite $35
Taouz, Er Rachidia Province, Meknès-Tafilalet Region, Morocco
5.6 x 3.1 x 3.5 cm.
Here we are offering a really neat specimen; a stalactite-like stack of interpenetrating crystals of Calcite as large as 2.2 cm. that have replaced the mineral Barite. The contrast between the sand color and the orange-red portions of this mineral specimen make for interesting specimen.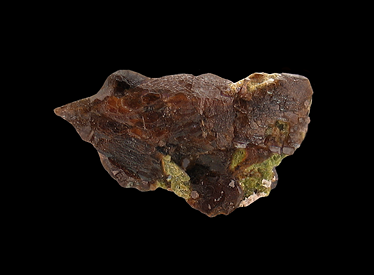 click on image for larger view
G-125 Andradite Garnet with Epidote $50
Marki Khel, Spin Ghar Range, Khogyani District, Nangarhar Province, Afghanistan
5.7 x 3.5 x 1 cm.
This is one of the more weirdly-formed Garnets crystals that I have come across. This specimen consists of a cinnamon-brown Andradite that looks as if it has been squeezed while it was forming and is accented by several small areas of pistachio-green Epidote. This uncommonly-shaped Garnet is 100% complete all-around, has no damage with a great lustre as well as some areas where it is transparent. Quite different from your usual Marki Khel Garnet specimen.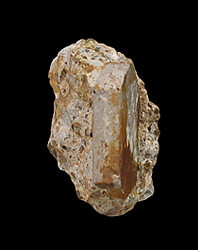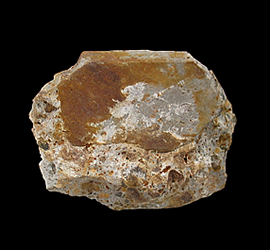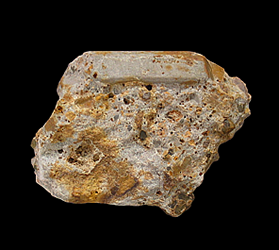 click on image for larger view
T-326 Topaz pseudomorph after Orthoclase $95
Saubachriss, Muldenberg, Klingenthal, Vogtland, Saxony, Germany
6 x 4.8 x 3.9 cm
Here we have an example of one of the more elusive pseudomorphs from Europe. A twinned Orthoclase crystal measuring 4.8 centimeters in length, that has been completely replaced by Topaz. While is a small imperfection on one corner, this specimen is still considered an really good example of this material. Examples of this material are getting quite difficult to find these days.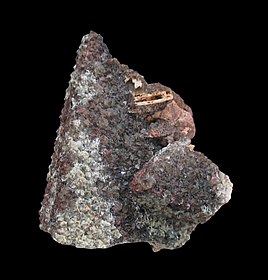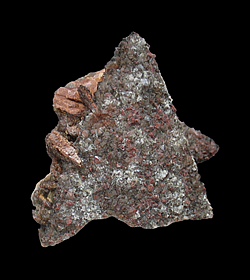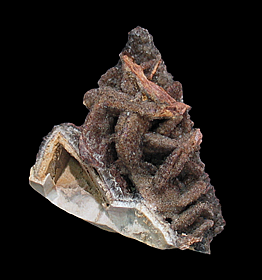 click on image for larger view
Q-485 Quartz & Hematite cast after Calcite & Barite $95
Wölsendorf Fluorite Mining District, Upper Palatinate, Bavaria, Germany
9.3 x 7.7 x 7.2 cm
This specimen shows the scalenohedral form of the Calcite crystal that it has replaced as well as the form of the blade-like Barite crystals. The Quartz crystals on this specimen are included by Hematite which makes for a nice contrast of colors. These specimens are ucommon, rarely do you see one of these Quartz after Calcite casts offered for sale.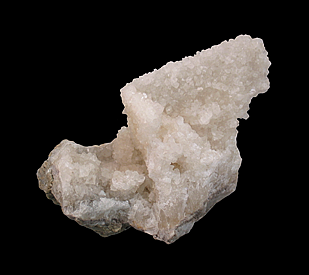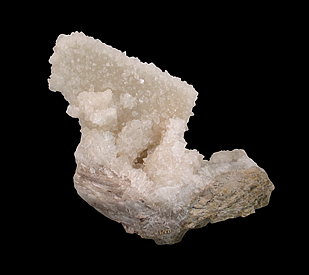 click on image for larger view
C-278 Colemanite pseudomorph after Inyoite $75
Boron, Kramer District, Kern County, CA
12.8 x 9.4 x 6.8 cm
A dramatically formed pseudomorph of Colemanite after a very large Inyoite crystal from Boron, California. This pseudomorph is shaped like a big, 3-dimensional "checkmark", when viewed at the proper angle and proudly rests on a clayey matrix. The pseudomorph and matrix surface are uniformly covered with lustrous, white, 3-4 mm, colemanite crystals. Although contacted in several areas, this is an important example of this material. This is rare material. I have only seen perhaps 5-6 examples of these pseudomorphs in over 30 years of collecting.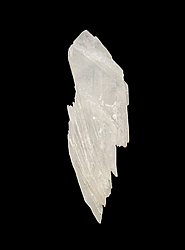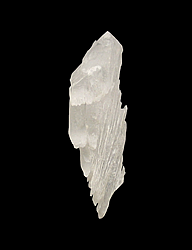 click on image for larger view
Q-477 interference Quartz $45
Bor Pit, Dal'negorsk B Deposit, Dalnegorsk, Primorsky Krai, Russia
7.6 x 2.4 x 2 cm
An unusually-shaped, translucent, colorless Quartz crystal known as "interference"Quartz from the famous Bor Pit at Dalnegorsk, Russia. These crystals are unique to the Bor Quarry. The Quartz crystal growth was interrupted by Calcite, as evidenced by stacked, poker chip-looking section in the middle of the crystal. This unique piece is complete all-around, with only slight contacting on the bottom termination.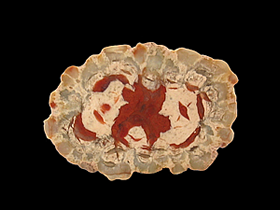 click on image for larger view
AD-180 Chalcedony pseudomorph after Barite $40
The Poison Strip, Thompsons District, Grand County, UT
4.8 x 3.4 x 3.6 cm
A striking nodule of yellow & red Chalcedony that has replaced the mineral, Barite. Specimens from this location are usually not as well-formed as the one before you. Hard to come by material.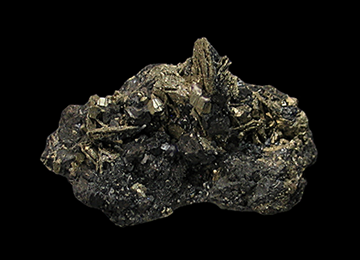 click on image for larger view
P-080 Pyrite pseudomorph after Pyrrhotite with Boulangerite $45
Noche Buena Mine, Municipio de Mazapil, Zacatecas, Mexico
7 x 5 x 3.1 cm.
These specimens are striking in person, and this piece is no exception. This specimen features foliated, semi-"rose"-esque Pyrrhotites that have been replaced by shimmering metallic golden-colored Pyrite. Topping things off is a layer of fibrous Boulangerite crystals.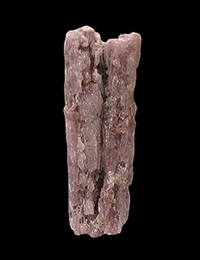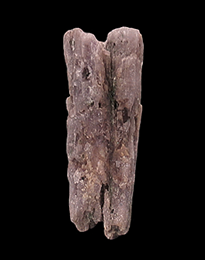 click on image for larger view
L-035 Lepidolite pseudomorph after Tourmaline $50
Itinga, Minas Gerais, Brazil
6 x 2.2 x 1.5 cm.
A very lustrous specimen of Lepidolite replacing Tourmaline. Traces of green-colored Tourmaline can be seen on closer examination. This specimens is an "old timer" that was found in the 1970's.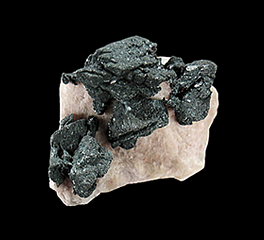 click on image for larger view
H-073 Hematite pseudomorph after Siderite on Microcline $50
Lake George, Park County, CO
4 x 3.9 x 2.6 cm.
This magnificent, as far as pseudomorphs are concerned, mineral specimen was found around 15 years ago by friends of mine from southern California while on vacation in Colorado. Being a collector of pseudomorphs myself, I am greatly impressed by the faithful replacement of the Siderite by the Hematite. Most pseudomorphs do not retain such an exact form of the mineral species that they have replaced. The Hematite pseudomorphs are perched on a crystal of Microcline making for a nice contrast of colors.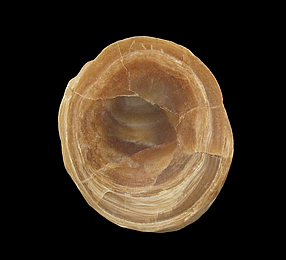 click on image for larger view
A-119 Aragonite stalactite section $30
Wheeler Peak, White Pine County, NV
7 x 5.8 x 5.5 cm
Here we have a polished section of an Aragonite stalactite from a remote location from the easternmost part of central Nevada.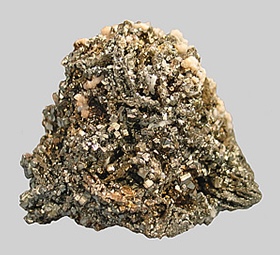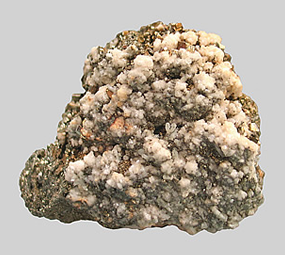 click on image for larger view
P-029 Pyrite pseudomorph after Pyrrhotite with Calcite $40
Noche Buena Mine, Zacatecas, Mexico
7 x 5.5 x 6 cm.
Here we have a classic mineral specimen from a long defunct location. This mound of Pyrrhotite crystals has been replaced by Pyrite, after which a second generation of cubic Pyrite and Calcite crystals formed on top of that. Specimens from this location are not often seen these days.