C-273 Calcite with sand inclusions $60 $40
Rattlesnake Butte, Jackson County, SD
6.2 x 5.5 x 2.7 cm
A sculptural pair of interconnected, scalenohedral Calcite crystals. The Calcite grew in a sand matrix, capturing the sand as it formed making for an unusual specimen. Sand Calcites are poikiloblastic Calcite crystals included by a large amount of Quartz sand, sometimes exceeding 50%. These specimens were collected heavily in the 1960s-1970s but are seldom seen these days as much of this area is within an Indian reservation and collecting is prohibited.
Q-552 Quartz pseudomorph after Gypsum (fluorescent) $50 $25
Crawford Dam, Crawford, Dawes County, NE
9.5 x 8.7 x 7 cm
Nebraska is not necessarily the first state that one thinks of when it comes to mineral specimens, but these pseudomorphs from Crawford are some of the more noteworthy specimens from anywhere in the Cornhusker State. This piece is a group of what were originally Gypsum blades that were completely replaced by Quartz. Areas of the interior portion of this specimen exhibit yellowish fluorescence under LWUV light and other areas have bright green fluorescence under SWUV illumination which suggests that specimen is made up of both Chalcedony and Quartz. Fluorescence in Quartz is rarely observed.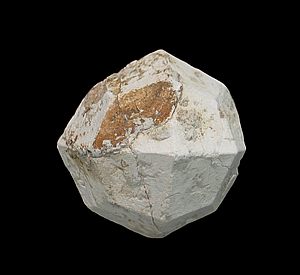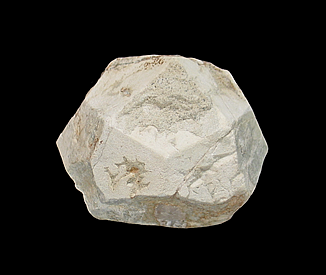 click on image for larger view
F-286 Orthoclase pseudomorph after Leucite (Pseudoleucite) SOLD
Kalehöyük, Kaman District, Kirsehir Province, Turkey
6.2 x 6.1 x 5.5 cm
A single equant crystal of Leucite that has been replaced by chalky white Orthoclase. A very rare and fine pseudomorph from an obscure locale.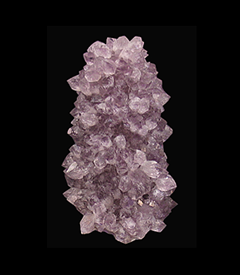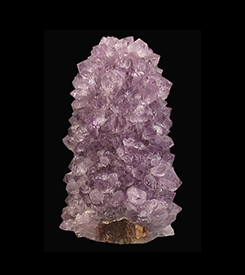 click on image for larger view
Q-443 Amethyst cast after Calcite SOLD
Artigas, Artigas Department, Uruguay
7.5 x 4.1 x 3.5 cm.
Here we have a complete all-around Amethyst cast after Calcite. This specimen consists of a tower of numerous medium-purple Amethyst crystals. If you look up the bottom of the specimen you will see the sharp, pseudohexagonal form of the dissolved Calcite crystal. The Calcite was completely etched away by corrosive solutions in the pocket, leaving the Amethyst. These specimens are one of nature's better looking mineral oddities.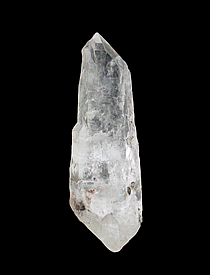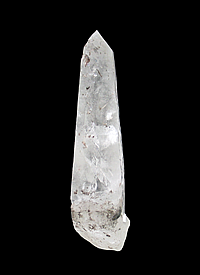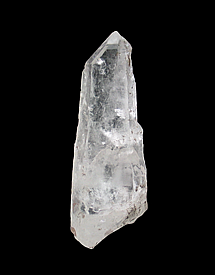 click on image for larger view
Q-558 Quartz (modified by lightning) SOLD
Serra de Espinhaco Mountains, Diamantina, Minas Gerais, Brazil
12 x 4 x 3.1 cm
An example of Quartz that, inside the rock where it was formed, was submitted to a high electrical voltage created by lightning hitting the rock (not the Quartz crystal). Due to its piezoelectrical properties, the Quartz crystal submitted to this high voltage will expand or contract (depending on the signal of the electrical field, positive or negative). The result is a weird crack pattern that develops on the crystals faces of the Quartz. For many years, crystal miners in the Serra de Espinhaco Mountains of Brazil, where there are frequent thunderstorms, have reported finding these oddities. But only in the last 8-10 years have any, in limited quantities been available to collectors.
The Espinhaco Mountains are constantly affected by orographic thunderstorms, which generate a high number of lightning bolts. These orographic flashes have some special properties: they reach speeds of up to 160,000 m\s and thereby generate plasma temperatures of 30,000 ° C in nanoseconds. There is a paper about these type of crystals that was published by Prof. Joachim Karfunkel et. al., from University of Minas Gerais, who found the explanation for these weird crack patterns. You can read about it (in German) here: Link to article