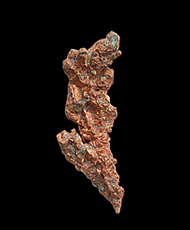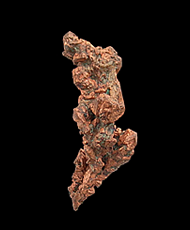 click on image for larger view
C-319 Copper $80 $50
Belt Mine, Mass City, Ontonagon County, MI
4.2 x 1.7 x 1.1 cm
A curved and of elongated specimen of crystallized Copper. This specimen hails from a locality that is seldom represented in collections. The mine organized in 1848. Work continued into 1853, when the mine was sold to the Bohemian Mining Co. Operations were sporadic until 1882, when the Bohemian and Great Western Mining Co's. were merged, then bought by the Belt Mining Co. Around 1890, mining operations ceased. In 1900, the property was bought by the Arctic Copper Mining Co. and in 1905 resold to the Lake Copper Co., which changed the name of the mine to Lake. The Belt Mine produced approx. 666,000 lbs. of refined Copper.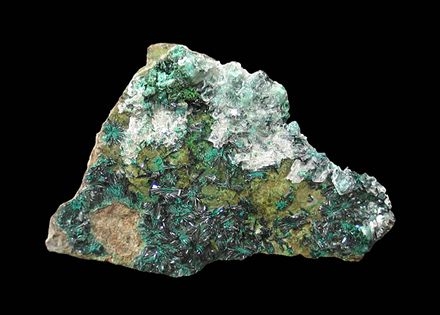 click on image for larger view
A-070 Atacamite with Pseudomalachite & Gypsum $100 $60
La Farola Mine, Cerro Pintado, Copiapó Province, Atacama Region, Chile
11 x 8.5 x 3 cm.
This attractive matrix specimen features numerous, lustrous sprays of the copper mineral Atacamite accented by minute mounds and balls of the copper mineral Pseudomalachite. Resembling a snow-capped mountain, the top portion of this specimen is a blanketed with Gypsum.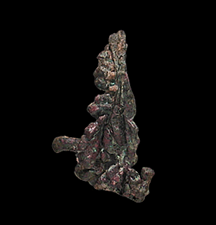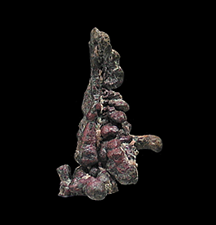 click on image for larger view
C-323 Copper $85 $60
#3 Shaft, Northwestern Mine, Central, Keweenaw County, MI
3.7 x 2.1 x 1.1 cm
A spinel-twinned example of Copper with an elongate form from one of Michigan's oldest Copper mines. This specimen has a rich, mahogany-colored patina. The Northwestern Mine operated from 1845-1865. 313,000 lbs. of refined Copper was recovered from the mine during it's short life span.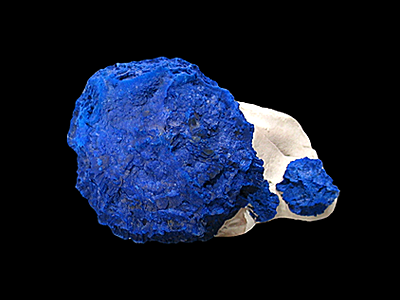 click on image for larger view
A-113 Azurite $475 $300
Malbunka Copper Mine, Areyonga, Gardiner Range
MacDonnell Region, Northern Territory, Australia
9.4 x 7 x 4.4 cm
An outstanding example of an Azurite "sun" from the Malbunka Copper Mine. The Azurite on this specimen has a beautiful and rich blue color as well as an interesting texture with good (as far as Azurite from this location is concerned) crystallization. The largest Azurite on this specimen measures 7 x 7 cm and is unusually thick. At 2.1 cm it is one of the thickest Azurite nodules that I have seen from this location. 4 or 5 mm in thickness is what you usually get. These Azurite "suns" form in a fashion that is unlike any other Azurite that I've seen. These flattened discs of Azurite are formed between layers of Kaolinite which forces them to grow in a laterally compressed, radiating manner. A top quality example of this material.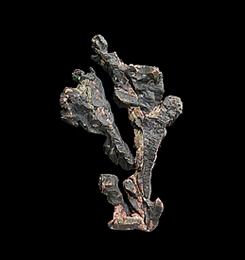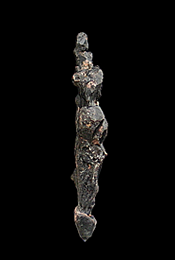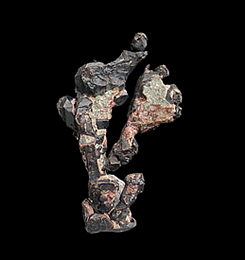 click on image for larger view
C-324 Copper $300 $200
#3 Shaft, Northwestern Mine, Central, Keweenaw County, MI
6.7 x 3.8 x 1.3 cm
A sculptural example of Michigan Copper. This specimen features branching, elongated crystals of Copper with a rich patina. This specimen hails from the Northwestern Mine. One of Michigan's oldest Copper mines, the Northwestern Mine operated from 1845-1865.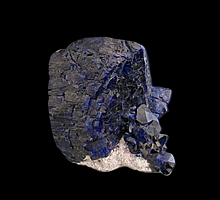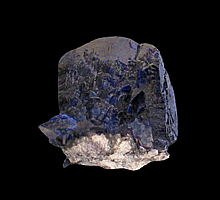 click on image for larger view
A-127 Azurite $95 $60
Milpillas Mine, Cuitaca, Santa Cruz Municipality, Sonora, Mexico
2.4 x 2 x 1.3 cm
A well-formed and lustrous crystal of Azurite from Mexico's Milpillas Mine. This specimen has a deep blue color and is a really good example of this material. Azurite specimens from this location hold their own when compared to the best examples from Touissit, Tsumeb or Zacatecas.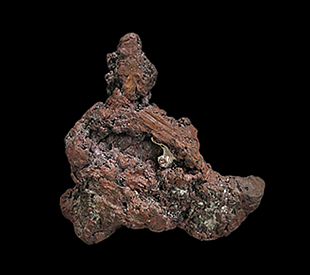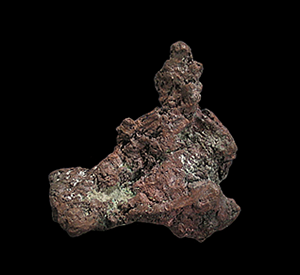 click on image for larger view
C-230 Copper $95 $65
Iroquois Mine, Mohawk, Keweenaw County, Michigan
7.6 x 6.7 x 2.5 cm.
A chunky example of Michigan float Copper, which refers to to glacially transported native Copper. This specimen has visible striations caused by glacial scouring. This same event accounts for the slightly rounded form. Despite this, the specimen still exhibits most of its original crystalline form.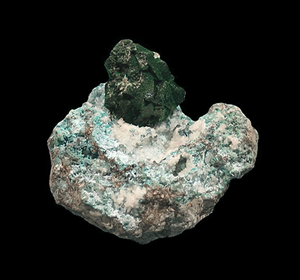 click on image for larger view
M-022 Malachite, Chrysocolla & Calcite $75 $45
Katanga Copper Zone, Katanga, Congo
5.5 x 6.7 x 4 cm.
This Specimen features the classic Katanga matrix of Chrysocolla and Calcite upon which is perched a cluster of wedge-like Malachites. The green-colored wedges are so dense at their centers that they appear smooth, grading to a velvet-like texture at their tips.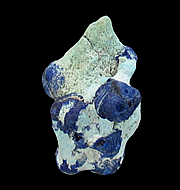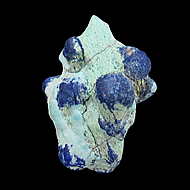 click on image for larger view
P-089 Azurite on Prosopite $30 $15
Santa Rosa Mine, Santa Rosa, Municipio de Mazapil, Zacatecas, Mexico
2.2 x 1.5 x 1.3 cm
This unusual mineral association is from a find made in the early 1960's. This specimen features subhedral crystals of the copper mineral Azurite in a matrix of Prosopite. Prosopite usually forms as an alteration product of Topaz in Topaz-rich greisens (as in Altenberg, Saxony and Schlaggenwald, Bohemia), and in Cryolite-bearing pegmatites, either as a primary mineral or as an alteration product of Cryolite. What led to the formation of Prosopite in this instance remains a mystery.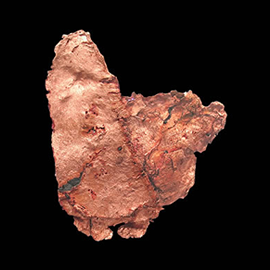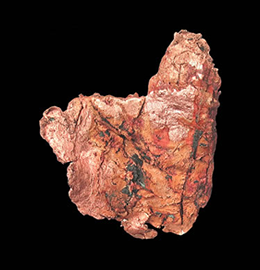 click on image for larger view
C-185 Copper $85 $50
White Pine Mine, Ontonagon County, Michigan
8.6 x 7 x 1 cm.
Here we offer a sheet of native Copper from the White Pine Mine of Michigan. This specimen is as bright as a newly minted penny. This Copper specimen came out of the earth just like this, having formed as a thin seam running through layered shale matrix. The White Pine was one of the country's largest Copper mines dating back to 1880 and was worked until 1995. Once readily available, these "sheet Coppers" are scarce these days.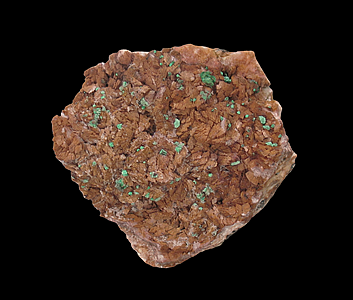 click on image for larger view
R-043 Rosasite with Selenite & Malachite on Dolomite $95 $60
Bou Beker, Touissit-Bou Beker District, Jerada Province, Morocco
12.3 x 11.7 x 7.4 cm
This specimen features many spheres of the Copper carbonate mineral Rosasite on a matrix of pink-colored Dolomite crystals. Some of the Rosasite spheres and some of the Dolomite crystals have a thin coating of clear Selenite. There are also several amorphous masses of green-colored Malachite present on this specimen.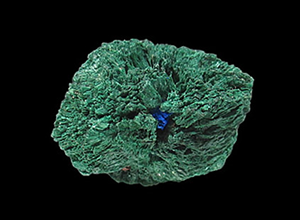 click on image for larger view
AD-114 Malachite & Azurite nodule SOLD
Sir Dominick Mine, South Australia, Australia
4 x 3.2 x 2.4 cm.
An excellent, complete all-around floater, rosette-like nodule of Malachite pseudomorphing sharp, bladed Azurite crystals from the famous Sir Dominick Mine of South Australia. This old classic Australian copper mine was active from 1862-1920. You can see a tiny remaining spot of blue from the Azurite in the center, near the bottom.