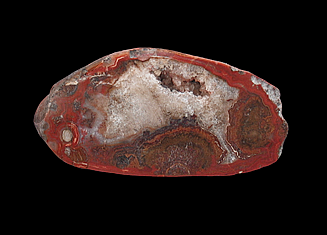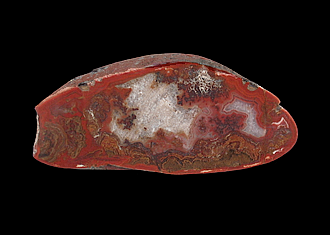 click on image for larger view
AD-167 Agate with Quartz $50
Rimsberg, Birkenfeld, Rhineland-Palatinate, Germany
8.7 x 4 x 1.7 cm
A deeply-colored agate surrounding a a group of tightly compacted Quartz crystals. In addition to its vivid red color there are swirls of brown which provide a nice contrast of colors. The area surrounding the twin cities of Idar & Oberstein gained notoriety for the fantastic Agates discovered there in the mid 1500's. By the beginning of the 1800's the production of material had fallen to a small fraction of what was found in its heyday.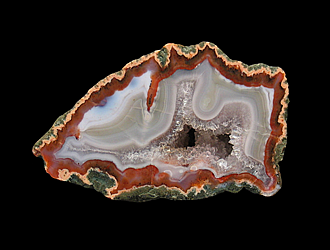 click on image for larger view
AD-168 Agate with Quartz $45
Amerzgane, Ouarzazate Province, Drâa-Tafilalet Region, Morocco
9.7 x 5.2 x 4.4 cm
This is an example of one of the more colorful combinations of Agate & Quartz from Amerzgane. Bands of red and peach-colored Agate surround a center lined with crystals of Quartz. Most of the Agates that I have seen from this location have a milky-colored Chalcedony core instead of a center lined with Quartz crystals.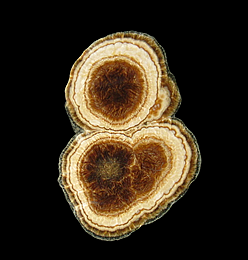 click on image for larger view
AD-169 Barite & Marcasite nodule $60
Lubin Mine, Gmina Lubin, Lubin County, Poland
7.7 x 5.4 x 1.2 cm
From a find in 2011, these are rather interesting specimens from a copper mine in western Poland. Essentially, this piece is a polished slice of what formed as a "ball" or radiating aggregate of cream to tan colored semi-amorphous Barite, which was later coated by a secondary layer of coppery-colored Barite and then finished off with a coating of metallic iridescent Marcasite. When these specimens are uncut, they simply look like spherical groups of Marcasite, but the beautiful internal Barite is a pleasant surprise. It's almost like cracking open a geode, as the center of every one of these "balls" will yield a slightly different formation. Additionally, the lighter colored Barite in these specimens will actually fluoresce a bright whitish-green color under UV light. This piece is a less common "cap" which means it has a complete outer crystallization of Marcasite on the reverse side.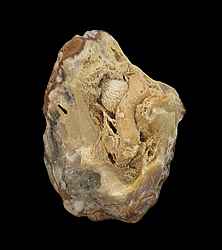 click on image for larger view
AD-170 Crandallite RESERVED
Little Green Monster Variscite Mine, Clay Canyon, Fairfield, Utah County, UT
5.2 x 3.9 x 2.4 cm
A nodule of mustard-colored Crandallite. This specimen features numerous crystals of the uncommon phosphate mineral, Crandallite. Nearly all of the Crandallite specimens from this location are just massive nodules with no crystallization.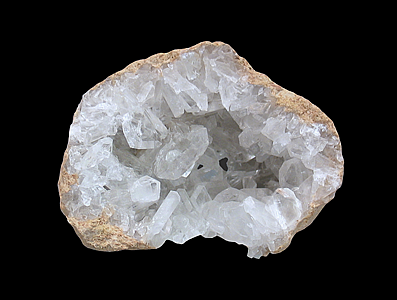 click on image for larger view
AD-171 Celestite geode $75
Djebel Mezzouna, Tunisia
10 x 7.3 x 5 cm
A geode filled with gemmy, water clear, well-formed tabular crystals of Celestite. The specimen has a small hole at the back which allows for a fantastic display of crystals when backlit. Examples of this material are very rare. An excellent addition too anyone's mineral collection.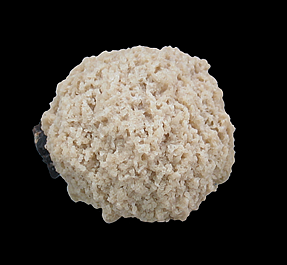 click on image for larger view
B-227 Barite RESERVED
Elmwood mine, Carthage, Smith County, TN
6 x 5.6 x 3.8 cm
A classic cauliflower-like mound of Barite crystals from the famous Elmwood Mine. This cream-colored Barite specimen is contacted on the bottom and has no damage.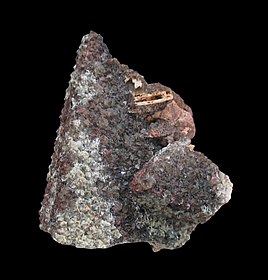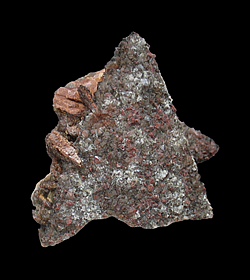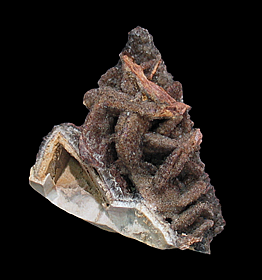 click on image for larger view
Q-485 Quartz & Hematite cast after Calcite & Barite $85
Wölsendorf Fluorite Mining District, Upper Palatinate, Bavaria, Germany
9.3 x 7.7 x 7.2 cm
While not that common, every now and then you will see one of these Quartz after Calcite casts offered for sale. This specimen shows the scalenohedral form of the Calcite crystal that it has replaced as well as the form of the blade-like Barite crystals. The Quartz crystals on this specimen are included by Hematite which makes for a nice contrast of colors.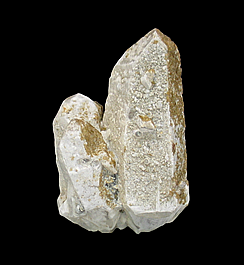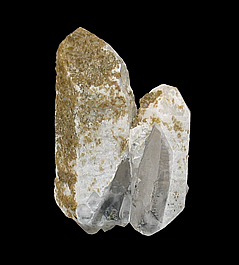 click on image for larger view
Q-486 Quartz with Siderite & Cosalite $45
Kara-Oba W Deposit, Betpakdala Desert, Karazhal, Karaganda Region, Kazakhstan
8.5 x 5.3 x 3.5 cm
A pair of water-clear Quartz crystals with a jacket of opaque Quartz. A dusting of green-brown-colored Siderite lends a nice accent of color to this specimen. The area on the rear where the quartz crystals grew against other Quartz crystals allows you to see the gemmy interior which has inclusions of the uncommon lead, bismuth sulfosalt, Cosalite.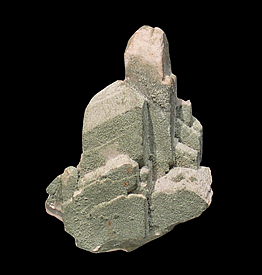 click on image for larger view
F-260 Orthoclase (Baveno-twin) with Clinochlore $50
Baveno, Verbano-Cusio-Ossola Province, Piedmont, Italy
9.5 x 7 x 3.5 cm
A column of baveno-twinned, prisms of Orthoclase. This specimen has a dusting of the mineral Clinochlore (Chlorite). This specimen displays well and has a small area of contacting on its bottom and lower rear portion. Baveno, Italy is where this habit of Feldspar twinning was first observed.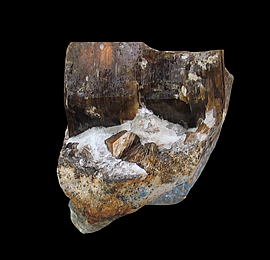 click on image for larger view
P-095 Phlogopite $50
Ladjuar Medam, Sar-e Sang, Koksha Valley, Badakhshan, Afghanistan
4.5 x 5.4 x 4.1 cm
A textbook-perfect and very clear example of Phlogopite on matrix. This is a rather large crystal for this location. The Phlogopite from Ladjuar is well-known for its excellent yellow fluorescence. These specimens came out around 11-12 years ago and are considered to be some of the best quality crystals for the species.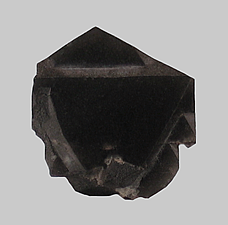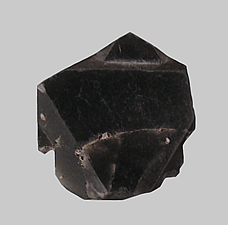 click on image for larger view
D-031 twinned Dolomite $35
Hormuz Island, Hormozgan, Iran
2.5 x 2.4 x .4 cm
These tabular Dolomites are classic but are very rarely seen from this famous Hematite locale on Hormuz Island. The penetration-twin habit is quite appealing to the eye. The two dolomites have a decent luster and are dark-gray-brown in color. There are contacts from where it grew around other crystals but this specimen is damage-free.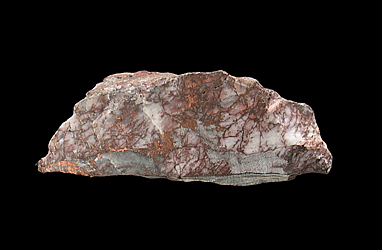 click on image for larger view
C-280 Copper in Quartz $35
Greenstone Quarry, Blue Ridge Summit, Adams County, PA
9 x 5 x 3.4 cm
Copper is not the first mineral that comes to mind when you think of minerals from Pennsylvania. This specimen of Quartz that has been sawn to show off the spider web-like inclusions of native "sheet" Copper. An unusual specimen from an unusual locality.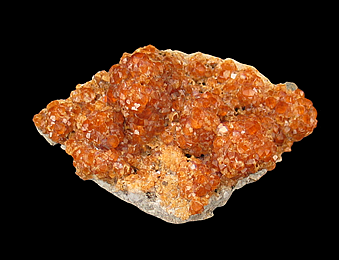 click on image for larger view
G-151 Spessartine Garnet $70
Wushan Spessartine Mine, Tongbei, Yunxiao County, Zhangzhou, Fujian, China
8.6 x 6 x 3.5 cm
These Spessartines are definitely in the upper echelon of Garnet specimens. For the past 7-8 years, Chinese Garnets have been quite abundant. But the really killer specimens have been too few and hard to come by. I am very fortunate to be able to get these amazingly gemmy specimens. These Garnets have a luster that has to be seen in person to be fully appreciated. Another plus is the striking orange color, much like the famous Spessartine Garnets from the world famous Little 3 mine in Ramona, California.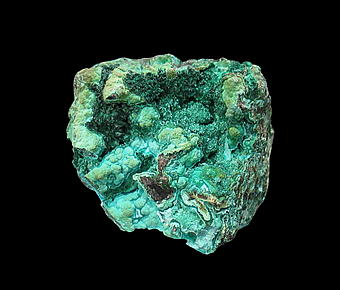 click on image for larger view
M-067 Malachite on Chrysocolla $65
Bisbee, Warren District, Mule Mountains, Cochise County, AZ
9 x 7.6 x 5.7 cm
A brightly-colored specimen of two copper minerals; Chrysocolla & Malachite. This specimen is made up of several generations of Malachite. Massive Malachite with Blue-green-colored Chrysocolla and hundreds of of tiny needle-like crystals of a darker hue that grew out of the surface. A colorful mineral specimen.