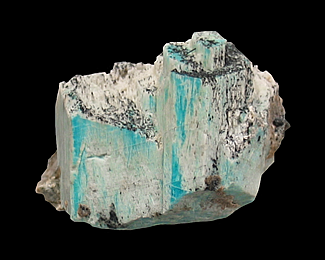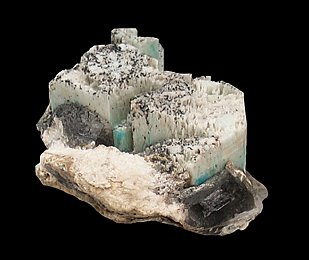 click on image for larger view
F-247 Amazonite with Schorl $150
Zapot Pegmatite, Gillis Range, Fitting District, Mineral County, NV
6.7 x 6.7 x 5.1 cm
A neat specimen of Microcline, variety Amazonite, with a dusting of Schorl crystals. This locality is obviously best known for its attractive Topaz crystals, which are some of the best from the United States, but this classic granitic pegmatite has also produced some attractive turquoise-blue Amazonite specimens. The termination of the crystal is white and has been etched resulting in a crenellated appearance. Specimens from this location are very hard to come by these days, as the mine is now defunct.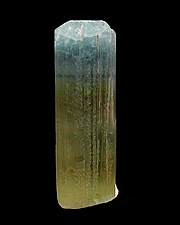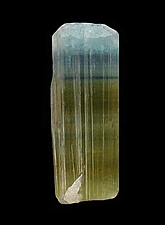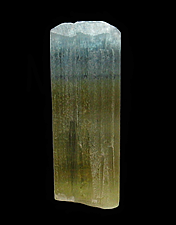 click on image for larger view
T-316 Elbaite Tourmaline $300
Astor Valley, Astor District, Gilgit-Baltistan, Pakistan
4.3 x 1.7 x 1.4 cm
This well crystallized Elbaite Tourmaline has an unusual blue-colored, complex pyramidal termination on green-yellow body. This crystal is complete all around and is quite clear. There is a micro-coating of Cookeite which gives the body of this Tourmaline a frosted look. This is a good-sized example of this material. These are older specimens from the early 1990's. Examples of this material are all but nonexistent these days.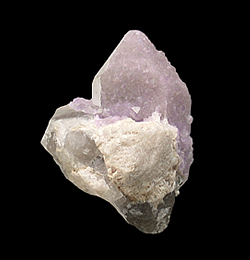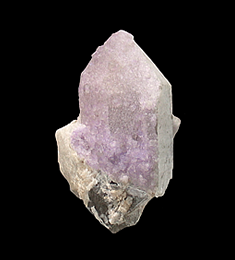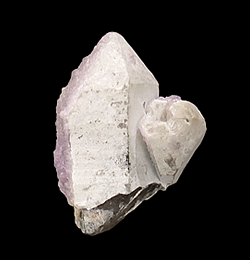 click on image for larger view
A-112 Fluorapatite & Quartz on Smoky Quartz $165
Dara-i-Pech Pegmatite Field, Chapa Dara District, Kunar Province, Afghanistan
7.6 x 4 x 5.3 cm
A prismatic Quartz Quartz crystal sporting a jacket of millimeter-sized crystals of Apatite and Quartz. This singular specimen started as a Smoky Quartz which was covered by a 2 mm layer of clear Quartz and then covered by richly-colored Apatite crystals and some small quartz crystals as well. There is also a second Quartz hitchhiking on one side of the specimen that is partially contacted. A different kind of Apatite specimen from the Pech Valley of Afghanistan.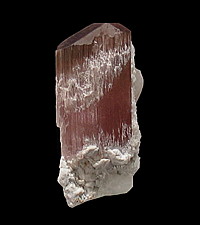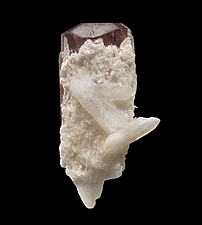 click on image for larger view
T-317 Elbaite Tourmaline with Stilbite $285
Himalaya Mine, Gem Hill, Mesa Grande District, San Diego County, CA
4.2 x 2.2 x 2 cm
Here is an example of one of the more uncommon mineral associations that I have seen. While Stilbite is not unheard of in pegmatites, it is not that common, but to find it associated with Elbaite virtually unheard of. This Elbaite crystal is covered in a jacket of Stilbite crystals, measuring up to 1.5 cm in size. These specimens were found around 1990 and were a one-off find.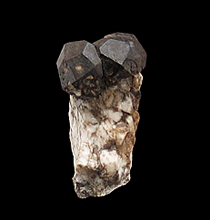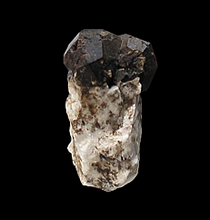 click on image for larger view
G-140 Spessartine Garnet on Albite $45
Aguanga Mountain, Oak Grove, San Diego County, CA
4.1 x 2.8 x 2.1 cm
This specimen hails from a north-eastern San Diego County location that is known to have produced good-quality Topaz and Elbaite crystals. This specimen features two opaque, well-formed Garnet crystals perched on a towering matrix of Albite.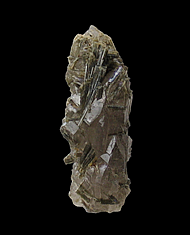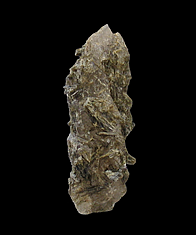 click on image for larger view
Q-459 Quartz with Clinozoisite $60
Clinton Keith Road, Murrieta, Riverside County, CA
6.4 x 2.9 x 2.1 cm
A Quartz crystal that is heavily coated by crystals of Clinozoisite in groups and as singles. The Quartz is clear and is doubly-terminated, albeit crudely.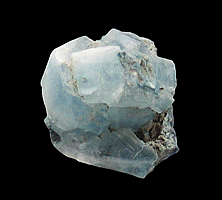 click on image for larger view
B-222 Aquamarine $30
Deo Darrah, Khash & Kuran Wa Munjan Districts, Badakhshan, Afghanistan
2.7 x 2.5 x 1.6 cm
An example of alkali-rich Aquamarine from a region in Afghanistan that is better known for its endless Lapis deposits and fine-quality Hackmanite specimens. This specimen features 4 translucent, color-zoned, tabular Aquamarine crystals. Blue Beryl crystals from this locality were originally described as Vorobyevite, however analysis has shown no noticeable cesium level (but with higher levels of sodium and calcium) so it is essentially an alkali-rich beryl.


click on image for larger view
C-268 Calcite $60
Yerington District, Singatse Range, Lyon County, NV
5 x 4.1 x 4.4 cm
A specimen of branching Calcite crystals, locally known as Cactus Calcite. The larger central crystals have smaller Calcite sprays branching off at all angles. These specimens were widely available years ago, now are usually only found in old mineral collections.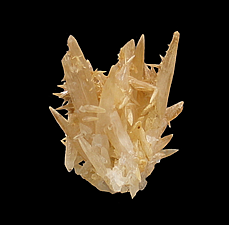 click on image for larger view
C-269 Calcite $25
Yerington District, Singatse Range, Lyon County, NV
3.5 x 2.7 x 2 cm
A specimen of branching Calcite crystals, locally known as Cactus Calcite. The larger central crystals have smaller Calcite sprays branching off at all angles. These specimens were widely available years ago, now are usually only found in old mineral collections.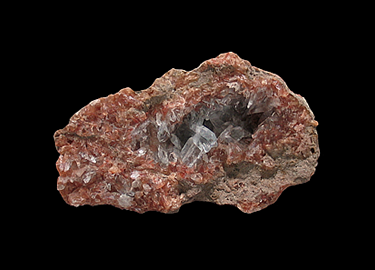 click on image for larger view
C-270 Celestite $50
Beineu-Kyr, Tuarkyr Mts, Geok Tepe, Ahal Province, Turkmenistan
8.7 x 5.2 x 2.7 cm
A specimen of Celestite from the former republic of the Soviet Union, Turkmen Soviet Socialist Republic. It is not common to see examples of Celestite from this location, as compared to the abundant supply from Madagascar or even American specimens. This is a pocket full of extremely gemmy, glassy crystals, with just the faintest blue-grey hue to them encased in Hematite-included Celestite crystals. These specimens came out in the late 1980's.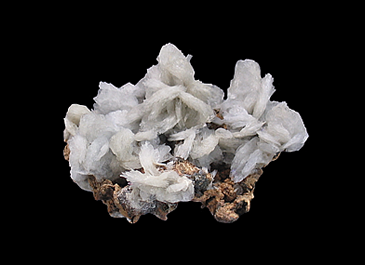 click on image for larger view
B-220 Barite $70
Baia Sprie Mine, Baia Sprie, Maramures County, Romania
8.1 x 5 x 4.5 cm
Here we have a cluster of thin pale, blue-grey Barite crystals on matrix. This three-dimensional specimen features fans of Barite crystals measuring up to 2.1 cm in size. These blue Barite specimens are some of the most desirable of the species from this location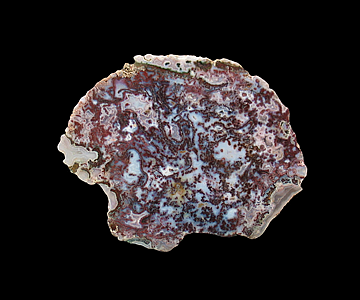 click on image for larger view
AD-150 Agate with Hematite $60
Horní Halže, Klášterec nad Ohrí, Krušné Hory Mountains, Ústí Region, Czech Republic
12.3 x 10.4 x 3.5 cm
This Agate is unlike any I have seen from the Czech Republic. It has a light-blue color that is accented by veins of silver-gray hematite that have colored the Agate red. A very striking and eye-pleasing combination of colors.


click on image for larger view
AD-152 Agate polyhedroid SOLD
Paraíba, Brazil
3.6 x 2.8 x 1.6 cm
This peculiar polyhedroid Agate specimen is from Paraíba, Brazil which is famous for its distinctive Blue-colored Tourmaline due to their high Copper content. These remarkable Agates were first found in 1974 by Odwaldo Monteiro and are all but impossible to obtain these days as the supply has been exhausted for many years. These anomalies of the Quartz family are occasionally seen for sale as polished slabs. It is rare that an intact example is seen for sale. I've done quite a lot of research trying to determine how these mineral oddities are formed. There are many hypotheses as to how these are formed. However, in the course of my research I have found that no two theories are the same. So just enjoy these for what they are, a most unusual Agate specimen.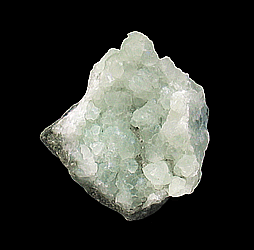 click on image for larger view
P-087 Prehnite $40
Luck Stone Quarry, Bealeton, Fauquier County, VA
6.7 x 5.5 x 5.6 cm
Mineral specimens of any species are extremely rare from this obscure Virginia quarry. In fact, mindat.org only has 2 examples of Prehnite from this location. This lustrous specimen of mint-green-colored Prehnite features crystals up to 1 cm in size.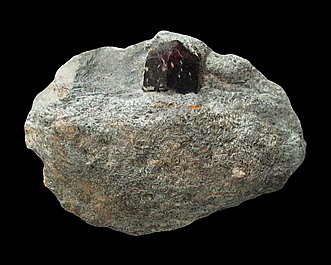 click on image for larger view
G-137 Almandine Garnet in Clinochlore $60
Khogyani District, Nangarhar Province, Afghanistan
10.2 x 7.1 x 3 cm
A neat specimen from an interesting occurrence in Afghanistan. This specimen features a wine-red-colored crystal of Almandine on matrix of green-colored Clinochlore (Chlorite). Despite the fact that this province is incredibly well-known for its pegmatite minerals, these specimens are actually from a metamorphic deposit. This material is not seen very often and when it can be found, it is often mislabeled as being from Pakistan.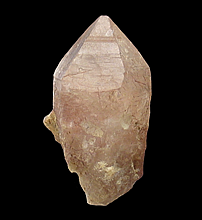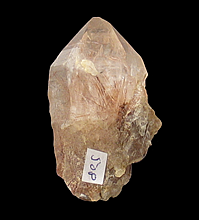 click on image for larger view
Q-457 Quartz with Rutile inclusions SOLD
Sierra La Cañada, Isla de la Juventud, Cuba
4.5 x 2.4 x 2.3 cm
Here we have a good example of Rutilated Quartz, not from Brazil, but from Cuba. This Quartz crystal is mostly clear and features many, richly-colored needles of the titanium mineral, Rutile which give the specimen a copper color. According to the label that came with the specimen, this piece was collected around 1983-85. There is a small, insignificant chip on the termination, but how often do you get to buy a rock from Cuba?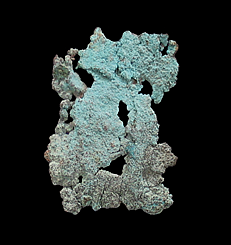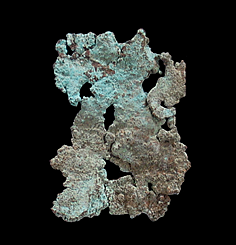 click on image for larger view
C-271 Copper $45
Corocoro, Pacajes Province, La Paz, Bolivia
6.8 x 4.8 x .3 cm
Most people are familiar with the Copper pseudomorphs after Aragonite from this locality, but to find non-pseudomorphic native Copper is rather rare. This large "sheet" of partially crystallized Copper is a great display from this historic locality. It has a gorgeous blue-green patina and a few areas with Copper crystals exposed. These pieces started to trickle out around late 2007 but are not easy to find.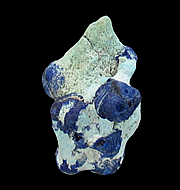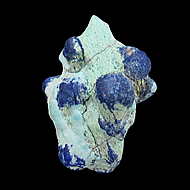 click on image for larger view
P-089 Azurite on Prosopite $30
Santa Rosa Mine, Santa Rosa, Municipio de Mazapil, Zacatecas, Mexico
2.2 x 1.5 x 1.3 cm
This unusual mineral association is from a find made in the early 1960's. This specimen features crudely formed crystals of the copper mineral Azurite in a matrix of Prosopite. Prosopite usually forms as an alteration product of Topaz in Topaz-rich greisens (as in Altenberg, Saxony and Schlaggenwald, Bohemia), and in Cryolite-bearing pegmatites, either as a primary mineral or as an alteration product of Cryolite. What led to the formation of Prosopite in this instance remains a mystery.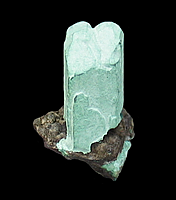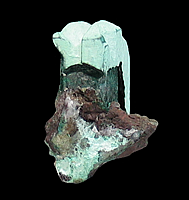 click on image for larger view
M-062 Malachite pseudomorph after Azurite $35
Morenci, Copper Mountain District, Greenlee County, AZ
2.7 x 1.7 x 1.5 cm
A classic Morenci Malachite pseudomorph after Azurite. This well-formed pseudomorph is a deep green color and is covered by a jacket of lighter colored Malachite.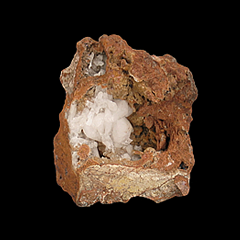 click on image for larger view
H-080 Hemimorphite with Smithsonite $30
Dauntless Mine, Robinson District, White Pine County, NV
6.5 x 5.6 x 2.9 cm
Another mineral that you don't usually associate with Nevada is Hemimorphite. This specimen features Hemimorphite crystals up to 1.3 cm in size in a vug lined with sparkly crystals of Smithsonite.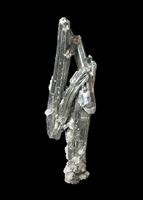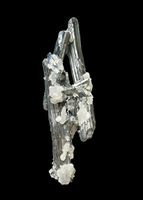 click on image for larger view
S-155 Stibnite with Quartz $30
Murray Mine, Independence Mountains District, Elko County, NV
4.7 x 1.4 x 1 cm
A small cluster of the antimony sulfide mineral, Stibnite. This specimen has tiny crystals of Quartz on one side. The Murray Mine is noted for its Stibnite crystals.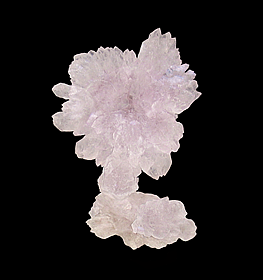 click on image for larger view
Q-462 Amethyst $65
Iraí, Rio Grande do Sul, Brazil
9.5 x 6.7 x 3 cm
As sculptural Amethyst "flower" from Iraí. Although light in coloration, the glassy crystals on this specimen are clear to translucent. This specimen is nearly a floater with only a few small dots of green indicating points of contact on its back.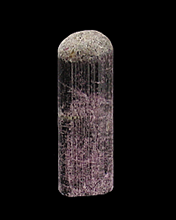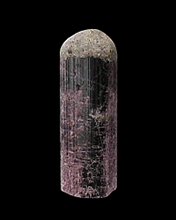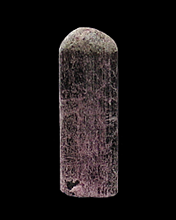 click on image for larger view
T-318 Dravite Tourmaline $50
Mwajanga, Simanjiro District, Manyara Region, Tanzania
4.2 x 1.6 x 1.4 cm
A very strangely formed crystal of Dravite Tourmaline. I'm guessing that its rounded off termination and abrasions are due to alluvial forces.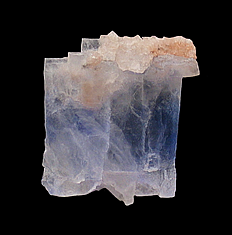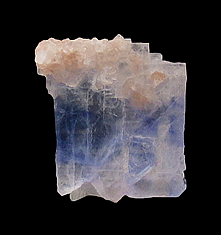 click on image for larger view
H-081 Halite $25
Saunders Mine, Carlsbad Potash District, Eddy County, NM
3.9 x 3.4 x 1.6 cm
A specimen of transparent Halite with color varying from intense blue to nearly colorless. the specimen is crowned by crystals measuring up to 3.5 mm in size. The color is due to atomic lattice defects, not due to inclusions or impurities.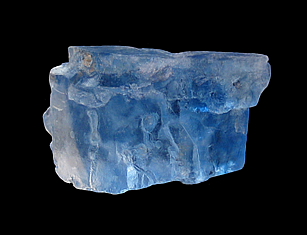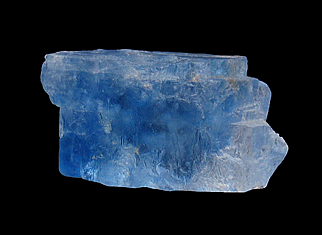 click on image for larger view
H-082 Halite $30
Bergmannssegen-Hugo Mine, Lehrte, Hanover, Lower Saxony, Germany
5 x 2.6 x 2.9 cm
From a classic German locality comes this electric-blue Halite specimen. The CalTech website states that Blue Halite is the result of exposure to natural radiation. Initially, if Halite (common salt) is exposed to gamma radiation, it turns amber because of F-centers. They are mostly electrons trapped at sites of missing Cl- ions. In time the electrons migrate to Na+ ions and reduce it to Na metal. Atoms of Na metal, in turn, migrate to form colloidal sized aggregates of sodium metal. They are the cause of the blue color.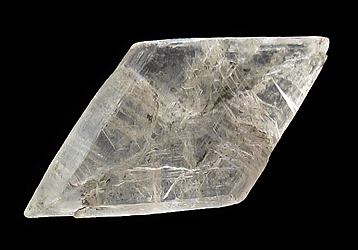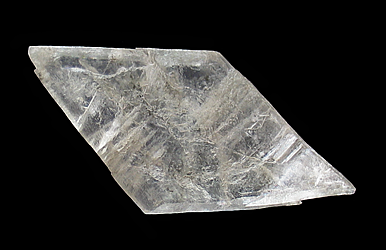 click on image for larger view
G-139 Gypsum $30
Lovewell, Jewell County, KS
10.1 x 5.1 x 1.5 cm
A strangely curved, diamond-shaped crystal of Gypsum. This mostly transparent crystal has beveled edges and Under shortwave UV it shows a faint fuchsia fluorescence in a distinct X-pattern.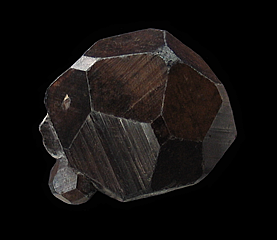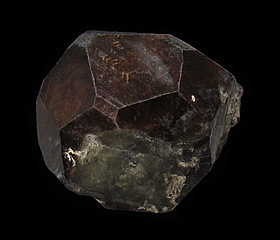 click on image for larger view
G-138 Grossular Garnet SOLD
Sandaré, Arrondissement Sandaré, Commune Sandaré, Cercle de Nioro du Sahel, Kayes Region, Mali
5 x 5.1 x 4.3 cm
A single brown Grossular Garnet that is fully crystallized all around, except where it had been attached to matrix or perhaps another Garnet, on the bottom. The crystal has a great luster and has only a little bit of minor edge-wear due to alluvial stream action. An interesting aspect of this specimen that where the crystal is incomplete in the back it shows an internal green color. I'm not sure if if most or all of these Chocolate-colored crystals from Sandaré have this beautiful internal hue, but I was certainly surprised when I turned this one over.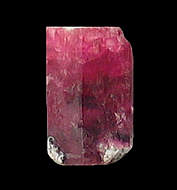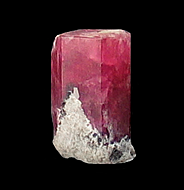 click on image for larger view
B-221 Red Beryl SOLD
Ruby Violet Claims, Beaver County, UT
1.3 x .7 x .6 cm
Red Beryl is among the most recognizable, desirable and rarest of minerals from the Western United States. This translucent, deep-violet-red Beryl crystal is terminated and complete with only a small area of contacting on its termination. These classic crystals have attracted collectors for years, and are now in short supply and high demand.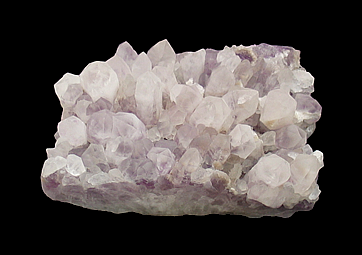 click on image for larger view
Q-461 Quartz on Amethyst SOLD
Comstock Lode, Virginia City, Comstock District, Storey County, NV
9.4 x 6.2 x 4.7 cm
The Comstock Lode achieved fame for the enormous volume of Silver that was mined there during the mid 1800's. Very few examples of the Silver ore specimens or other associated minerals such as these Quartz crystals on a bed of Amethyst were preserved. While single crystals are occasionally found on the mine dumps and surrounding hills by local collectors it is indeed a rare occasion that an intact cluster of crystals such as this one is found.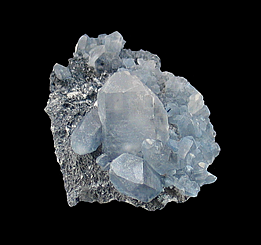 click on image for larger view
Q-460 Quartz with Indicolite Tourmaline inclusions SOLD
Katerina Mine, Hiriart Mountain, Pala, Pala District, San Diego County, CA
6.2 x 4.2 x 3.2 cm
Here's another one timer from the Pala mining district and a must have for any serious collector of Southern California pegmatite minerals. Around 1990-91 Otto Komarek & Byron Weege were working the Katrina Mine searching for Kunzite when he encountered several pockets of pale colored Morganite & Indicolite included Quartz. This specimen features many clear Quartz crystals on matrix (rare for this find) that are heavily included by fine hair-like crystals of Indicolite at their bases which lends them a pleasing blue color. Rare material from San Diego.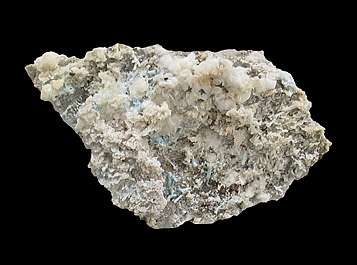 click on image for larger view
P-088 Phenakite with Aquamarine & Pyrite SOLD
Mount Wheeler Mine, Mount Washington, Snake Range, White Pine County, NV
10 x 6.2 x 3.5 cm
A hard to come by example of the beryllium mineral Phenakite from a location near the Nevada-Utah border. Also present on this specimen are small crystals of Aquamarine and Pyrite. The Phenakite crystals on this specimen measure up to 5 mm in size.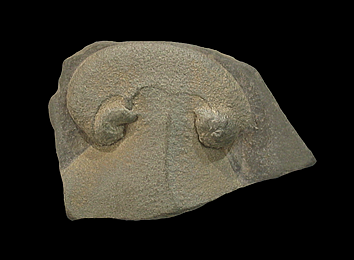 click on image for larger view
P-086 Pyrite concretion SOLD
Tea Cove, St. George's District, Newfoundland, Newfoundland & Labrador, Canada
7.8 x 5.2 x 2 cm
A very cool concretion of Pyrite from the Gulf of St. Lawrence. These Pyrites are comprised of SEDEX (sedimentary exhalative deposits) ore, similar to the black smokers of the South Pacific. These concretions can be found in the shale along the coastline or (sometimes) loose on the beach where they have weathered out of their matrix and washed ashore.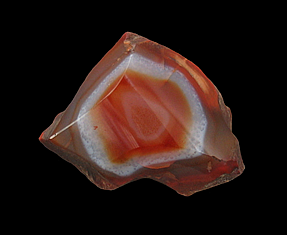 click on image for larger view
AD-151 Agate SOLD
Sidlaw Hills, Perth and Kinross, Scotland, UK
5 x 3.8 x 2.2 cm
A richly-colored "eye" Agate from the east-central region of Scotland. The center of this Agate is red-orange to yellow in color surrounded by a circle of lighter-colored blue. The outer portion of this well-polished specimen is translucent. The label accompanying this specimen indicates that it was acquired from Gregory, Bottley & Lloyd in 1993 but is probably much older as they were one of the longest-running mineral specimen dealerships in the world.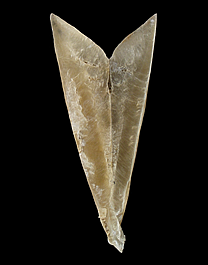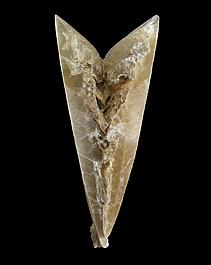 click on image for larger view
G-136 Gypsum RESERVED
Montmartre, Paris, Ile-de-France, France
18 x 7.7 x 3.1 cm
A large, golden-colored, twinned crystal of Gypsum with a hollow center. The crystal is also double terminated. These were found during installation of an underground electric cable in the Montmartre District of Paris around 1997.