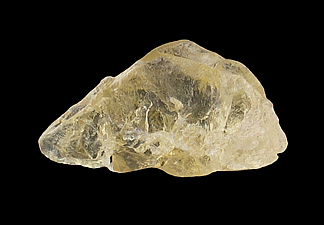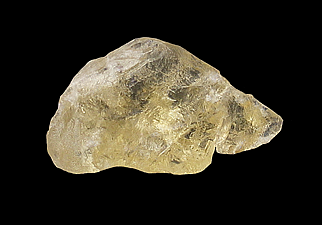 click on image for larger view
B-233 Beryl variety Heliodor $80
Cruzeiro Mine, São José da Safira, Minas Gerais, Brazil
5.2 x 3 x 2.1 cm
An etched Heliodor crystal from an older find at the Cruzeiro Mine. There were many of these specimens available, but very few of them were of a quality that met my standards. The photograph does not do this specimen justice. It is much better looking in person.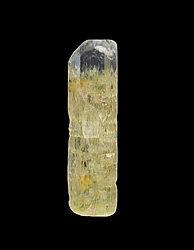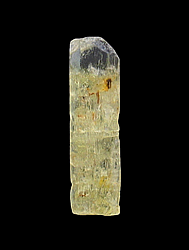 click on image for larger view
B-200 Beryl variety Heliodor $90
Padre Paraíso, Minas Gerais, Brazil
5.3 x 1.5 x 1.2 cm
This crystal has a medium yellow color and an Aquamarine-colored, modified termination. This crystal shows unusual etching patterns around its surface which makes for a texture that feels just a little bit rough to the touch, although it certainly appears smoother from a distance. The visual effect is to make the surface more sparkly from the extra minute reflection points. Classic Brazilian Beryl from a modern-day classic location.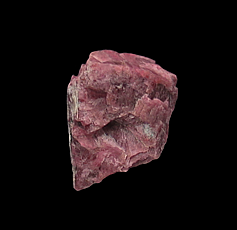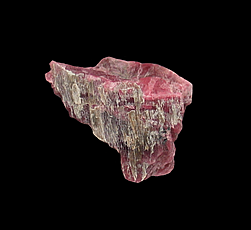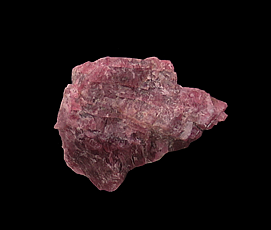 click on image for larger view
P-092 Pyroxmangite with Cummingtonite $45
Morro da Mina Mine, Conselheiro Lafaiete, Minas Gerais, Brazil
4.6 x 2.6 x 3.4 cm
A partial crystal of the uncommon manganese mineral, Pyroxmangite, that is covered on one face by a mat of the magnesium-iron-manganese amphibole mineral, Cummingtonite. Pyroxmangite is often confused with Rhodonite. Pyroxmangite is the high-pressure, low-temperature polymorph of Rhodonite, both of which are manganese silicates.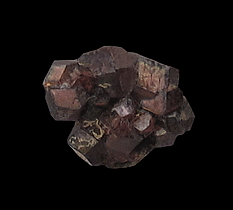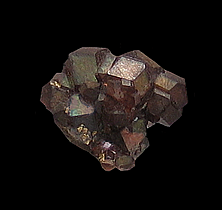 click on image for larger view
G-144 Andradite Garnet SOLD
Kohse Mine, Tenkawa Village, Yoshino-gun, Nara, Japan
2 x 1.5 x 1.1 cm
A cluster of sharp "rainbow" garnet crystals. The look of these specimens is unmistakable. An electric luster and mahogany-red color with razor sharp form. Mined out of a small metamorphic skarn, these iridescent "rainbow garnet" Andradites came on the market in 2002. Ever since the discovery of this tiny occurrence, these specimens were snatched up at lightspeed and have been difficult to come by ever since. Collecting is now prohibited at this mine, and these are seldom seen and rarely available.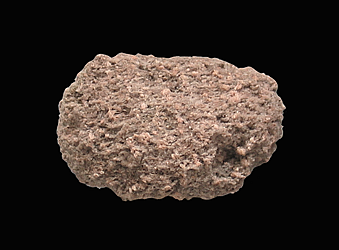 click on image for larger view
F-249 Albite on volcanic glass SOLD
Niijima Island, Izu Archipelago, Tokyo, Japan
8.3 x 4.9 x 3.4 cm
Here's something that you don't see every day, Albite on matrix from Niijima Island. This specimen features numerous millimeter-plus-sized crystals of pink-colored Albite on a matrix of volcanic glass. An unusual specimen from an uncommon locality.


click on image for larger view
F-250 Albite $25
Poudrette Quarry, Mont Saint-Hilaire, La Vallée-du-Richelieu RCM, Montérégie, Québec, Canada
5.8 x 5.3 x 2.6 cm
Well formed, crystals of pink Albite. Pink-colored Albite crystals are not very common overall but seem to be more common at Mont Saint-Hilaire. This specimens is also intensely fluorescent.


click on image for larger view
G-145 Grossular Garnet with Vesuvianite $35
Sierra de Cruces, Municipio de Sierra Mojada, Coahuila, Mexico
5 x 3 x 3.5 cm
The Grossular crystals from this location have been attributed as to coming from Lake Jaco for many years. This information is not correct as it was a deliberate attempt to conceal the actual locality from would be diggers. This piece is a good example of this material featuring sharp, well-formed dodecahedral crystals of pink and cream-colored Grossular measuring up to 2.3 cm across. Also present on this specimen are several small crystals of Vesuvianite. There are several small areas of contact where it grew against matrix or another crystal.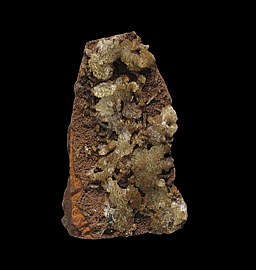 click on image for larger view
A-115 Adamite $40
Ojuela Mine, Mapimí, Municipio de Mapimí, Durango, Mexico
6.5 x 3.9 x 1.8 cm
This specimen features numerous gemmy crystals of the mineral Adamite on a gossan matrix. The clusters of Adamite on this specimen are bright and lustrous too. Also this specimen is extremely fluorescent. The Ojuela Mine has produced many of the worlds best Adamite specimens.


click on image for larger view
AD-157 Amethyst geode SOLD
Juchem Quarry, Niederwörresbach, Herrstein, Birkenfeld, Rhineland-Palatinate, Germany
6.7 x 3.4 x 3.7 cm
The area surrounding the twin cities of Idar & Oberstein gained notoriety for the fantastic Agates & Amethyst lined geodes discovered there in the mid 1500's. By the beginning of the 1800's the production of material had fallen to a small fraction of what was found in its heyday. This almond-shaped Amethyst geode features a "dimpled" outer rind encapsulating many small but lustrous crystals of medium to light-colored Amethyst.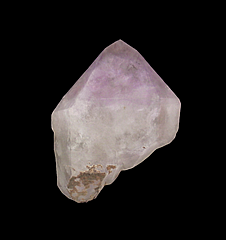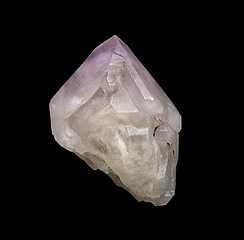 click on image for larger view
Q-476 Amethyst $30
Getchell Mine, Adam Peak, Potosi District, Osgood Mts, Humboldt County, NV
6.2 x 5 x 3.5
The Getchell mine is famous for its stunning specimens of Realgar and Galkhaite. Top notch Quartz crystals with good form can be found there too but are seldom seen as they are almost always covered in a cement-like layer of clay that is extemely difficult to remove. This specimen came from a haul of crystals recovered by the late Southern California digger, Ken Gochenouer.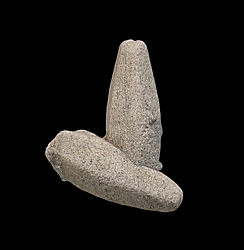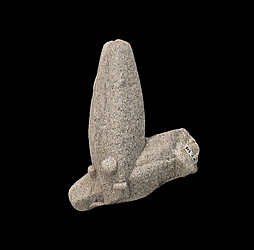 click on image for larger view
C-273 Calcite with sand inclusions $40
Rattlesnake Butte, Jackson County, SD
6.2 x 5.5 x 2.7 cm
A sculptural pair of interconnected, scalenohedral Calcite crystals. The Calcite grew in a sand matrix, capturing the sand as it formed making for an opaque specimen. These specimens were collected heavily in the 1960s-1970s and are seldom seen these days as much of this area is within an Indian reservation and collecting is prohibited.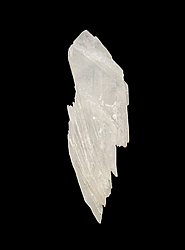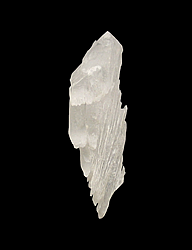 click on image for larger view
Q-477 Quartz $45
Bor Pit, Dal'negorsk B Deposit, Dalnegorsk, Primorsky Krai, Russia
7.6 x 2.4 x 2 cm
An unusually-shaped, translucent, colorless Quartz crystal known as "interference"Quartz from the famous Bor Pit at Dalnegorsk, Russia. These crystals are unique to the Bor Quarry. The Quartz crystal growth was interrupted by Calcite, as evidenced by stacked, poker chip-looking section in the middle of the crystal. This unique piece is complete all-around, with only slight contacting on the bottom termination.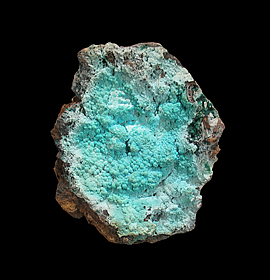 click on image for larger view
C-274 Chrysocolla with Plancheite SOLD
Mashamba West Mine, Kolwezi District, Lualaba, Democratic Republic of the Congo
10.8 x 9.1 x 3.1 cm
This specimen features two secondary copper minerals. The blue-green colored mineral is the common secondary species, Chrysocolla. The lighter colored mineral is the much rarer copper silicate, Plancheite. This richly-covered specimen was obtained about 15 years ago from a stash of older material (1970's-80's) obtained from a a well-known mineral dealer.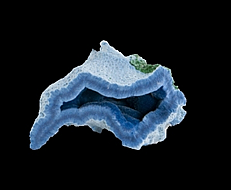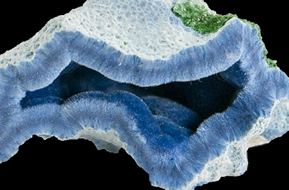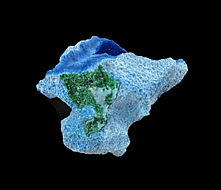 click on image for larger view
S-158 Shattuckite & Malachite $65
Kandesei, Kaokoveld Plateau, Kunene Region, Namibia
3.5 x 2 x 3.1 cm
Shattuckite is a rare secondary copper silicate. This sculptural vug shows acicular banded Shattuckite that forms the botryoids in the interior. One side of the robins-egg blue outer crust is beautifully accented with bright green Malachite crystals. A classic Shattuckite with Malachite from finds made a few years ago.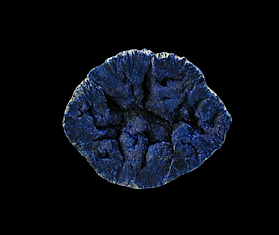 click on image for larger view
AD-158 Azurite geode $35
Burra Burra Copper Mine, Burra, North Mt. Lofty Ranges, South Australia, Australia
4.5 x 3.7 x 1.6 cm
Here we present one-half of a sliced and polished nodule of Azurite from one of Australia's most famous Copper localities. While not that good-looking on the outside, when opened these nodules reveal cavities lined with sparkling deep blue crystals of Azurite.