How to place an order
Please send us an e-mail with the item number of the specimen(s) that you are interested in, what page it is on & we will check the availability of your item(s). We are committed to keeping our Website updated in a timely manner. However, all specimens are offered on a first come, first served basis. You will receive an e-mail response, usually within 24 hours, as to the availability of the item(s) you are requesting.

Shipping
Domestic Orders: Shipping via U.S. mail is $7.50 for the first item, $1.25 for each additional item for domestic orders. We also have the option for your order to be sent insured. *We strongly recommend that you choose the insurance. Insurance for orders up to $200 is $3.75, please add an additional $1.75 per $100.00 after that. If you wish to have your order sent via Express mail or another carrier please contact us via e-mail for rates.
NOTE: All Nevada residents must pay 8.265 % Sales Tax

International Orders: Please send us an e-mail for shipping rates to your country. International customers are responsible for all duties & taxes.
Insurance** The reason we strongly recommend that you purchase insurance is; although we do take extreme care in the packaging of your specimen(s), we cannot control what the USPS or any other carrier does to your package once we ship your order. In other words If you choose to have your order sent without insurance, Cal Neva Mineral Company assumes no liability in regards to the condition your order arrives in.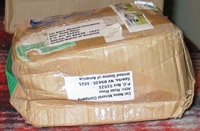 **Depending on the country that we are shipping to insurance may not be available. Please contact us for further information about insurance for international orders.

Payment
1) We accept payment through PayPal. To submit a payment, please click on the PayPal logo below. Please submit payment to russ@cnmineral.com
2) Check: You are welcome to pay for your order with a check. Your order will be held until your check clears, usually 5 business days, then your order will be sent to you. After we get to know you better, this will not be necessary. **International orders may not be paid for by check.
3) Money Orders: We accept Money Orders as payment for both domestic and international orders.
DOMESTIC CUSTOMERS: United States Postal Service Money Orders are the preferred type, since they're insured. We do not accept any other type of domestic money order.
INTERNATIONAL CUSTOMERS: Postal Money Orders purchased from your Country's Postal Service are the only type of money orders that will be accepted.
**Please make your money orders payable in U.S. Dollars.
Please send checks or money orders to:

Cal Neva Mineral Company
P.O. Box 51521
Sparks, NV
89435-1521
U.S.A.
4) Western Union® Money Transfer: Both domestic and international orders may be paid for via Western Union® Money Transfer. Orders from some countries are excluded from using this method of payment for their orders. Please contact us via e-mail for more information to find out whether or not your country is eligible for using Western Union® as a method of payment.
**Please make your money transfer payable in U.S. Dollars.

Returns
Cal Neva Mineral Company's goal is for you to be completely satisfied with your purchase. You have 7 days to examine your specimen. If you receive a specimen and you decide it just isn't right for you, please contact us within 7 days of receipt and let us know of your intention to return it. You can then send the specimen back to us. After we have received your return, a refund for the purchase price of the returned item will then be issued. We ask that you insure your returns although it is up to your discretion whether or not you insure you return. If you choose not to insure your return, Cal Neva Mineral Company will assume no liability for damages incurred during shipment back to us. PLEASE take the same care in packaging the returned specimen as we did when we sent it to you.

One Last Thing...
THANK YOU for your order

Home | Mineral Specimen Galleries | Links to Mineral Related Websites | Contact Us