This Descloizite specimen is from a locality that is considered to be the undisputed world champion for this mineral species. The crystals on this are specimen shimmering silvery-brown, with dendritic form.

click on image for larger view
S-161 Stilbite-Ca $50 $35
Lower New Street Quarry, Paterson, Passaic County, NJ
3.7 x 3.1 x 2.4 cm
A complete, hemispherical aggregate of yellow-orange Stilbite perched on matrix. This specimen is good example of Stilbite from the US and particularly from this locale.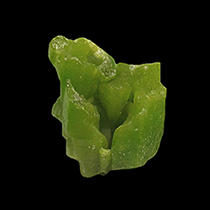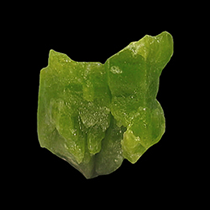 click on image for larger view
P-077 Pyromorphite $120 $65
Daoping Mine, Guilin Prefecture, Guangxi Zhuang Autonomous Region, China
2.4 x 2.4 x 1.5 cm.
The Daoping mine is China's premier locality for world-class Pyromorphite crystals. The amazing thing is that amongst the multitude of Pyromorphite to be found from this all-but-defunct location there were a small number of extremely large (for the species) single crystals. These chunky single crystal specimens made their debut at Tucson in 2008 and were quickly bought by savvy collectors.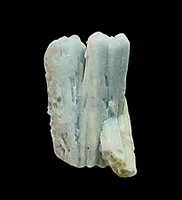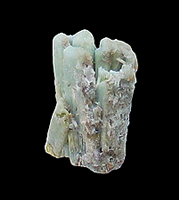 click on image for larger view
P-093 Plumbogummite on Pyromorphite $45 $25
Yangshuo Mine, Guilin Prefecture, Guangxi Zhuang Region, China
2.5 x 1.7 x 1.1 cm
A small spray of Pyromorphite crystals that have been coated or partially replaced by the Lead mineral Plumbogummite. From a pocket collected in November of 2014.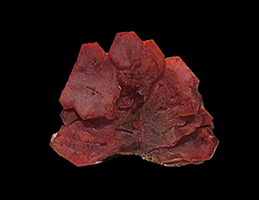 click on image for larger view
V-024 Vanadinite $60 $30
ACF Mine, Mibladen mining District, Midelt Province, Drâa-Tafilalet Region, Morocco
3.3 x 2.6 x 1.4 cm
A good-sized, hoppered crystal of Morocco's signature mineral, Vanadinite. This richly-colored specimen is complete all around and makes for an eye-catching display piece.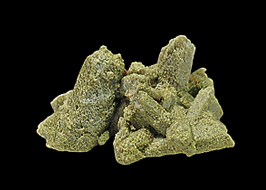 click on image for larger view
E-041 Epidote & Quartz $35 $20
Messina Mine, Musina, Vhembe District, Limpopo, South Africa
5.3 x 3.3 x 2.7 cm
A group of Quartz crystals that is heavily included with pistachio-green-colored crystals of Epidote.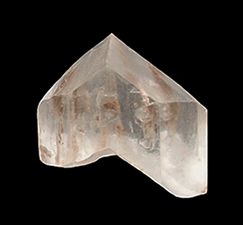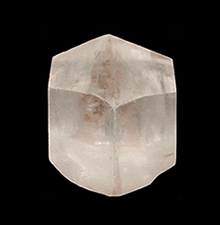 click on image for larger view
S-125 Gypsum variety Selenite (double terminated) $60 $35
Lake Gilles, Corunna Station, Australia
3.6 x 3.9 x 4.5 cm.
When one thinks of Selenite from Australia, on thinks of the needle-like sprays that are quite abundant. What we have here is a much more uncommon crystal from Australia. This Selenite is complete all around and has a textbook-like form with a fishtail termination on its bottom. This Selenite is much clearer than it appears in the photo.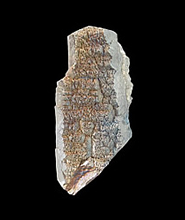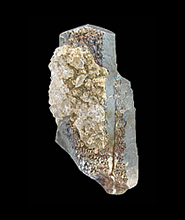 click on image for larger view
A-024 Arsenopyrite with Quartz $45 $25
Yaogangxian Mine, Chenzhou Prefecture, Hunan, Central South Region, China
4.2 x 2 x .8 cm.
A very interesting crystal that has a great luster on the top crystal face and interesting iridescent patina covering the remainder of the crystal with a mass of Quartz crystals covering the upper portion of the crystal.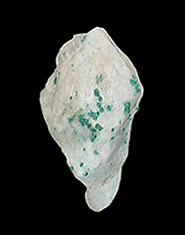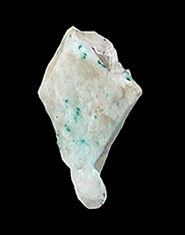 click on image for larger view
A-110 Anglesite with Paratacamite & Boleite $80 $50
Amelia Mine, Boleo District, Santa Rosalía, Municipio de Mulegé, Baja California Sur, Mexico
2.7 x 1.5 x 1 cm
Anglesite crystals are not that uncommon, but from the Amelia Mine they are almost unheard of. When they are found they typically measured in millimeters. This example, at 2.7 cm, is huge by Boleo District standards. And if that isn't enough for you, this double-terminated crystal also has inclusions of Boleite as well as clusters of Paratacamite on its surface, some of which are are either covering Boleite crystals or are pseudomorphs after Boleite.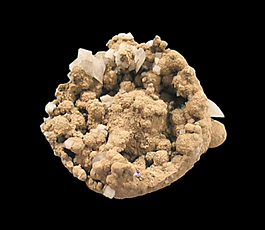 click on image for larger view
S-117 Siderite with Calcite $45 $30
Nikolaevskiy Mine, Dal'negorsk, Primorskiy Kray, Russia
4.2 x 4.2 x 2.4 cm.
An unusual, partially hollow ball of tan Siderite with scattered, lustrous, translucent Calcite blades from the classic Nikolaevskiy Mine, Dal'negorsk, Russia. This is classic material from this mine and not often seen these days.