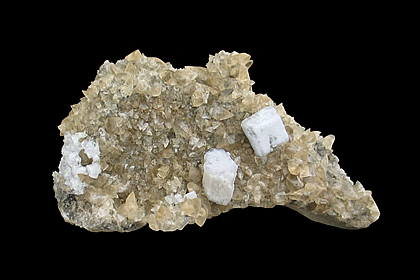 click on image for larger view
C-330 Calcite with Celestite $65 $40
Sylvania Minerals Quarry, South Rockwood, Monroe County, MI
11.1 x 6.5 x 5 cm
A matrix specimen of honey-yellow Calcite crystals with white Celestite crystals. The Calcite crystals are mostly transparent and undamaged. Both the Celestite and the Calcite exhibit moderate fluorescence. The very tips of the Calcite fluoresce yellow-white, while the Celestite has white fluorescent overgrowths.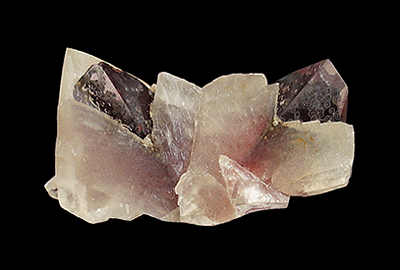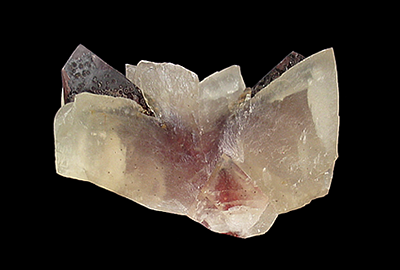 click on image for larger view
C-244 Calcite with Hematite $120 $65
Ex. A. Rosenzweig collection
Santa Eulalia District, Municipio de Aquiles Serdán, Chihuahua, Mexico
7.5 x 4.6 x 4.7 cm
This is a type of Calcite that came out a long, long time ago from Santa Eulalia and has been unavailable - until a recent find in 2007. These Calcites are instantly recognizable by their strange form: an earlier generation of dark, opaque, hematite-included scalenohedral crystals seeming to emerge from within a later generation of translucent crystals of a lighter color. This specimen is undamaged and is from the original find.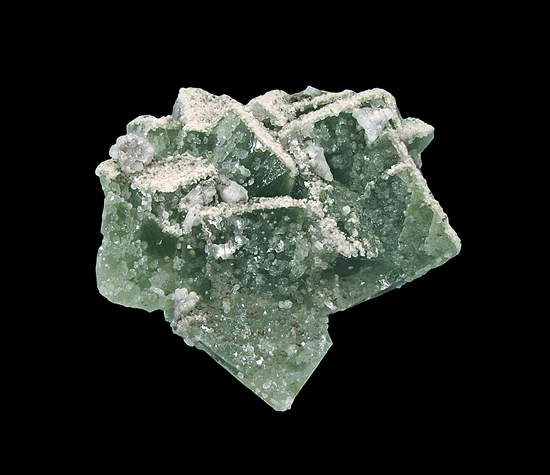 click on image for larger view
F-184 Fluorite with Calcite, Quartz and Pyrite $350 $200
El Hammam Mine, Khémisset Province, Rabat-Salé-Kénitra Region, Morocco
15.5 x 14.5 x 4.1 cm
This specimen features many medium to dark-green crystals of Fluorite. This specimen has several interesting features; the first being numerous water-clear Quartz crystals up to 3 mm. in size that cover the entire specimen. The top of the specimen is blanketed with Calcite and there are dozens of brass-colored, ball-like Pyrites covering the specimen. This Fluorite specimen is complete, with no damage. The back of the specimen is flat , but shows many growth hillocks as well as many white, needle-like inclusions. A good example of a combo specimen for this location.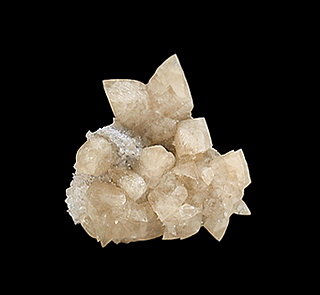 click on image for larger view
C-227 Calcite on Celestite $50 $37.50
Stoneco White Rock Quarry, Clay Center, Ottawa County, OH
6.5 x 6.3 x 3.9 cm
A cluster of lustrous, light-yellow, scalenohedral Calcite crystals, some of which are double-terminated on a matrix that is sprinkled with many millimeter-sized crystals of Celestite. The Calcites are translucent and all are undamaged. Uncommon material from a mine that is better known for its Fluorite And Celestite specimens.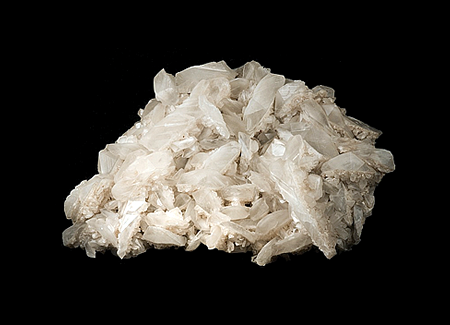 click on image for larger view
C-277 Calcite $1,200 $800
Ex W. Larson Collection
Ex R. Rizzo Collection
Hilton Deposit, Borrego Springs, San Diego County, CA
29 x 17.3 x 11.5 cm
A dramatic and huge plate of large Calcite crystals of from south-eastern San Diego County. This impressive specimen features translucent-transparent, bladed crystals of Calcite measuring up to 10 centimeters in size. The Calcite crystals fluoresce a light-hued red\pink color. Known by locals as "The Calcite Mine" this location was operated from 1942 to 1944 for the Polaroid Corporation to produce optic grade Calcite in order to make the Polaroid Optical Ring Gun-sight. This specimen was a part of my award winning mineral collection and was judged best specimen from San Diego County and won the prestigious Josephine Scripps award in the mineral competition at the San Diego County Fair where there is some serious competition from local "heavy-weight" type mineral collectors. This location has been off-limits to collectors since 1974 when the area surrounding it was designated Anza-Borrego Desert State Park.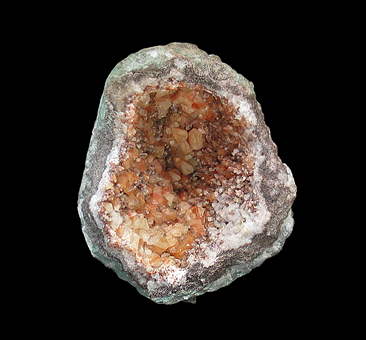 click on image for larger view
AD-223 Calcite & Quartz geode (fluorescent) $85 $60
Juchem Quarry, Niederwörresbach, Birkenfeld, Rhineland-Palatinate, Germany
12 x 9.5 x 6.8 cm
A very large geode lined with tiny crystals of Quartz upon which rest many golden to red-colored, Hematite included, crystals of Calcite. Rare, old material.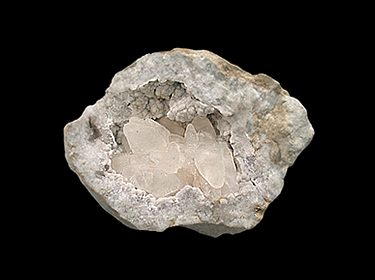 click on image for larger view
AD-072 Calcite Geode $65 $45
St. Francisville, Clark County, Missouri
9 x 6 x 4 cm
A showy specimen of translucent and lustrous Calcite crystals inside of a Quartz-lined Geode. This specimen is from an obscure location and is older material that is not often seen for sale.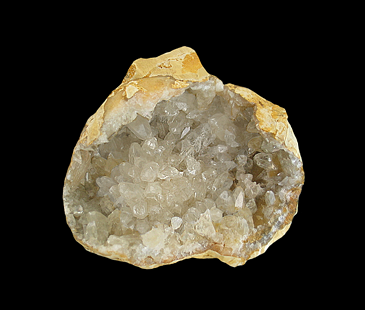 click on image for larger view
AD-147 Calcite geode $35 $20
Bou Azzer District, Tazenakht, Ouarzazate Province, Drâa-Tafilalet Region, Morocco
9.5 x 4.7 x 7.2 cm
A geode filled with many lustrous and clear crystals of Calcite measuring up to 1.7 centimeters in size. If you examined, in person, the matrix that these occur in, you'd be surprised that they can be extracted more or less intact.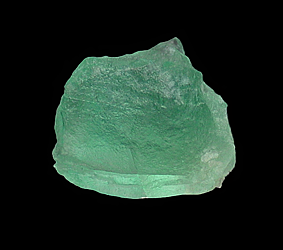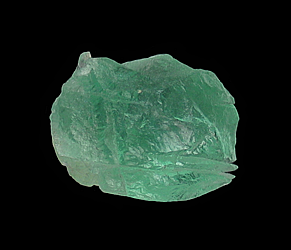 click on image for larger view
F-252 etched Fluorite SOLD
William Wise Mine, Westmoreland, Cheshire County, NH
3.5 x 2.7 x 2.5 cm
A hydrothermally etched example of Fluorite. This piece has a rich green color with surface etching that makes for an attractive specimen. Wise Mine Fluorites such as this one have a bright glowing green that is not matched in Fluorites from anywhere else. The most famous Fluorites from any locality in New England are from the William Wise Mine. These specimens are well-known among collectors for their rich color and gemminess.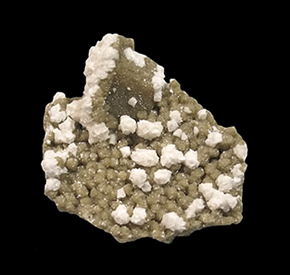 click on image for larger view
C-123 Calcite on Siderite SOLD
Turt Mine, Satu Mare, Maramures, Romania
7 x 6.5 x 3 cm
A very interesting specimen from a well-known Romanian mineral location. This specimen features a 2 x 2 cm. crystal of Siderite that has replaced the mineral Calcite, with many smaller sphere-shaped stacks of Siderite, upon which sit numerous clusters of Calcite exhibiting the same peculiar habit.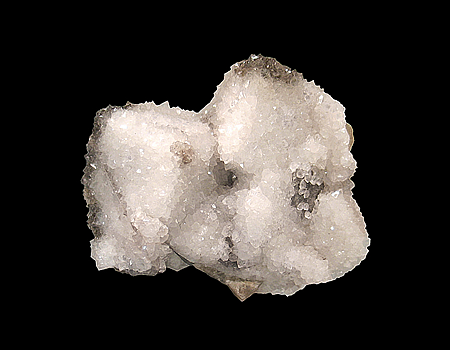 click on image for larger view
Q-146 Fluorite with Quartz SOLD
Weardale, North Pennines, County Durham, England
10 x 9 x 4 cm
This specimen features a pair of yellow and green Fluorite crystals, completely covered by hundreds of tiny Quartz crystals. The dark spots on the side and top of the specimen are due to inclusions of sulfide minerals, accenting the 3-dimensionality of this specimen. This specimen, while relatively shallow in thickness, is not broken, but rather it is contacted on the bottom where it was attached to its matrix. The numerous Fluorite mines in County Durham and the surrounding areas have long been renowned for their prolific production of minerals during the last several centuries.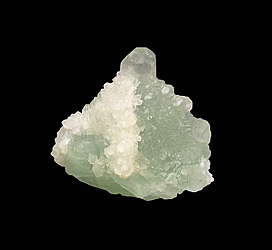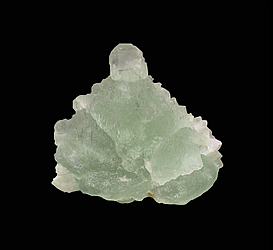 click on image for larger view
F-251 Fluorite with Quartz SOLD
Taolin Mine, Linxiang County, Yueyang, Hunan, China
5.8 x 5 x 3.7 cm
This peculiar Fluorite specimen is from a find made about 12-14 years ago. This light-green Fluorite is a lightly etched and is topped with a cuboctahedron. It is coated on one side with small crystals of Quartz. An unusual specimen from a lesser known Chinese Fluorite locality.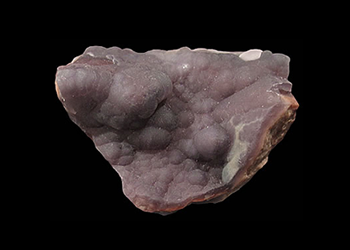 click on image for larger view
F-178 botryoidal Fluorite SOLD
Canon City District, Fremont County, Colorado
7 x 6 x 5 cm
Botryoidal Fluorite had been known from this location for years as they are distinctly different. These very unusual and interesting Fluorite specimens were collected in the early 1980's & are seldom seen for sale these days. This knobby specimen has great color and a good lustre.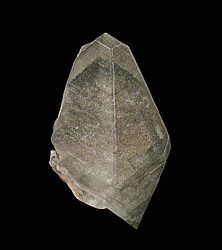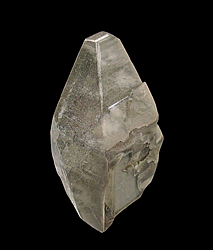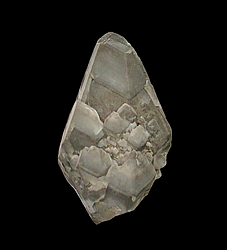 click on image for larger view
C-317 Calcite SOLD
Conco Mine, North Aurora, Kane County, IL
7.9 x 4.1 x 3.9 cm
A single crystal of very clear Calcite with inclusions of Marcasite. Three faces of this crystal are transparent and three of them have an opaque overgrowth. These Calcite specimens were collected from the Wise Lake member of the Ordovician age Galena formation near Chicago, Illinois and were one of the most talked about new finds at the 2011 Tucson Mineral Show. These Calcites were collected in mid - late 2010. An excellent article about this mineral occurrence, authored by Jared Frieberg (the Geologist who collected these specimens) can be found in the March-April, 2012 issue of Rocks & Minerals Magazine.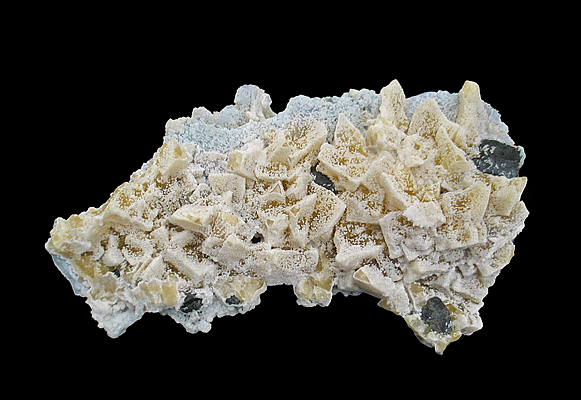 click on image for larger view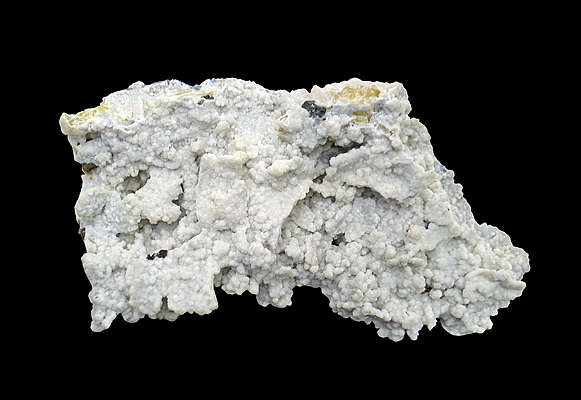 click on image for larger view
F-313 Fluorite with Alstonite & Sphalerite SOLD
Ex Ross Lillie Collection #2224
Bethel Level, Minerva #1 Mine, Ozark-Mahoning Group, Cave-in-Rock, Hardin County, IL
32.7 x 19.1 x 10.8 cm
A large plate of blue-colored Fluorite that has been overgrown with crystals of yellow-colored Fluorite and dark crystals of Sphalerite (up to 3.2 cm in size). The Fluorite crystals were then partially dissolved then coated with many small crystals of the rare Ba-Ca carbonate mineral, Alstonite. The reverse side of this specimen is also richly covered in Alstonite. This specimen can be displayed in several different orientations and look equally good. This specimen has no damage; although some areas have been contacted. This important specimen was mined in the late 1960's.