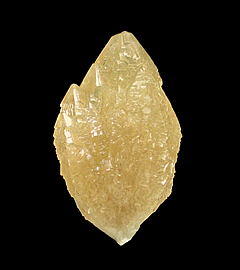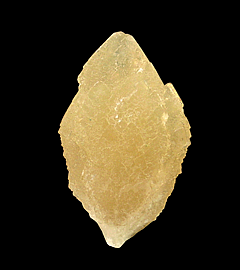 click on image for larger view
C-312 Calcite $95
Tsumeb Mine, Tsumeb, Oshikoto Region, Namibia
7.2 x 4.3 x 2.3 cm
A slightly curved and translucent crystal of Calcite from Africa's most prolific Mineral locality. One side of this crystal has stepped faces while the other side exhibits scale-like growth plates. The shape of this Calcite crystal reminds me of a candle flame. Complete with no damge.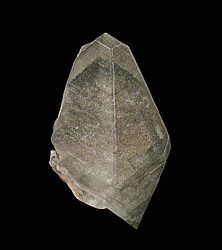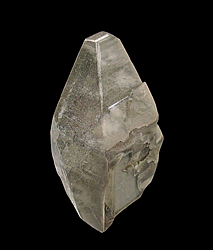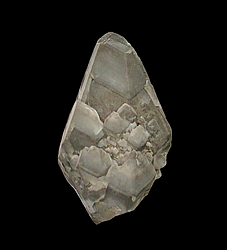 click on image for larger view
C-317 Calcite $40
Conco Mine, North Aurora, Kane County, IL
7.9 x 4.1 x 3.9 cm
A single crystal of very clear Calcite with inclusions of Marcasite. Three faces of this crystal are transparent and three of them have an opaque overgrowth. These Calcite specimens were collected from the Wise Lake member of the Ordovician age Galena formation near Chicago, Illinois and were one of the most talked about new finds at the 2011 Tucson Mineral Show. These Calcites were collected in mid - late 2010. An excellent article about this mineral occurrence, authored by Jared Frieberg (the Geologist who collected these specimens) can be found in the March-April, 2012 issue of Rocks & Minerals Magazine.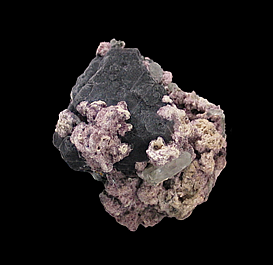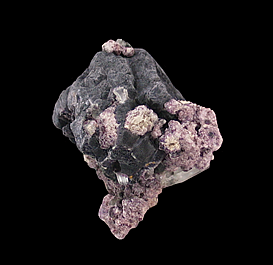 click on image for larger view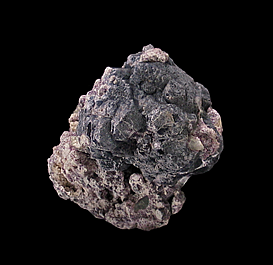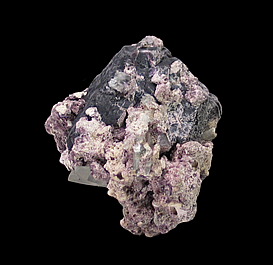 click on image for larger view
F-309 Fluorite $50
Erongo Mountains, Karibib Constituency, Erongo Region, Namibia
7.2 x 6.2 x 6.3 cm
A large, deep purple-colored Fluorite crystal with a partial overgrowth of micro-sized violet-colored Fluorite. This modified octahedron has a silky, satin-like lustre that is very reminiscent of the famous 1990's Fluorite pocket from Akchatau, Kazakhstan. There are also a half dozen Quartz crystals on the specimen, one of which is incomplete.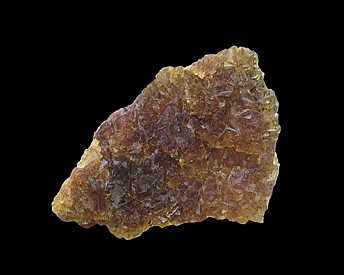 click on image for larger view
F-297 Fluorite $65
Tongbai County, Nanyang, Henan, China
10 x 6.2 x 2.4 cm
This specimen consists of yellow Fluorite that has formed hundreds of blocky euhedral crystals on top of purple-colored Fluorite causing it to appear a deeper amber color. This specimen has has a good lustre with no damage, just contacting on the edges. These unusual Fluorite specimens caused quite a sensation in 2007 when they first appeared. Compared to the myriad of Fluorites that are available from China, there were very few of these to go around and they are much sought-after by collectors.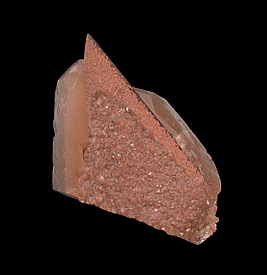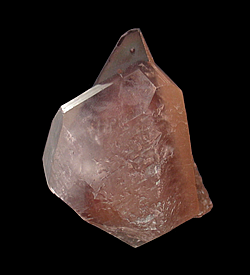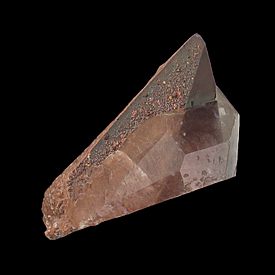 click on image for larger view
C-287 Calcite & Hematite $120
Buena Tierra Mine, Francisco Portillo, West Camp, Santa Eulalia District
Municipio Aquiles Serdan, Chihuahua, Mexico
9 x 5.4 x 6.6 cm
A neat two-generation Calcite specimen. The first generation consists of a sharp brick-red, scalenohedral Calcite crystal. The second generation consists of a colorless & translucent to clear rhombohedral Calcite crystal partly enveloping the first crystal. The first crystal is visible as a "phantom crystal" through the second generation crystal.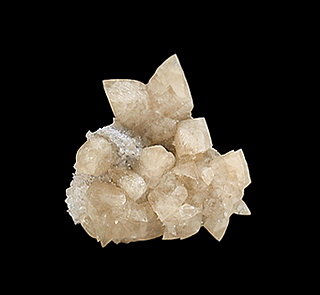 click on image for larger view
C-227 Calcite on Celestite $50
Stoneco White Rock Quarry, Clay Center, Ottawa County, OH
6.5 x 6.3 x 3.9 cm.
A cluster of lustrous, light-yellow, scalenohedral Calcite crystals, some of which are double-terminated on a matrix that is sprinkled with many millimeter-sized crystals of Celestite. The Calcites are translucent and all are undamaged. Uncommon material from a mine that is better known for its Fluorite And Celestite specimens.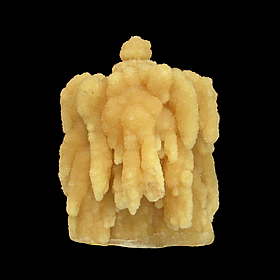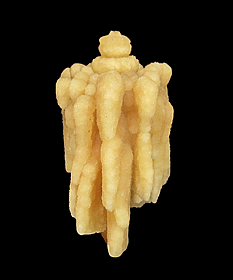 click on image for larger view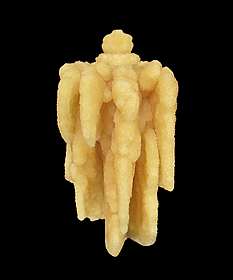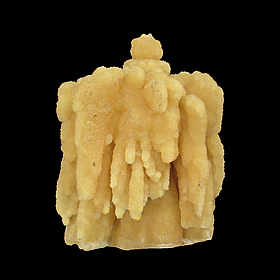 click on image for larger view
C-298 Calcite $650
Aranzazú Mine, Aranzazú, Concepción del Oro, Zacatecas, Mexico
11 x 8.1 x 6.2 cm
A very three-dimensional and vividly colored specimen of Calcite. This specimen is one of the most unusual and singular Mexican Calcite specimens that I have seen. This stalactite-like specimen in addition to its rich color, has a secondary growth of smaller Calcite crystals that give it the appearance of having been dipped in sugar. A Calcite specimen that will really stand out in your mineral cabinet. This one of a kind specimen comes with a custom-made acrylic base.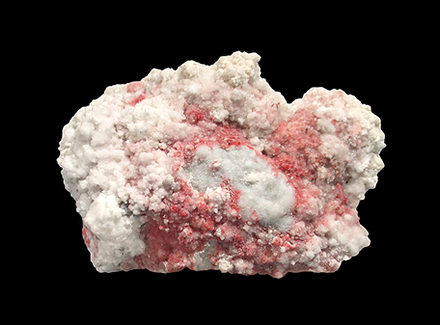 click on image for larger view
C-158 Calcite with Realgar inclusions $80
Getchell Mine, Adam Peak, Potosi District, Humboldt County, Nevada
14 x 10 x 4.8 cm.
Here we present a specimen from a location that is world famous for the realgar specimens that it has produced. This mound of Calcite crystals are included by a myriad of almost microscopic sized crystals of the mineral Realgar. An eye-pleasing specimen from a famous Nevada location.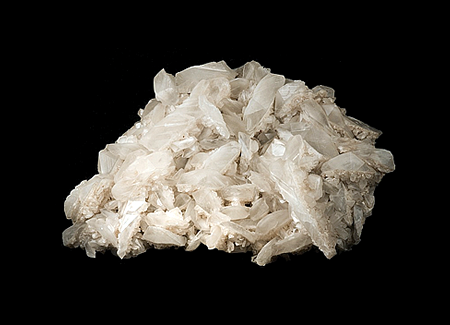 click on image for larger view
C-277 Calcite $1200
Ex W. Larson collection
Hilton Deposit, Borrego Springs, San Diego County, CA
29 x 17.3 x 11.5 cm
A dramatic and huge plate of large Calcite crystals of from south-eastern San Diego County. This impressive specimen features translucent-transparent, bladed crystals of Calcite measuring up to 10 centimeters in size. The Calcite crystals fluoresce a light-hued red\pink color. Known by locals as "The Calcite Mine" this location was operated from 1942 to 1944 for the Polaroid Corporation to produce optic grade Calcite in order to make the Polaroid Optical Ring Gun-sight. This specimen was a part of my award winning mineral collection and was judged best specimen from San Diego County and won the prestigious Josephine Scripps award in the mineral competition at the 2014 San Diego County Fair where there is some serious competition from local "heavy-weight" type mineral collectors. This location has been off-limits to collectors since 1974 when the area surrounding it was designated Anza-Borrego Desert State Park.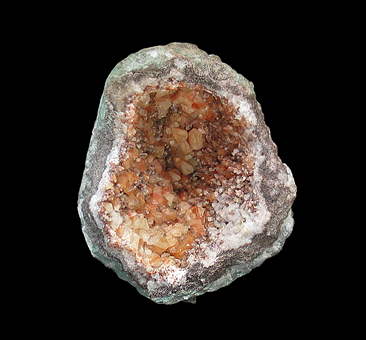 click on image for larger view
AD-223 Calcite & Quartz geode (fluorescent) $85
Juchem Quarry, Niederwörresbach, Birkenfeld, Rhineland-Palatinate, Germany
12 x 9.5 x 6.8 cm
A very large geode lined with tiny crystals of Quartz upon which rest many golden to red-colored, Hematite included, crystals of Calcite. Rare, old material.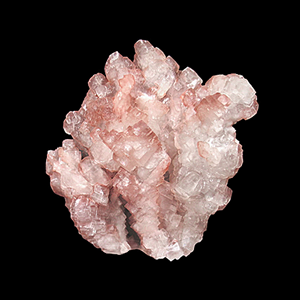 click on image for larger view
C-183 Calcite with Hematite $60
Tsumeb Mine, Tsumeb, Oshikoto Region, Namibia
9.1 x 8.8 x 4.2 cm.
Here we have a cluster of Calcite crystals that have been included with microscopic crystals of Hematite. These inclusions of Hematite, along with its lustre, give this specimen a good contrast of colors. The backside of this specimen is completely infused with brick-red Hematite. Tsumeb Calcites come in a wide range of habits and colors, making them one of the most diverse species from this historic and prolific locality.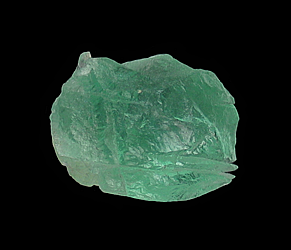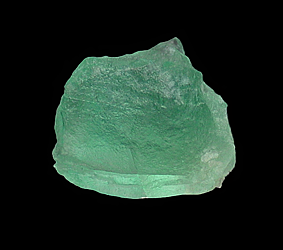 click on image for larger view
F-252 etched Fluorite $60
William Wise Mine, Westmoreland, Cheshire County, NH
3.5 x 2.7 x 2.5 cm
The most famous Fluorites from any locality in New England are from the William Wise Mine. Wise Mine Fluorites such as this one have a bright glowing green that is not matched in Fluorites from anywhere else. These specimens are well-known among collectors for their rich color and gemminess. This piece has a rich green color with surface etching that makes for an attractive specimen.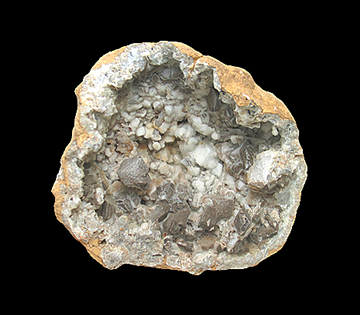 click on image for larger view
AD-135 Calcite Geode (fluorescent) $60
US Highway 27 Roadcut, McCreary County, KY
11.5 x 9.5 x 5.2 cm.
A really cool specimen. Although it is not apparent in the photo this specimen is very 3 dimensional. Also, the stacked brownish rhombs of Calcite make for a nice contrast against the lining of smaller white Calcites.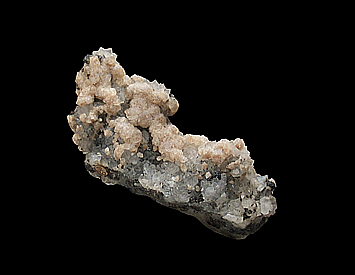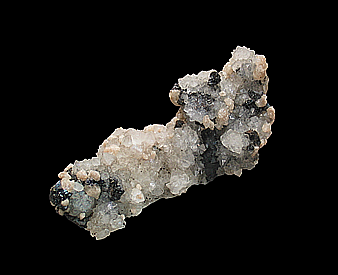 click on image for larger view
Q-436 Calcite on Quartz with Sphalerite & Bitumen $100
W.L. Davis-Deardorff Mine, Ozark-Mahoning Group, Cave-in-Rock, Hardin County, IL
11.5 x 5.5 x 3 cm
This specimen features many lustrous & glassy Quartz crystals which makes up much of this piece. One side has a scattering of lustrous, black Sphalerite crystals and a patch of Bitumen. The other side features numerous crystals of creamy-yellow Calcite. Quartz is rare in the other nearby mines of the district. This is classic, old-time material from this mine. Open for only a short time in the mid-1900's the mine closed by the early 1960s. The Deardorff was considered to be THE specimen mine of this period in Southern Illinois.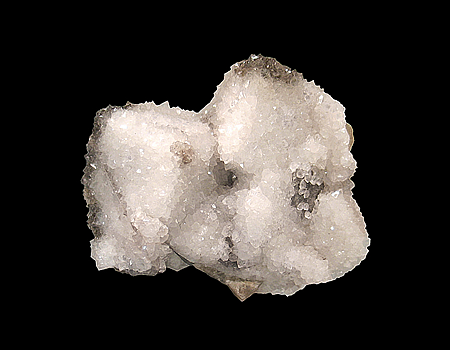 click on image for larger view
Q-146 Fluorite with Quartz $65
Weardale, North Pennines, County Durham, England
10 x 9 x 4 cm.
This specimen features a pair of yellow and green Fluorite crystals, completely covered by hundreds of tiny Quartz crystals. The dark spots on the side and top of the specimen are due to inclusions of sulfide minerals, accenting the 3-dimensionality of this specimen. This specimen, while relatively shallow in thickness, is not broken, but rather it is contacted on the bottom where it was attached to its matrix. The numerous Fluorite mines in County Durham and the surrounding areas have long been renowned for their prolific production of minerals during the last several centuries.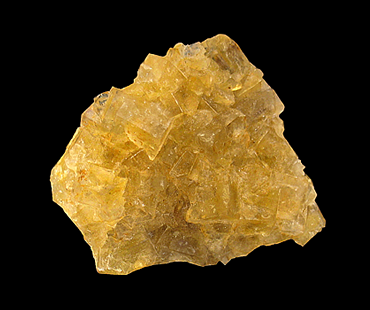 click on image for larger view
F-238 Fluorite $50
Moscona Mine, Solís, Corvera de Asturias, Asturias, Spain
6.5 x 6.5 x 2.6 cm.
A plate of gemmy honey-yellow Fluorite crystals. The Moscona Mine was, at one time, a big producer of specimens. The supply seems do be dwindling these days and the vacuum is being filled by specimens from other locations like Berbes, Jaimina and others.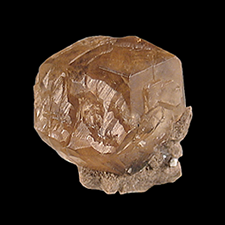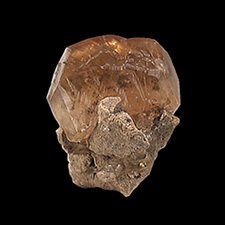 click on image for larger view
C-249 Calcite $45
Berry Materials Corp. Quarry, North Vernon, Jennings County, IN
3 x 2.8 x 2.9 cm.
The Berry Materials Corp. Quarry has a reputation for producing outstanding Calcite crystals. This translucent and lustrous Calcite crystal sits on a matrix of Limestone. The Calcite has the color a good Cognac or Armagnac. Calcites from this location are eagerly sought after by collectors which is no surprise since the Calcite crystals from this Quarry are considered to be some of the best that America has to offer.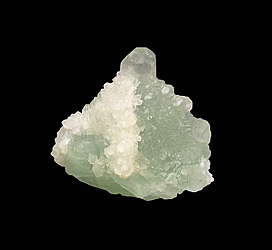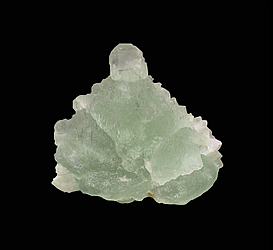 click on image for larger view
F-251 Fluorite with Quartz $35
Taolin Mine, Linxiang County, Yueyang, Hunan, China
5.8 x 5 x 3.7
This peculiar Fluorite specimen is from a find made about 12-14 years ago. This light-green Fluorite is a lightly etched and is topped with a cuboctahedron. It is coated on one side with small crystals of Quartz. An unusual specimen from a lesser known Chinese Fluorite locality.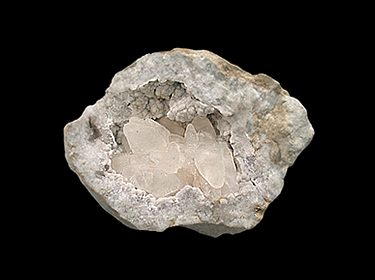 click on image for larger view
AD-072 Calcite Geode $50
St. Francisville, Clark County, Missouri
9 x 6 x 4 cm.
A showy specimen of translucent and lustrous Calcite crystals inside of a Quartz-lined Geode. This specimen is from an obscure location and is older material that is not often seen for sale.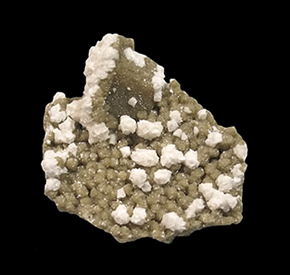 click on image for larger view
C-123 Calcite on Siderite $50
Turt Mine, Satu Mare, Maramures, Romania
7 x 6.5 x 3 cm.
A very interesting specimen from a well-known Romanian mineral location. This specimen features a 2 x 2 cm. crystal of Siderite that has replaced the mineral Calcite, with many smaller sphere-shaped stacks of Siderite, upon which sit numerous clusters of Calcite exhibiting the same peculiar habit.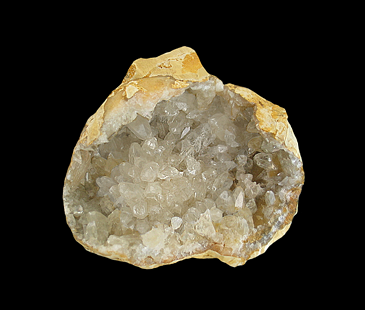 click on image for larger view
AD-147 Calcite geode $35
Bou Azzer District, Tazenakht, Ouarzazate Province, Drâa-Tafilalet Region, Morocco
9.5 x 4.7 x 7.2 cm
A geode filled with many lustrous and clear crystals of Calcite measuring up to 1.7 centimeters in size. If you examined, in person, the matrix that these occur in, you'd be surprised that they can be extracted more or less intact.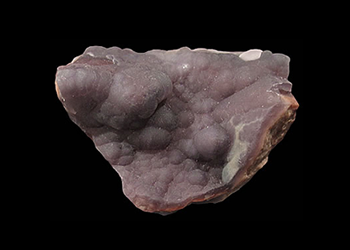 click on image for larger view
F-178 botryoidal Fluorite $60
Canon City District, Fremont County, Colorado
7 x 6 x 5 cm.
Botryoidal Fluorite had been known from this location for years as they are distinctly different. These very unusual and interesting Fluorite specimens were collected in the early 1980's & are seldom seen for sale these days. This knobby specimen has great color and a good lustre.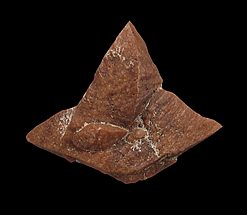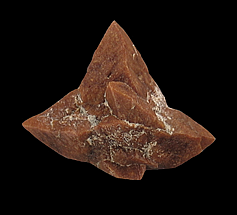 click on image for larger view
C-267 Glendonite (Calcite pseudomorph after Ikaite) $30
Olenitsa River, White Sea Coast, Murmansk Oblast, Russia
4 x 3.3 x 2.1 cm
A very interesting pseudomorph of Calcite replacing a group of crystals of the rare the Calcium Carbonate mineral Ikaite. Ikaite dehydrates to Calcite above 8°C. The resulting pseudomorph of Calcite after Ikaite is known as "Glendonite."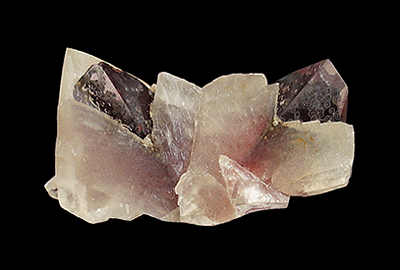 click on image for larger view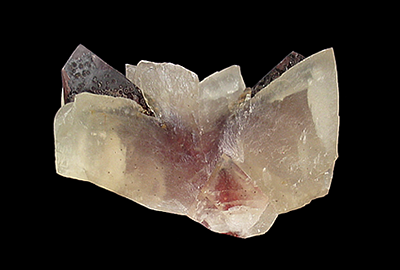 click on image for larger view
C-244 Calcite with Hematite $100
Ex. A. Rosenzweig collection
Santa Eulalia District, Municipio de Aquiles Serdán, Chihuahua, Mexico
7.5 x 4.6 x 4.7 cm.
This is a type of Calcite that came out a long, long time ago from Santa Eulalia and has been unavailable - until a recent find in 2007. These Calcites are instantly recognizable by their strange form: an earlier generation of dark, opaque, hematite-included scalenohedral crystals seeming to emerge from within a later generation of translucent crystals of a lighter color. This specimen is undamaged and is from the original find.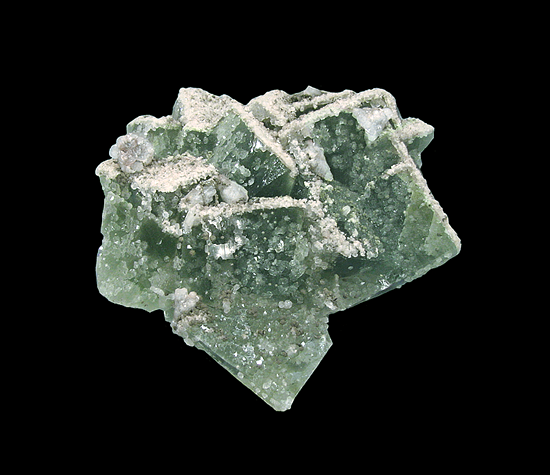 click on image for larger view
F-184 Fluorite with Calcite, Quartz and Pyrite $250
El Hamman Mine, Meknès Prefecture, Morocco
15.5 x 14.5 x 4.1 cm.
This specimen features many medium to dark-green crystals of Fluorite. This specimen has several interesting features; the first being numerous water-clear Quartz crystals up to 3 mm. in size that cover the entire specimen. The top of the specimen is blanketed with Calcite and there are dozens of brass-colored, ball-like Pyrites covering the specimen. This Fluorite specimen is complete, with no damage. The back of the specimen is flat , but shows many growth hillocks as well as many white, needle-like inclusions. A good example of a combo specimen for this location.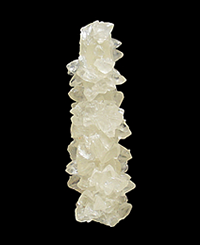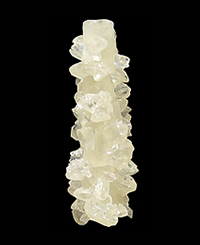 click on image for larger view
C-235 Calcite $50
Crystal Springs No. 2 Quarry, Lecanto, Citrus County, FL
7 x 2.5 x 2.2 cm.
Here we present a southern United States classic. Florida produces attractive Calcites every now and then. This specimen appears to be a stalactite with an overgrowth of scalenohedral Calcite crystals. A not to often seen example of Calcite from a state that isn't exactly well-known for its mineral specimens.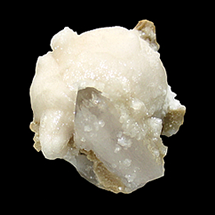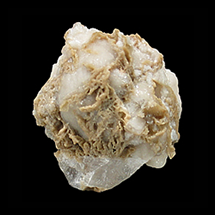 click on image for larger view
C-232 Calcite & Quartz $45
Freiberg District, Erzgebirge, Saxony, Germany
4.4 x 4 x 3.4 cm.
A very lustrous ball of Calcite which is partially encapsulating a 3 centimeter Quartz crystal. Dating back to the 12th century, Freiberg has been mined for its many treasures. The last mine closed in 1969.