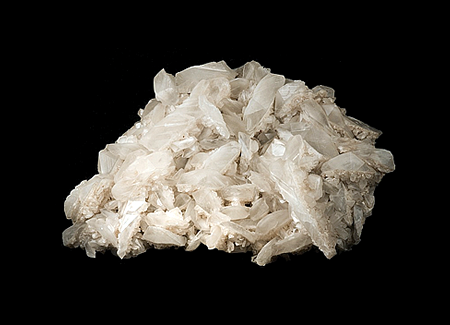 click on image for larger view
C-277 Calcite $1,200 $750
Ex W. Larson Collection
Ex R. Rizzo Collection
Hilton Deposit, Borrego Springs, San Diego County, CA
29 x 17.3 x 11.5 cm
A dramatic and huge plate of large Calcite crystals of from south-eastern San Diego County. This impressive specimen features translucent-transparent, bladed crystals of Calcite measuring up to 10 centimeters in size. The Calcite crystals fluoresce a light-hued red\pink color. Known by locals as "The Calcite Mine" this location was operated from 1942 to 1944 for the Polaroid Corporation to produce optical grade Calcite in order to make the Polaroid Optical Ring Gun-sight. This specimen was a part of my award winning mineral collection. This location has been off-limits to collectors since 1974 when the area surrounding it was designated Anza-Borrego Desert State Park.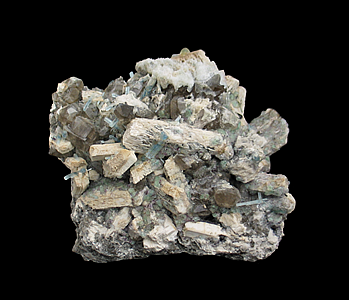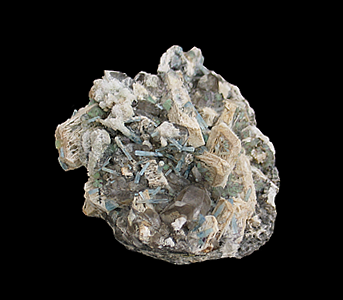 click on image for larger view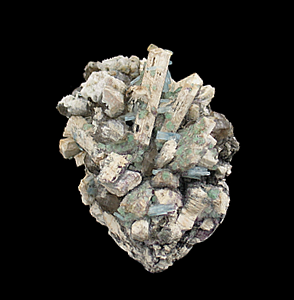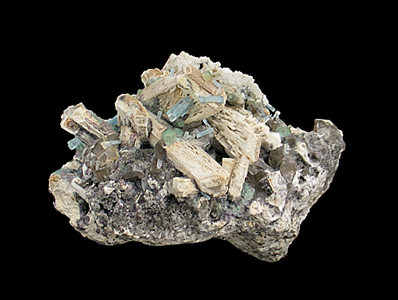 click on image for larger view
B-256 Aquamarine, Microcline, Smoky Quartz, Fluorite & Opal-AN (Hyalite) $850 $550
Ex. R. Rizzo Collection
Erongo Mountains, Karibib Constituency, Erongo Region, Namibia
15.6 x 13.4 x 9.4 cm
This large specimen consists of many twinned Microcline crystals measuring to 7 cm that serve as a host for numerous crystals of Aquamarine and Fluorite. The Aquamarine crystals range in color from sky blue to a light, inky-blue hue. The Fluorite crystals that seem to be everywhere on this specimen are found as cubes, some of which are modified on their edges and range in color from mint to medium green. There is one yellowish Fluorite crystal on this specimen that was suggested to me as possibly being Yttrofluorite but I have not had it tested. Also present on this specimen are partially clear crystals of Smoky Quartz measuring up to 3cm. The white mineral on the top portion of this specimen is Opal-AN, also called Hyalite and is fluorescent. All of crystals on this specimen are complete and undamaged. An aesthetic and very 3-dimensional specimen that can be displayed with several different orientations and always look good..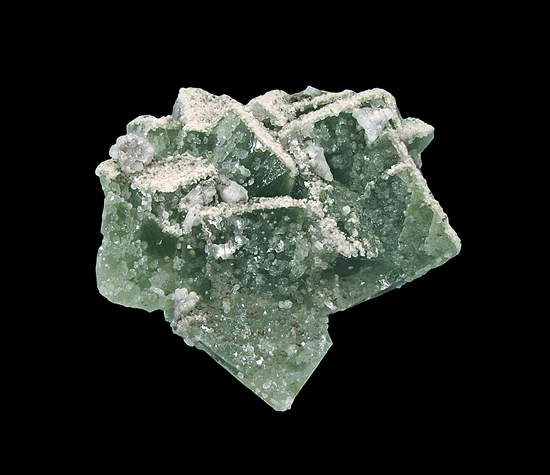 click on image for larger view
F-184 Fluorite with Calcite, Quartz and Pyrite SOLD
El Hammam Mine, Khémisset Province, Rabat-Salé-Kénitra Region, Morocco
15.5 x 14.5 x 4.1 cm.
This specimen features many medium to dark-green crystals of Fluorite. This specimen has several interesting features; the first being numerous water-clear Quartz crystals up to 3 mm. in size that cover the entire specimen. The top of the specimen is blanketed with Calcite and there are dozens of brass-colored, ball-like Pyrites covering the specimen. This Fluorite specimen is complete, with no damage. The back of the specimen is flat , but shows many growth hillocks as well as many white, needle-like inclusions. A good example of a combo specimen for this location.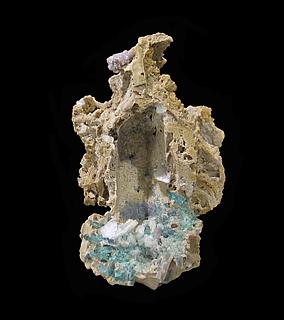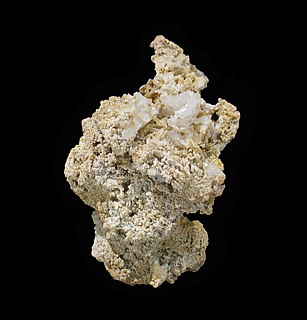 click on image for larger view
C-316 Elbaite & Quartz on Cookeite cast after Tourmaline $150 $100
Araçuaí, Minas Gerais, Brazil
12.9 x 7.6 x 5.2 cm
A vug of Cookeite that once encased a large Tourmaline crystal that dissolved away leaving a bed of greenish-blue Elbaite on the lower front portion of the specimen. The termination of this specimen features a 2 cm Tourmaline crystal that has been replaced by Lepidolite. Also present on the Cookeite "shell" are several groups of Quartz crystals.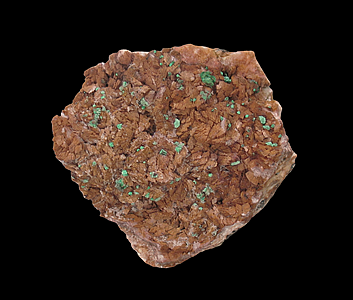 click on image for larger view
R-043 Rosasite with Selenite & Malachite on Dolomite $95 $60
Bou Beker, Touissit-Bou Beker District, Jerada Province, Morocco
12.3 x 11.7 x 7.4 cm
This specimen features many spheres of the Copper carbonate mineral Rosasite on a matrix of pink-colored Dolomite crystals. Some of the Rosasite spheres and some of the Dolomite crystals have a thin coating of clear Selenite. There are also several amorphous masses of green-colored Malachite present on this specimen.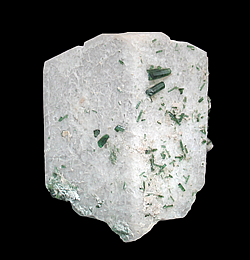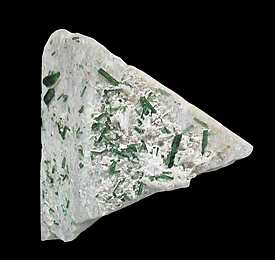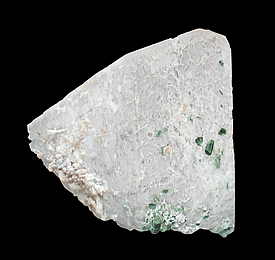 click on image for larger view
T-336 Elbaite Tourmaline on Microcline SOLD
Virgem da Lapa, Minas Gerais, Brazil
13.3 x 11.9 x 12.5 cm
A stout porcelain-like Microcline crystal studded with gemmy crystals of green & blue-green Elbaite, most of which are terminated. Better known for the great Topaz crystals that have been found there, the Tourmaline from this famous location hold their own when compared to other Brazilian localities.