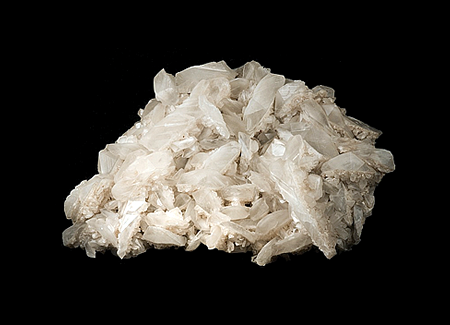 click on image for larger view
C-277 Calcite $1,200 $700
Ex W. Larson Collection
Ex R. Rizzo Collection
Hilton Deposit, Borrego Springs, San Diego County, CA
29 x 17.3 x 11.5 cm
A dramatic and huge plate of large Calcite crystals of from south-eastern San Diego County. This impressive specimen features translucent-transparent, bladed crystals of Calcite measuring up to 10 centimeters in size. The Calcite crystals fluoresce a light-hued red\pink color. Known by locals as "The Calcite Mine" this location was operated from 1942 to 1944 for the Polaroid Corporation to produce optical grade Calcite in order to make the Polaroid Optical Ring Gun-sight. This specimen was a part of my award winning mineral collection. This location has been off-limits to collectors since 1974 when the area surrounding it was designated Anza-Borrego Desert State Park.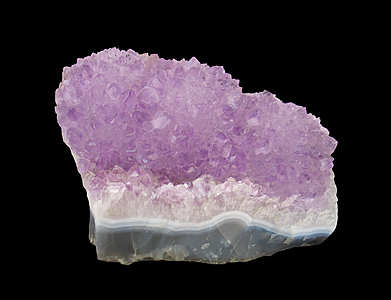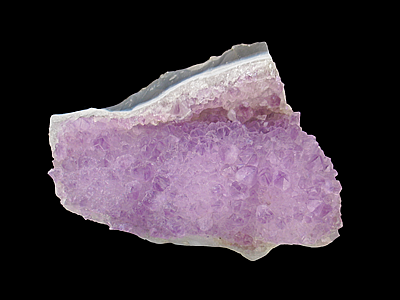 click on image for larger view
Q-567 Amethyst on Chalcedony $2500 $1,500
Ex Philadelphia Academy of Sciences
Ex Russ Rizzo Collection
Amethyst Mountain, Yellowstone National Park, Park County, WY
18 x 14 x 8.4 cm
A large cabinet-sized plate of Amethyst on Chalcedony from Amethyst Mountain, Eastern Fork of the Yellowstone River, NW Wyoming. The crystals on this specimen have a light, lavender-purple hue. The smaller crystals have unusual stepped faces on their terminations. Nearly all of the crystals on this specimen are intact. This specimen pre-dates Yellowstone Park and is most likely circa 1860's to early 1870's. It was collected before collecting in Yellowstone was prohibited and had resided in the Philadelphia Academy Collection for over a century until 2007 when the collection was dispersed. I think any mineral specimen from America's most famous park is to be treasured and can be considered an American Heirloom.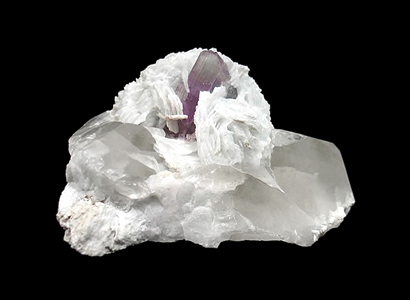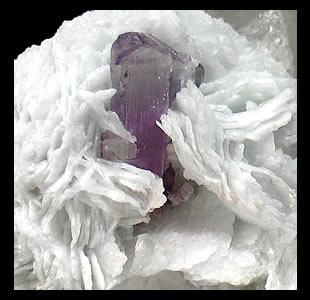 click on image for larger view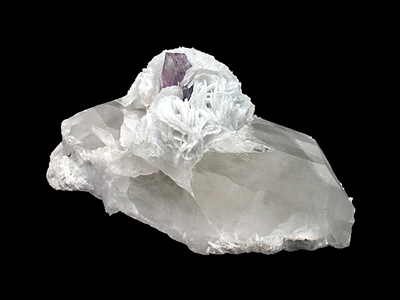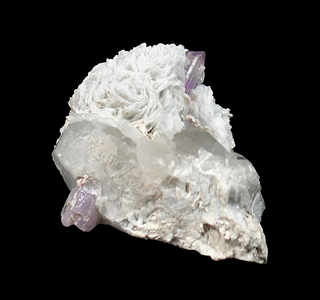 click on image for larger view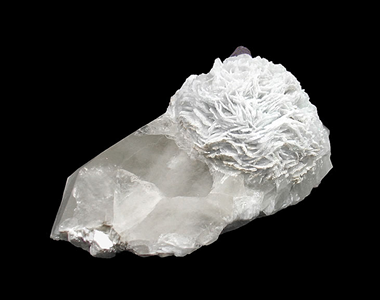 click on image for larger view
S-110 Kunzite and Cleavelandite on Quartz $2,250 $1,250
Mawi Pegmatite, Du Ab District, Nuristan Province, Afghanistan
22 x 11.5 x 11.5 cm
Up until 20-25 years ago, Kunzite specimens on Matrix were virtually unheard of. Not until the last 15 or so years have there been that many really good matrix Kunzite specimens on the market; before that the matrix Kunzites from Afghanistan were usually pretty mundane looking. Here we have one of the better looking matrix Kunzites that can occasionally be had. This combo specimen has an 11 cm. Kunzite piercing a 22 cm. Quartz crystal and is enveloped by a jacket of light-blue, curved, Cleavelandite crystals up to 3 cm. in size. The rich reddish-purple colored Kunzite crystal is gem-clear with a pristine termination that grows fainter in color towards the top, yet when viewed down the c-axis a strong purple hue is visible. The color of the Kunzite, combined with the light-blue color of the Cleavelandite makes for a nice contrast of colors. This combined with a base of Quartz makes for an especially aesthetic specimen. The Quartz crystal that serves as the matrix for this Kunzite-Cleavelandite combo is contacted on the bottom and portions of the side, which leads me to believe that this specimen came from a corner of the pocket. Both the Quartz and the Kunzite possess a brilliant lustre. One more interesting feature of this specimen is that the Kunzite has a strong orange fluorescence under LWUV light and a strong hot-pink fluorescence under SWUV light. Also observed was that small areas of the Quartz and Cleavelandite showed weak orange fluorescence under LWUV as well.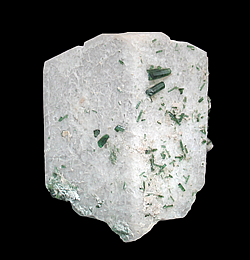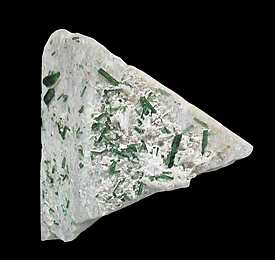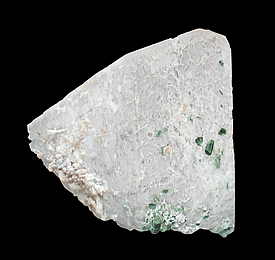 click on image for larger view
T-336 Elbaite Tourmaline on Microcline $150 $100
Virgem da Lapa, Minas Gerais, Brazil
13.3 x 11.9 x 12.5 cm
A stout porcelain-like Microcline crystal studded with gemmy crystals of green & blue-green Elbaite, most of which are terminated. Better known for the great Topaz crystals that have been found there, the Tourmaline from this famous location hold their own when compared to other Brazilian localities.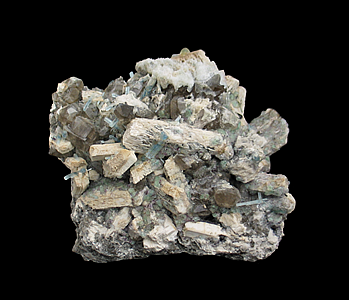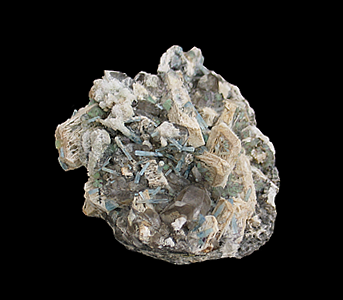 click on image for larger view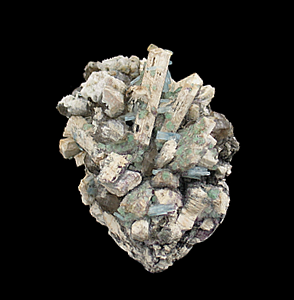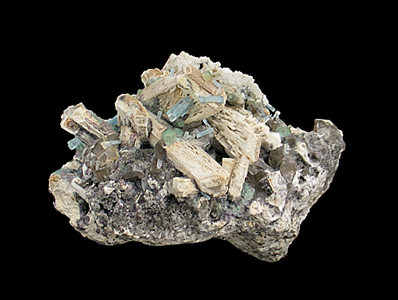 click on image for larger view
B-256 Aquamarine, Microcline, Smoky Quartz, Fluorite & Opal-AN (Hyalite) $850 $550
Ex. R. Rizzo Collection
Erongo Mountains, Karibib Constituency, Erongo Region, Namibia
15.6 x 13.4 x 9.4 cm
This large specimen consists of many twinned Microcline crystals measuring to 7 cm that serve as a host for numerous crystals of Aquamarine and Fluorite. The Aquamarine crystals range in color from sky blue to a light, inky-blue hue. The Fluorite crystals that seem to be everywhere on this specimen are found as cubes, some of which are modified on their edges and range in color from mint to medium green. There is one yellowish Fluorite crystal on this specimen that was suggested to me as possibly being Yttrofluorite but I have not had it tested. Also present on this specimen are partially clear crystals of Smoky Quartz measuring up to 3cm. The white mineral on the top portion of this specimen is Opal-AN, also called Hyalite and is fluorescent. All of crystals on this specimen are complete and undamaged. An aesthetic and very 3-dimensional specimen that can be displayed with several different orientations and always look good..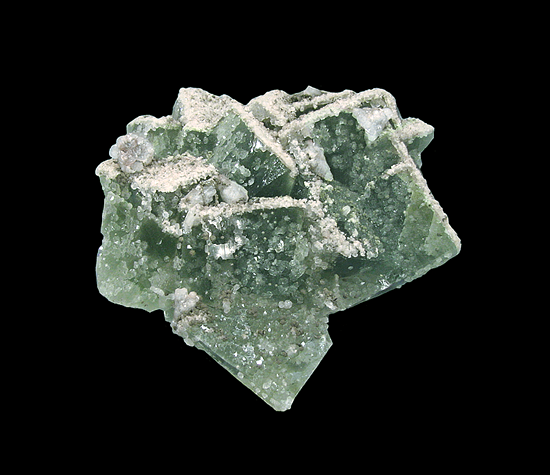 click on image for larger view
F-184 Fluorite with Calcite, Quartz and Pyrite $350 $200
El Hamman Mine, Meknès Prefecture, Morocco
15.5 x 14.5 x 4.1 cm.
This specimen features many medium to dark-green crystals of Fluorite. This specimen has several interesting features; the first being numerous water-clear Quartz crystals up to 3 mm. in size that cover the entire specimen. The top of the specimen is blanketed with Calcite and there are dozens of brass-colored, ball-like Pyrites covering the specimen. This Fluorite specimen is complete, with no damage. The back of the specimen is flat , but shows many growth hillocks as well as many white, needle-like inclusions. A good example of a combo specimen for this location.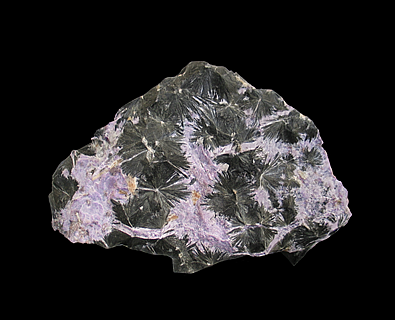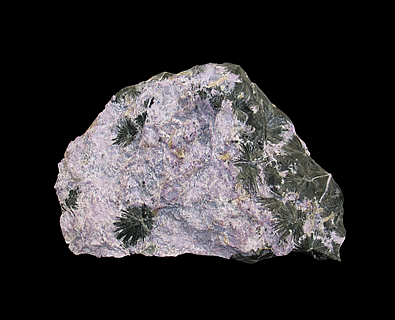 click on image for larger view
C-307 Charoite (Type Locality) with Steacyite & Aegerine $250 $150
Murunskii Massif, Chara & Tokko Rivers, Aldan Shield, Russia
19 x 12.6 x 6.1 cm
A very large example of lilac-purple-colored Charoite from the type locality for this species. Charoite, is a rare & very complex silicate mineral & is well-known as exceptional lapidary material due to its beautiful violet to deep lilac color. The Charoite serves as a host for numerous radial sprays of lustrous, green-black Aegerine & yellow-brown-colored crystals of the rare Th-silicate mineral, Steacyite. The Steacyite also has a killer green-colored fluorescence. Charoite is named for the type locality, near the Chara & Tokko Rivers.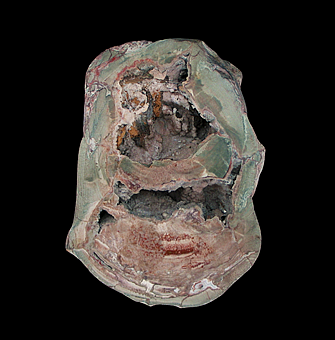 click on image for larger view
AD-184 Agate & Quartz Thunderegg $100 $75
Lierbach Valley, Oppenau, Black Forest, Baden-Württemberg, Germany
19.5 x 14 x 6.4 cm
Here we have a very large example of Agate from Germany's Black Forest. The center of this slate-green-colored Agate is filled with Quartz crystals. The two chambers of this Agate have sparkling Quartz crystals and a red-colored mineral, most likely Hematite. There are many Agate localities all over Germany, but few of these Agates ever make it to the United States.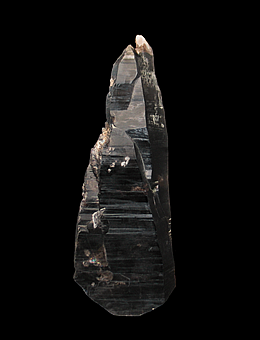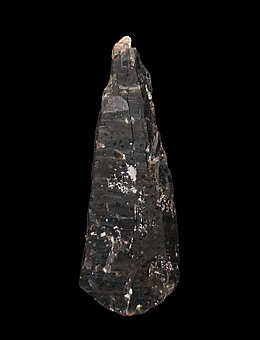 click on image for larger view
Q-586 Smoky Quartz & Microcline $95 $70
Black Cap Mountain, North Conway, Conway, Carroll County, NH
17.6 x 6.2 x 2.8 cm
A very large crystal of Smoky Quartz from a remote New Hampshire locality. This crystal has a flattened form, and striated faces. It is complete all the way around, and terminated on top. The termination and back 2 faces have bits of Microcline embedded in them.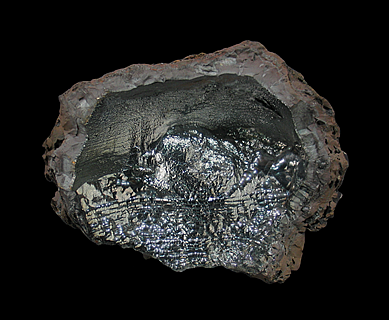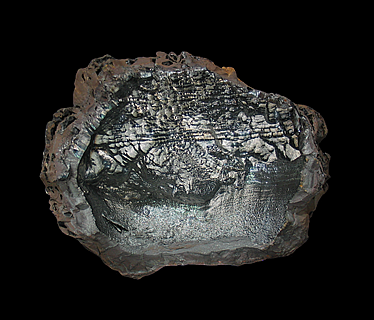 click on image for larger view
AD-213 Goethite geode $125 $75
Dumbalk, South Gippsland Shire, Victoria, Australia
16.5 x 12.4 x 6.4 cm
A large, Goethite geode with highly lustrous interior. Some areas of of the interior exhibit a faint iridescence. I see these for sale every now and then, usually 6-7 cm in size, but this is the first one of this size that I have encountered.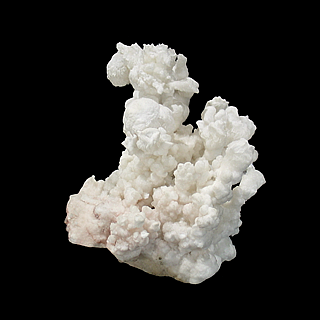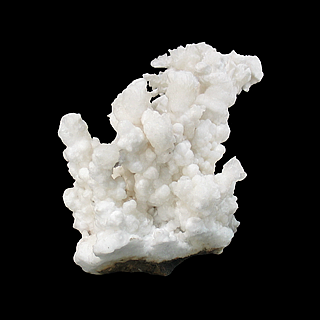 click on image for larger view
A-114 Aragonite SOLD
Bristol Mine, Bristol and Jackrabbit Districts, Lincoln County, NV
12.3 x 11.9 x 7.9 cm
This very three-dimensional formation of Aragonite is from a defunct silver mine. These specimens are formed by ground water deposition inside the underground mine.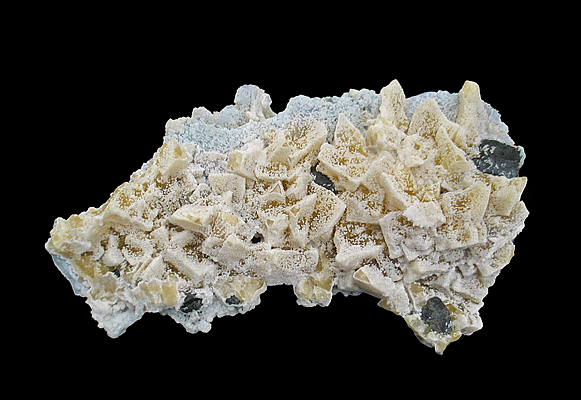 click on image for larger view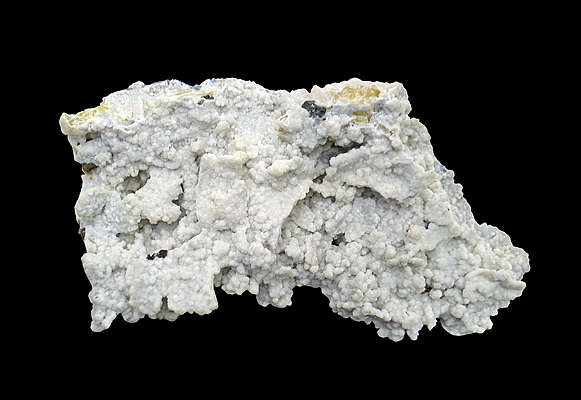 click on image for larger view
F-313 Fluorite with Alstonite & Sphalerite $750 $525
Ex Ross Lillie Collection #2224
Bethel Level, Minerva #1 Mine, Ozark-Mahoning Group, Cave-in-Rock, Hardin County, IL
32.7 x 19.1 x 10.8 cm
A large plate of blue-colored Fluorite that has been overgrown with crystals of yellow-colored Fluorite and dark crystals of Sphalerite (up to 3.2 cm in size). The Fluorite crystals were then partially dissolved then coated with many small crystals of the rare Ba-Ca carbonate mineral, Alstonite. The reverse side of this specimen is also richly covered in Alstonite. This specimen can be displayed in several different orientations and look equally good. This specimen has no damage; although some areas have been contacted. This important specimen was mined in the late 1960's.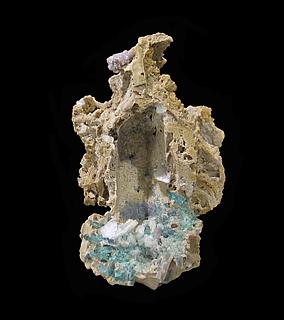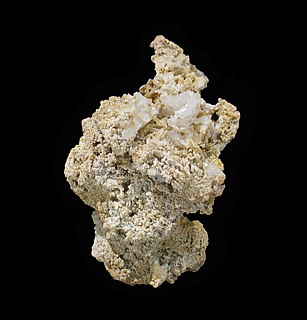 click on image for larger view
C-316 Elbaite & Quartz on Cookeite cast after Tourmaline $150 $100
Araçuaí, Minas Gerais, Brazil
12.9 x 7.6 x 5.2 cm
A vug of Cookeite that once encased a large Tourmaline crystal that dissolved away leaving a bed of greenish-blue Elbaite on the lower front portion of the specimen. The termination of this specimen features a 2 cm Tourmaline crystal that has been replaced by Lepidolite. Also present on the Cookeite "shell" are several groups of Quartz crystals.
Q-536 Quartz pseudomorph after Feldspar $225 $150
Ex Russ Rizzo collection
Erongo Mountain, Karibib, Erongo Region, Namibia
11.8 x 6.7 x 10.2 cm
A very large and interesting pseudomorph. This three-dimensional specimen is a complete and total replacement of nine Orthoclase crystals by tiny Quartz crystals which have a green cast. Also present on this specimen are fragments of Schorl. Being someone who has an appreciation for any mineral specimen that is out of the ordinary, I fell in love with these when I first saw them. A majority of the combinations of mineral species that can be found in Erongo are quite abundant, it seems to me that Pseudomorphs are under represented at this famous location. These never were very abundant and probably won't be in the future.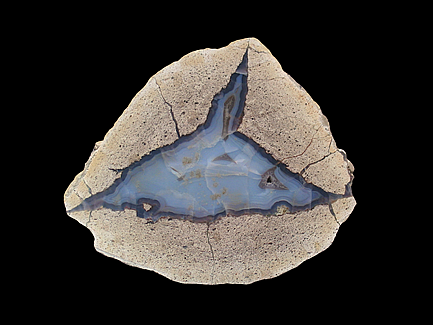 click on image for larger view
AD-165 Agate & Quartz Thunderegg $120 $80
St. Egidien, Glauchau, Zwickau, Saxony, Germany
16.6 x 14.2 x 7.3 cm
A large specimen from Germany's premier thunderegg locality. The dense banded outer layers of deep-blue grades to a sky-blue core. This colorful thunderegg also features several small pockets of Quartz.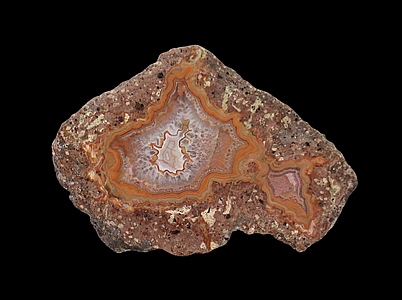 click on image for larger view
AD-239 Agate $75 $50
Nowy Kosciól, Kaczawskie Mountains, Lower Silesia, Poland
13.6 x 9.4 x 4.9 cm
Here we have a multicolored Agate from Poland's Kaczawskie Mountains. This Agate portion shows fine banding of orange and red hues. Nowy Kosciól is a classic Polish locality. Thunder Eggs such as these are highly prized by Polish Agate collectors and are rarely available outside of Europe.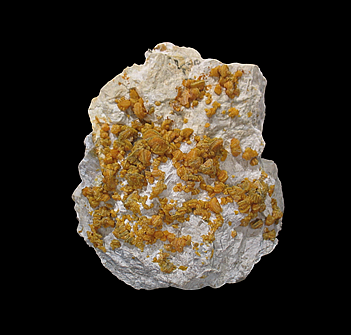 click on image for larger view
W-025 Wulfenite $175 $100
Mezica Mines, Mezica, Carinthia Region, Slovenia
14.6 x 12.5 x 6.7 cm
A large matrix specimen from one of Europe's more noteworthy Wulfenite locations. This specimen features greenish-brown crystals of Wulfenite sandwiched between secondary overgrowths of orange-yellow Wulfenite. Also present are smaller dipyramidal crystals as singles and small groups. The Crystals on this specimen measure up to 1.6 centimeters in size.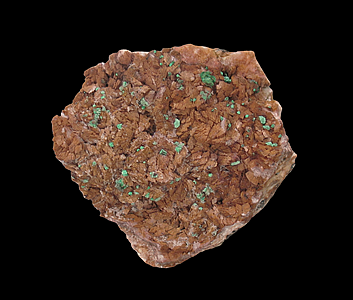 click on image for larger view
R-043 Rosasite on Dolomite $75 $50
Bou Beker, Touissit-Bou Beker District, Jerada Province, Morocco
12.3 x 11.7 x 7.4 cm
This specimen features many spheres of the Copper carbonate mineral Rosasite on a matrix of pink-colored Dolomite crystals. Some of the Rosasite spheres and some of the Dolomite crystals have a thin coating of clear Gypsum. There are also several amorphous masses of green-colored Malachite present on this specimen.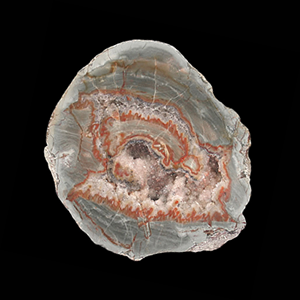 click on image for larger view
AD-113 Agate and Quartz geode $75 $45
Lierbachtal, Oppenau, Schwarzwald, Germany
13 x 12 x 3 cm
Here we have a very large nodule of Agate from Germany's Black Forest. The center of this slate-colored Agate is filled with Quartz crystals. The section of this Agate that has the Quartz crystals is outlined by a red-colored mineral, most likely Hematite. In my 23 years of collecting I have seen less than a dozen examples of this material. There are many Agate localities all over Germany, but few Agates ever make it to the United States.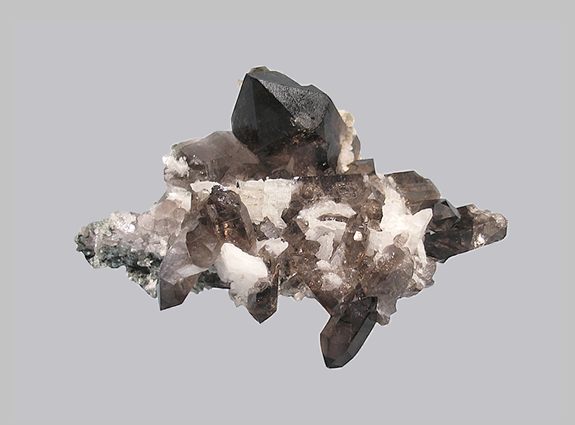 click on image for larger view
Q-138 Smoky Quartz with Adularia SOLD
St. Gotthard Massif, Leventina, Ticino, Switzerland
16.5 x 9.5 x 10.5 cm
A very clear cluster of medium-to-dark brown Smoky Quartz crystals accented by numerous crystals of the variety of Feldspar, Adularia. The largest Quartz crystal on this specimen measures 7 x 4 cm. and features a very interesting pair of V-shaped crystal faces near its termination, resulting in the jagged-looking outline in the photo above. Two of the smaller Quartz crystals have rough-looking terminations, which are due to being re-healed while in situ. Fine, undamaged Swiss Quartz specimens are hard to come by as the local collectors tend to keep the best for themselves, which is understandable, considering the extreme conditions and altitudes under which these magnificent mineral specimens are collected.