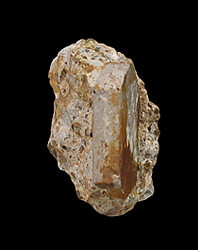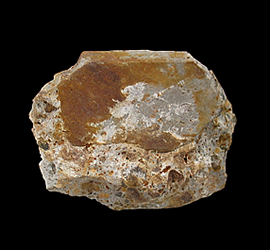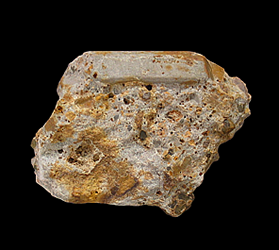 click on image for larger view
T-326 Topaz pseudomorph after Orthoclase $95
Saubachriss, Muldenberg, Klingenthal, Vogtland, Saxony, Germany
6 x 4.8 x 3.9 cm
Here we have an example of one of the more elusive pseudomorphs from Europe. A twinned Orthoclase crystal measuring 4.8 centimeters in length, that has been completely replaced by Topaz. While is a small imperfection on one corner, this specimen is still considered an really good example of this material. Examples of this material are getting quite difficult to find these days.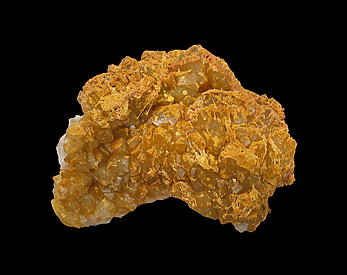 click on image for larger view
B-228 Bismutite on Quartz SOLD
Ex J. Hoppner Collection
Hohenstein, Reichenbach, Lautertal, Odenwald, Hesse, Germany
10.2 x 7.8 x 3.9 cm
A plate of undamaged Quartz crystals coated with the secondary Bismuth carbonate mineral Bismutite. I can't recall seeing a specimen as richly-colored as this one is. Upon closer examination you will find that the Bismutite overgrowth is more than just a crust, that is has a much more textured appearance.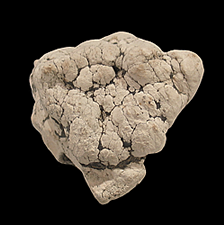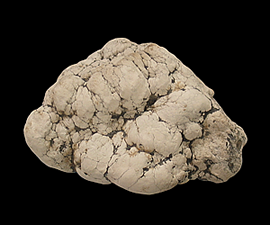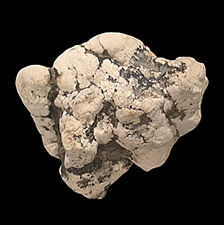 click on image for larger view
D-032 Destinezite (Type Locality) $45
Argenteau, Visé, Liège, Wallonia, Belgium
7 x 5.5 x 4.2 cm
A well-formed, earth-colored nodule of the phosphate mineral, Destinezite. Destinezite is found at less than 20 localities worldwide, making it quite rare.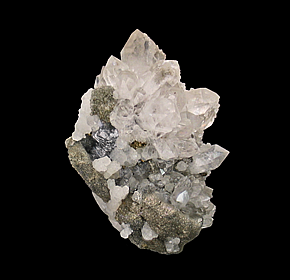 click on image for larger view
Q-488 Quartz with Pyrite & Pyrrhotite on Galena $60
Trepca Stan Terg Mine, Trepca Complex, Trepca Valley, Kosovska Mitrovica, Kosovo
8 x 5.1 x 5.3 cm
This specimen consists of multiple crystals of clear, glassy Quartz crystals on a matrix of Galena. Also present on this specimen are crystals of Pyrrhotite that have been coated by tiny, sparkly crystals of Pyrite.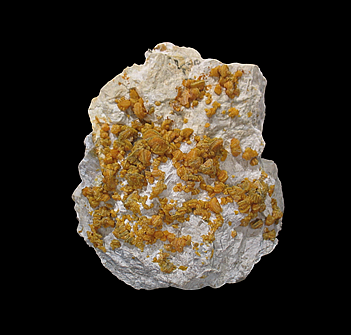 click on image for larger view
W-025 Wulfenite $145
Mezica Mines, Mezica, Carinthia Region, Slovenia
14.6 x 12.5 x 6.7 cm
A large matrix specimen from one of Europe's more noteworthy Wulfenite locations. This specimen features greenish-brown crystals of Wulfenite sandwiched between secondary overgrowths of orange-yellow Wulfenite. Also present are smaller dipyramidal crystals as singles and small groups. The Crystals on this specimen measure up to 1.6 centimeters in size.


click on image for larger view
B-229 Brookite on Quartz $85
Ex R. Wein Collection
Le Trient Glacier, Le Trient Valley, Valais, Switzerland
9.6 x 7.2 x 4.1 cm
This specimen features striated, lustrous, brown-hued blades of Brookite to 8 mm in size. The Brookite crystals are richly scattered and hidden on the jackstraw matrix of variably-sized, glassy Quartz crystals. This specimen hails from the famous Trient Glacier of Switzerland. The largest Quartz crystal on this specimen measures 4.4 cm in length. This specimen came from noted Alpine collector Rolf Wein and was purchased at the Basel Show in 1972.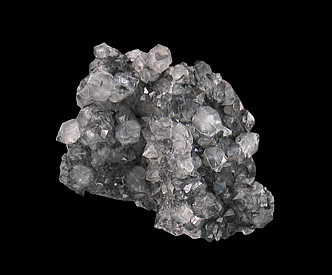 click on image for larger view
Q-490 Quartz with Boulangerite $45
Ex M. Gough Collection
Herja Mine, Chiuzbaia, Baia Mare, Maramures, Romania
6.5 x 5.1 x 3.1 cm
A plate of glassy Quartz crystals included by the sulfide mineral, Boulangerite. The well-formed crystals sit on a matrix of other undetermined sulfides. A great locality piece.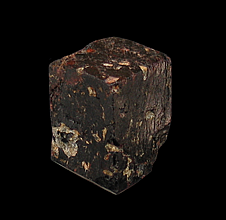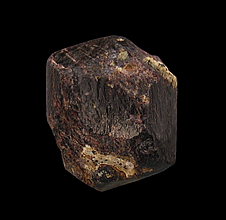 click on image for larger view
G-153 Almandine Garnet $40
Buviknakken, Buvika, Sørfold, Nordland, Norway
3.6 x 2.7 x 2.3 cm
A complete crystal of Almandine from a noteworthy Norse location. This Garnet has a good lustre and a pleasing deep wine-red hue. At 3.6 centimeters this crystal is a little large than usual for this location. This locality was discovered in the early 1970's by the Norwegian collector Korneliussen. An episode where collectors used dynamite at the site without permission from the landowner has made collectors unpopular and not always welcome in the area making examples of this material hard to find.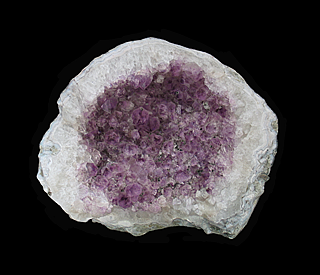 click on image for larger view
AD-209 Amethyst $45
Juchem Quarry, Niederwörresbach, Herrstein, Birkenfeld, Rhineland-Palatinate, Germany
15.4 x 12.8 x 4.5 cm
This specimen features glassy, grape-colored crystals of Amethyst. The crystals on this specimen measure up to 1.6 centimeters in size. While there are several cracks in the matrix, it has not been repaired, only reinforced with a little glue on the rear. If you've been looking to score a decent German Amethyst on the cheap this is the one.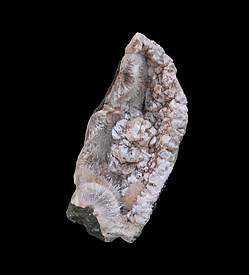 click on image for larger view
N-005 Natrolite and Analcime RESERVED
Ciamp Pinoi, Siusi Alp, Gardena Valley, Trentino-Alto Adige, Italy
8.6 x 4.2 x 3 cm
A vug-like specimen of Analcime crystals flanked by acicular sprays of colorless Natrolite. Not much is known about this zeolite occurrence; in fact Mindat doesn't even have any photos of material from this location.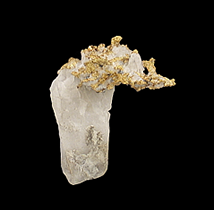 click on image for larger view
G-152 Gold on Quartz SOLD
Ex R. Rizzo Collection
Brusson Mine, Brusson, Aosta Valley, Italy
3.2 x 2.6 x 1.4 cm
When it comes to Alpine minerals, Gold is far from the top of the list. This specimen features wispy gold that is crystallized and a little leaf-like in appearance. Despite intermittent production at best this mine has gained a reputation for the quality of its specimens. Specimens of this material are extremely hard to come by as they are held in high regard by European collectors.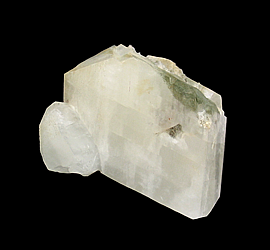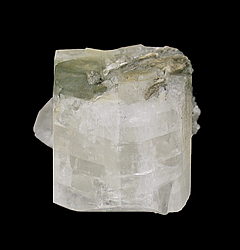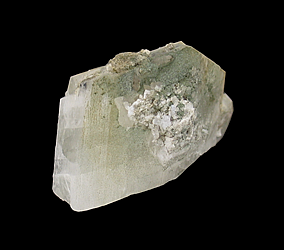 click on image for larger view
F-262 Microcline variety Hyalophane RESERVED
Ex R. Rizzo Collection
Zagradski Potok Mine, Busovaca, Central Bosnia Canton, Bosnia and Herzegovina
4.5 x 5.9 x 4.5 cm
A compound crystal of the rare variety of Feldspar, Hyalophane. This crystal, although blocky-looking at first glance, actually exhibits complex twinning and has well-defined crystal faces. Hyalophane is a variety of Microcline or Orthoclase which contains substantial barium. The Zagradski Potok Mine is pretty much the only locality that furnishes good samples of this mineral and specimens from this location are considered to be quite desirable.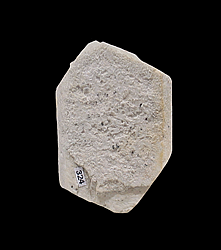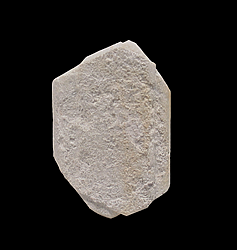 click on image for larger view
K-006 Kaolinite pseudomorph after Orthoclase $40
Ex R. Rizzo, J.P. Gliddon Collection
Melbur China Clay Pit, Melbur, St Stephen-in-Brannel, Cornwall, England, UK
5.3 x 3.6 x 1.2 cm
This specimen is a Cornish classic. This pseudomorph consists of a well-formed, complete Carlsbad-twinned Orthoclase crystal that has been completely replaced by Kaolinite and Sercite. The latter being a fine-grained whitish mica, mainly Muscovite.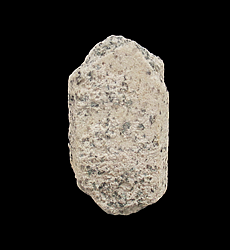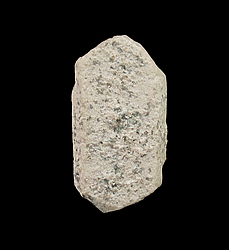 click on image for larger view
K-007 Cassiterite in Kaolinite pseudomorph after Orthoclase $75
Ex R. Rizzo Collection
St Austell Mining District, Cornwall, England, UK
6.4 x 3.4 x 1.4 cm
An excellent double-terminated & tabular, Carlsbad-twinned Orthoclase crystal that has been pseudomorphed by Kaolinite. Embedded in this specimen numerous crystals of the tin oxide mineral, Cassiterite. Kaolinite pseudomorphs after Orthoclase from Cornwall are not particularly rare but those that are included by Cassiterite are few and far between and are highly prized.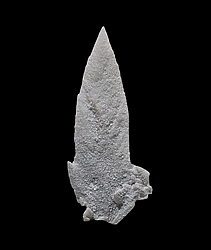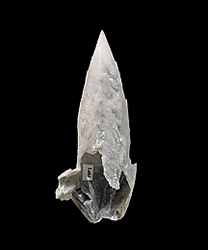 click on image for larger view
C-286 Calcite cast after Calcite $35
Droujba Mine, Djurkovo Complex, Laki, Laki Obshtina, Plovdiv Province, Bulgaria
8 x 3.3 x 2.7 cm
A very interesting Eastern European specimen of Calcite. This scalenohedral crystal of Calcite is hollow and is a cast after, oddly enough, Calcite.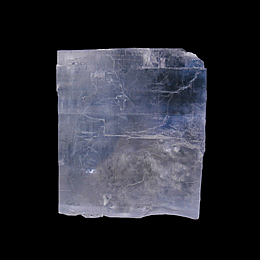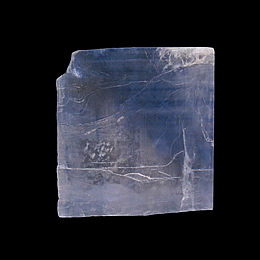 click on image for larger view
H-088 Halite $60
Stassfurt, Stassfurt Potash Deposit, Saxony-Anhalt, Germany
8.3 x 8.4 6.7 cm
A large and relatively complete crystal of blue-colored Halite from a very old, classic locale, showing sharp phantoms. Since Halite cleaves easily, it is hard to say if all faces are present, but I think most faces certainly are legitimate and show the slight imperfections you would expect of natural cubic faces.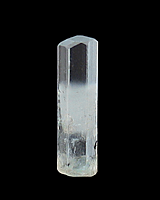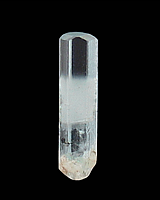 click on image for larger view
B-231 Aquamarine $100
Ex R. Rizzo Collection
Slievenamiskan, Spelga, Mourne Mountains, County Down, Northern Ireland, UK
2.4 x .7 x .7 cm
The Mourne Mountains have long been famous for their Aquamarine, Topaz & Quartz specimens which could be found there. Specimens from this location are treasured by collectors from the United Kingdom. This specimen is 2.4 centimeters tall with a nice termination and is clear on both ends with the middle portion being translucent. The norm for Beryl crystals from this location seems to be translucent with almost no clear areas at best. This is a decent sized example of this hard to get material. You just can't seem to pry these out of the hands of local collectors and of course the museums have the best examples of this material. It took me 15 years of searching to find this specimen.