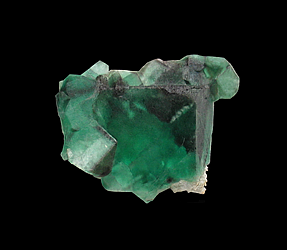 click on image for larger view
F-248 Fluorite on Microcline $75
Erongo Mountain, Karibib, Erongo Region, Namibia
6.9 x 5.7 x 4.1 cm
A translucent, color-zoned crystal of Fluorite measuring 3.5 cm accented by many smaller crystals on a little bit of corroded Microcline. I consider these Fluorite specimens every bit as interesting and desirable as the Beryl and Tourmaline specimens from Erongo.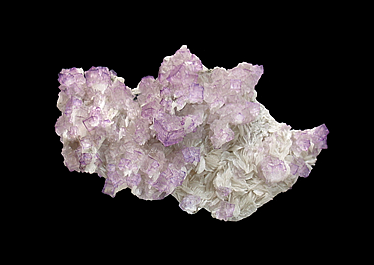 click on image for larger view
F-229 Fluorite on Barite SOLD
Liter's Quarry, Breckenridge County, Kentucky
10.6 x 6.1 x 2.6 cm
While Illinois is the undisputed king as far as Fluorite from the U.S. is concerned, its neighbor to the south has been known to produce the occasional specimen. This specimen features cubes of light-purple-colored crystals of Fluorite measuring to 1 cm perched on a matrix of bladed crystals of Barite. While seldom seen at the best of times, Fluorite specimens from Kentucky have always been eagerly sought out by collectors. This specimen came labeled as being from the Irvington Quarry which is the former name of Liter's Quarry.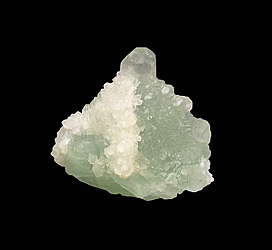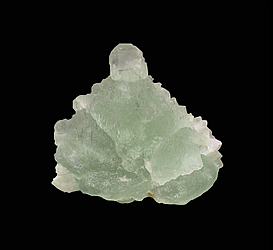 click on image for larger view
F-251 Fluorite with Quartz $35
Taolin Mine, Linxiang County, Yueyang, Hunan, China
5.8 x 5 x 3.7
This peculiar Fluorite specimen is from a find made about 12-14 years ago. This light-green Fluorite is a lightly etched and is topped with a cuboctahedron. It is coated on one side with small crystals of Quartz. An unusual specimen from a lesser known Chinese Fluorite locality.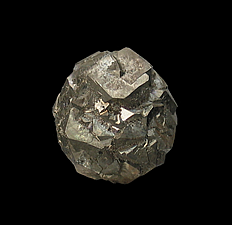 click on image for larger view
P-090 Pyrite nodule $65
Sayreville, Middlesex County, New Jersey
4 x 3.6 x 3.5 cm
A rare and very old specimen. These nodules of crystallized Pyrite were found in the clay pits of Sayreville, New Jersey. It is composed of crude cubic crystals with octahedral-modified corners. This is a very large specimen for the locality.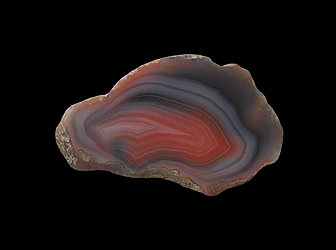 click on image for larger view
AD-154 Agate $40
Valle Escondido, San Rafael Department, Mendoza, Argentina
6.6 x 3.8 x 3.1 cm
A multi-colored, densely banded, polished agate nodule from Argentina with good form. This Agate features dense banding of reds, pinks, blues-gray radiating outward from its offset center.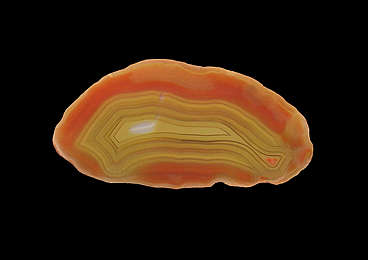 click on image for larger view
AD-155 Agate $50
Patagonia, Argentina
7.7 x 3.9 x 2.9 cm
A vividly-colored Agate from Patagonia. This Agate exhibits a parallax which is sometimes referred to as winking. When a banded Agate forms with close alternating opaque and transparent bands, the light entering the Agate can cast an observable shadow from one opaque band onto the next. As the parallel bands change their perceived angle, the appearance of movement and perception of depth occur.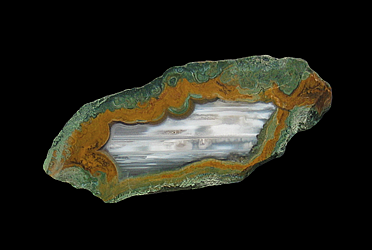 click on image for larger view
AD-156 Agate with Celadonite and Chalcedony SOLD
Kardzhali Oblast, Bulgaria
10.5 x 4.5 x 2.4 cm
A polished section of white and gray Agate surrounded by brown Chalcedony that has been partially included by green-colored Celadonite. The locals call this material "Orpheus Agate". I don't know if the deposit is exhausted or not, just that it is getting very difficult to find this material these days.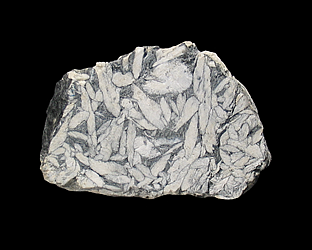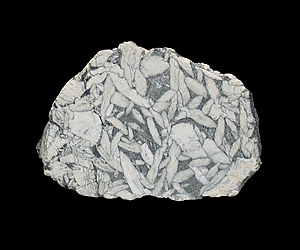 click on image for larger view
P-091 Pinolite $45
Magnesite Deposit, Sunk, Hohentauern, Niedere Tauern, Styria, Austria
8.6 x 6.2 x 1.3 cm
Here we have an unusual specimen of two carbonate minerals, known as Pinolite, from Styria, Austria. Named for the white Magnesite crystals resembling pine kernels (hence the name), encased in a graphite-grey to almost black matrix of Dolomite.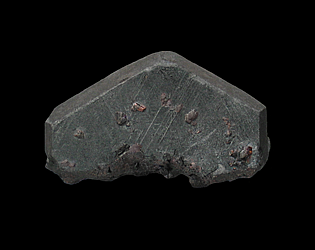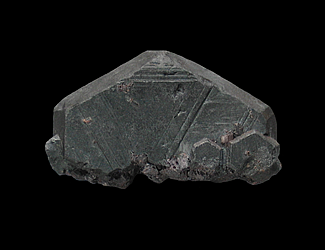 click on image for larger view
H-083 Hematite & Rutile pseudomorph after Ilmenite SOLD
Mwinilunga District, North-Western Province, Zambia
7 x 3.9 x 2 cm
This specimen features twinned crystals of Rutile on what was a tabular Ilmenite crystal that has now been replaced by Rutile & Hematite. The surface of this specimen exhibits a submetallic lustre with clearly visible triangular-shaped growth hillocks. This is a complete crystal with just a few areas of edgewear which is common for specimens from this find.


click on image for larger view
U-002 Ulexite pseudomorph after Probertite SOLD
Tick Canyon Borate Deposit, Lang, Los Angeles County, CA
6.3 x 5.6 x 2 cm
A nodule of the rare, borate mineral, Probertite altering to Ulexite. The needle-like crystals of this specimen have a satin-like lustre. At one time specimens from this once prolific location were easy to come by but are now seldom seen.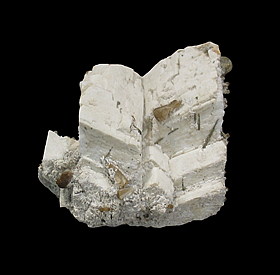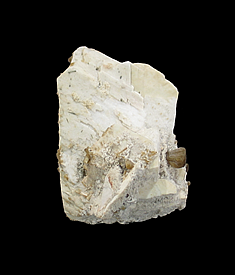 click on image for larger view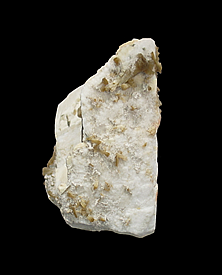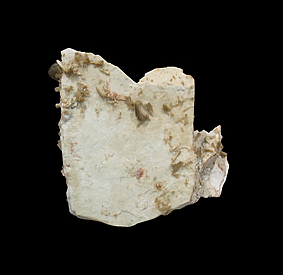 click on image for larger view
S-156 Stilbite on Microcline $75
Andrzej I Quarry, Zólkiewka, Swidnica, Lower Silesia, Poland
9 x 8.6 x 5.6 cm
A blocky and well-formed baveno-twinned crystal of Microcline featuring many tufts of divergent crystals of Stilbite. Also present on this specimen are several crystals of Epidote measuring up to 1.7 cm in size. There are also several areas with a red-colored mineral which appears to be Chabazite. This specimen is a complete all-around floater with no damage.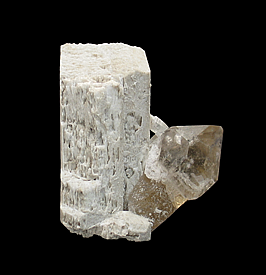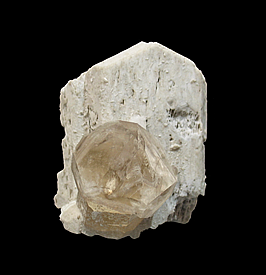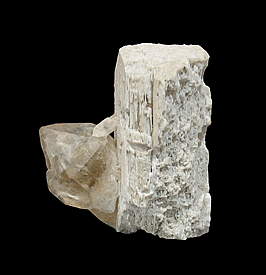 click on image for larger view
Q-474 Citrine on Microcline $125
Taquaral, Itinga, Minas Gerais, Brazil
8.3 x 7.1 x 5.8 cm
This specimen hails from a location that is well known its phosphate minerals and superbly crystallized Rose Quartz. This specimen consists of an etched (but complete) crystal of Microcline featuring a clear, sceptered crystal of lightly colored Citrine sprouting from its side. Natural Citrine Quartz crystals are uncommon worldwide and even more so as scepters. This specimen is complete all around with no damage. This specimen was once in my collection and was part of several award winning competitive exhibits of Brazilian Minerals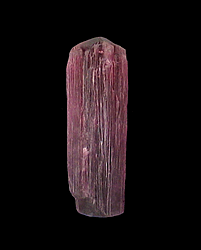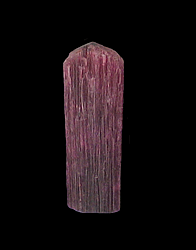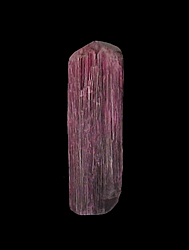 click on image for larger view
T-321 Rubellite Tourmaline $265
Cruzeiro Mine, São José da Safira, Minas Gerais, Brazil
4.5 x 1.6 x 1.5 cm
A wine-colored Tourmaline with a needle-like form from Brazil's renowned Cruzeiro Mine. The core of this Tourmaline is deep red-purple in color. This is a striking and strange-looking tourmaline with excellent color. This crystal is complete all around with no damage.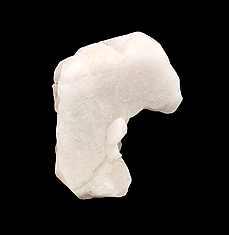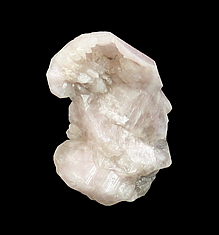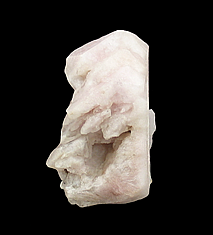 click on image for larger view
Q-475 Quartz with Montmorillonite inclusions $75
White Queen Mine, Pala, San Diego County, CA
6 x 3.5 x 4 cm
A classic Quartz from the pegmatites of northern San Diego County. In 1970's several pockets with Quartz crystals with pink & tan Montmorillonite inclusions were found at the White Queen Mine. Many of these crystals, especially the larger ones, were sawn in half & polished to better show these inclusions. What saved this one from being brutalized by saw and lap is the fact that a portion of this crystal had dissolved and re-crystallized leaving a cavernous indentation. The faces of this crystal that haven't been etched are glassy which is uncommon for this material. Examples of these crystals are rarely seen these days.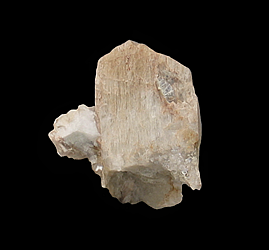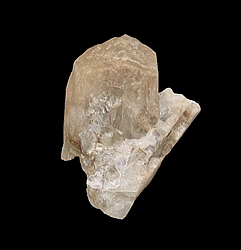 click on image for larger view
S-157 Spodumene on Quartz $75
Nevel Quarry, Newry, Oxford County, ME
5.2 x 4.4 x 2.6 cm
A specimen of opaque, off-white-colored Spodumene from Newry, Maine. The Spodumene is terminated on one end and sits in/on a matrix of Quartz. Also present on the specimen are several areas of silvery-colored Muscovite.