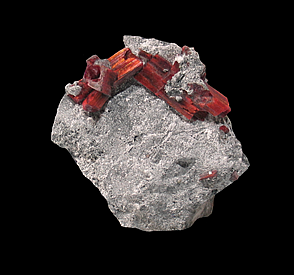 click on image for larger view
R-039 Realgar $150
No. 5 Mine, Baia Sprie, Maramures County, Romania
6.6 x 6.6 x 2.3 cm
This outstanding specimen of Realgar is from the find made in late 2005. The largest crystal measures 2.5 cm in size. This stunning find produced a limited amount of specimens that are considered to be among the best ever found at this classic locality, which has been regarded as the premier location for Realgar specimens. This Mine is now closed and the lower levels have filled with water and the pumps have been turned off permanently.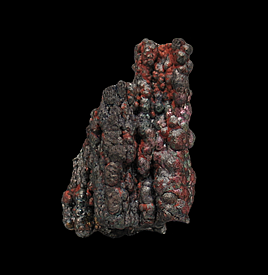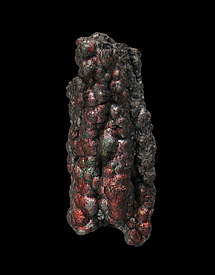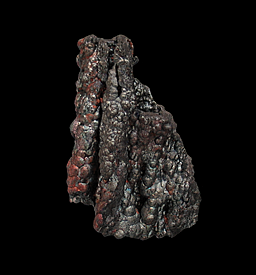 click on image for larger view
G-141 Goethite $85
Filón Sur Open Pit, Tharsis Mines, Tharsis, Alosno, Huelva, Andalusia, Spain
7.8 x 5.1 x 3.6 cm
Goethite in a stalactitic-botryoidal growth with intense, very bright, iridescent metallic reflections. The colors vary between blue, blur-green and red and are more pastel than usual for this find. The specimen is from a find in 2007. Other than these specimens, this locality hasn't produced significant samples in the last 30+ years. Although contacted on top and bottom it is a very fine example of this material.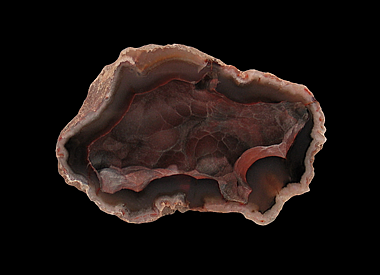 click on image for larger view
AD-153 Chalcedony geode $50
Valle de las Plumas, Paso de Indios Department, Chubut, Argentina
8.6 x 5.6 x 3.7 cm
A striking sliced and polished geode from Argentina. The Chalcedony geode is lined with vibrant, rust-red, botryoids with a strong, coffee-colored rim. The locals have given these colorful nodules the name "Orellanita".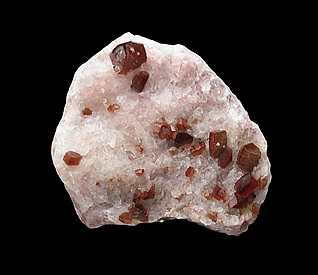 click on image for larger view
T-320 Uvite Tourmaline on Magnesite $120
Pomba Pit, Serra das Éguas, Brumado, Bahia, Brazil
7.5 x 7 x 3.1 cm
Striking bi-colored, red and green, crystals of Uvite on a matrix of crystallized Magnesite. I have seen more than my share of Uvite specimens but this is the first bi-colored Uvite that I have encountered. All the crystals are complete with no damage with the largest measuring 1.2 cm. another feature of this specimen is that the dominant color is either red or green, depending on the angle that the Uvite crystals are viewed at.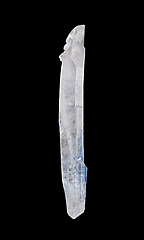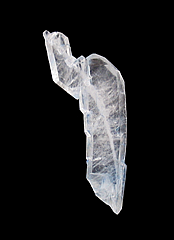 click on image for larger view
Q-472 faden Quartz with Smectite $65
Wana, South Waziristan, Federally Administered Tribal Areas, Pakistan
6.5 x 2.4 x .7 cm
Faden Quartz crystals from Pakistan have been around for a while but are almost never seen associated with other minerals. I acquired a couple dozen of these colorful specimens at the 2008 Springfield Mineral show. I was a little skeptical about the blue mineral present on the specimens, having been told that it was Smectite. A quick visit to Alfredo Petrov's booth resulted in him stating that it could be Smectite, although neither one of us had seen such vividly colored examples of this mineral. After testing the specimen to ensure that the specimen had not been dyed, I then sent a sample to John Attard for XRD analysis. He confirmed that it was indeed Smectite. This specimen represents one of the best Faden Quartz mineral associations from Pakistan. This crystal in addition to exhibiting the "faden" habit, is also a little bit curved in form.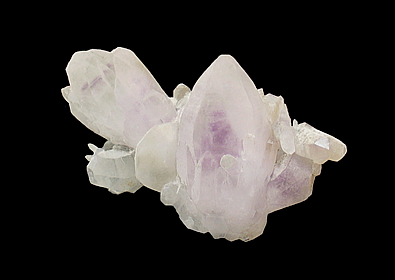 click on image for larger view
Q-464 Amethyst $50
Djurkovo Mine, Djurkovo Complex, Laki, Laki Obshtina, Plovdiv Oblast, Bulgaria
8.9 x 5.6 x 5.6 cm
This specimen features many double-terminated and clear Quartz crystals showing faint Amethyst phantoms. This cluster of Quartz is almost a floater with just a small area of contact on its bottom, just below the fattest crystal.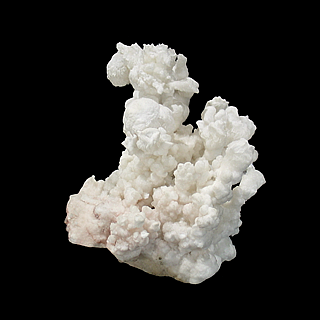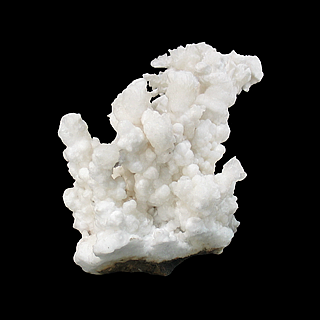 click on image for larger view
A-114 Aragonite $60
Bristol Mine, Bristol and Jackrabbit Districts, Lincoln County, NV
12.3 x 11.9 x 7.9 cm
This very 3 dimensional formation of Aragonite is from a defunct silver mine. It has been formed due to ground water deposition inside the underground mine.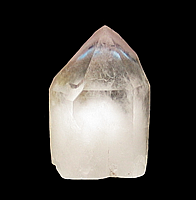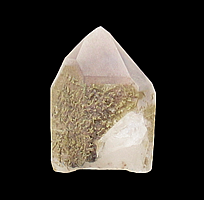 click on image for larger view
Q-466 Quartz with Papagoite inclusions & Epidote $65
Messina Mine, Messina, Vhembe District, Limpopo, South Africa
3.1 x 2.1 x 1.5 cm
The Messina mine is famous for the included Quartz specimens it has produced. The Ajoite or Papagoite included Quartz crystals from this location are often covered with a crust of Epidote, Hematite & other minerals, obscuring the copper mineral(s) included inside. Unpolished examples of included Quartz from Messina, such as this one, are almost unheard of. This crystal is complete with just a small area of contact on its rear.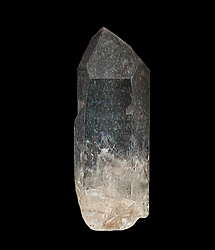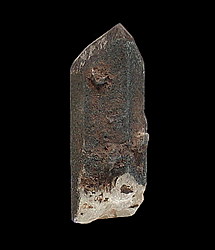 click on image for larger view
Q-465 Quartz with Hematite SOLD
Ivigtut Cryolite Deposit, Ivittuut, Arsuk Fjord, Sermersooq, Greenland, Denmark
5 x 1.9 x 1.3 cm
This transparent Quartz prism has a jacket of Hematite covering three of its faces which viewed through the clear side lends it a steel-blue color. the notches on its side are not damage, but rather modifications of the crystal face. This crystal looks even better in a lighted display cabinet.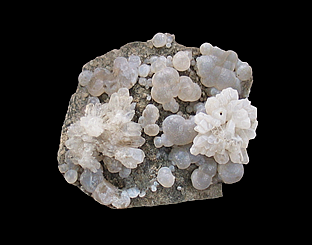 click on image for larger view
Q-463 Chalcedony and Quartz SOLD
France
7.1 x 6.2 x 3.7 cm
This specimen features many botryoids of Chalcedony measuring up to 1.1 cm on a matrix of volcanic rock. accenting these spheres are several star burst-like sprays of Quartz crystals, one milky and one translucent to transparent. some of the Quartz crystals on this specimen are hollow as well.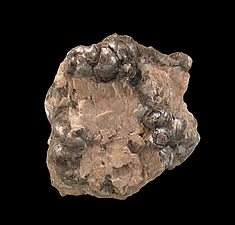 click on image for larger view
M-063 Muscovite & Orthoclase $25
Chabanne Quarry, Saint-Sylvestre, Haute-Vienne, Nouvelle-Aquitaine, France
4.3 x 3.8 x 3.7 cm
This specimen features many spheres of Muscovite measuring up to 7 mm in size, on a matrix of flesh-colored Orthoclase. Examples of botryoidal Muscovite (or any of the Mica minerals) are rare.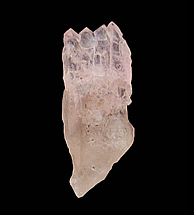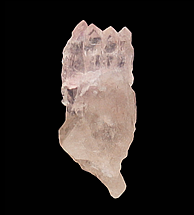 click on image for larger view
Q-467 Rose Quartz SOLD
Mount Mica Quarry, Paris, Oxford County, Maine
3.5 x 1.5 x 1 cm
Here we have an example of Rose Quartz from a locality that long predates Brazil as the historic locale of choice for this species. The first Rose Quartz crystals known in the world were found at Mount Mica Quarry about 1913-1915. Rose Quartz crystals were not known in Brazil until 1958. This specimen features 4 mostly transparent crystals growing side by side on a shard of slightly smoky-hued Quartz. Specimens of this material are few and far between; in fact mindat .org has only 3 photos of Rose Quartz from this location in its database.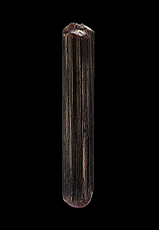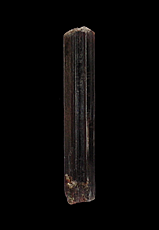 click on image for larger view
R-040 Rutile $45
Tormiq Valley, Haramosh Mountains, Skardu District, Baltistan, Gilgit-Baltistan, Pakistan
4.5 x .8 x .4 cm
This prism of Rutile is a rather large example of this species as far as Pakistan is concerned. Where Rutile is usually only found in crystals 1.5-2 cm in size, This crystal shows some red in good lighting conditions and is undamaged.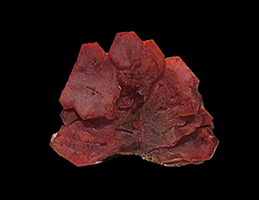 click on image for larger view
V-023 Vanadinite $50
ACF Mine, Mibladen mining District, Midelt Province, Drâa-Tafilalet Region, Morocco
3.3 x 2.6 x 1.4 cm
A rather large and hoppered crystal of Morocco's signature mineral, Vanadinite. This richly-colored specimen is complete all around and makes for an eye-catching display piece.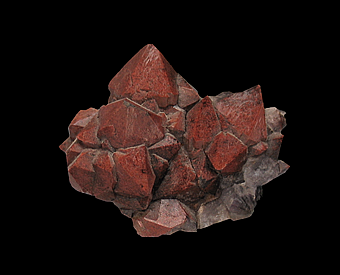 click on image for larger view
Q-468 Quartz variety Eisenkiesel on Fluorite $45
Johannesschacht Mine, Schwarzach bei Nabburg, Wölsendorf East District
Wölsendorf Fluorite Mining District, Upper Palatinate, Bavaria, Germany
6.6 x 5.4 x 6.1 cm
Here we have an example of iron-included Quartz, known in German as "Eisenkiesel". The Quartz crystals sit on a matrix of coarsely-crystalized Fluorite, variety "Stink-Fluss". Stink-Fluss is a variety of Fluorite, especially from Wölsendorf, Germany, that emits an odor and ozone upon grinding due to the internal presence of free fluorine and calcium and the interaction of those components with water upon grinding. Despite its name it won't stink up your mineral cabinet. An unusual pair of mineral oddities. Several of the quartz points show a little wear but does not detract from the specimen's appearance.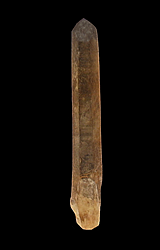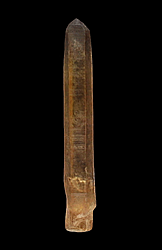 click on image for larger view
Q-469 Citrine $30
Mansa District, Luapula Province, Zambia
7.9 x 1.3 x 1.2 cm
Natural Citrine Quartz crystals are uncommon worldwide. This elongated, tapered, water-clear crystal has a smoky-amber color and lightly frosted faces. There is a little wear on the termination (typical for this location due to poor collecting practices) but does not detract from the overall look of the specimen.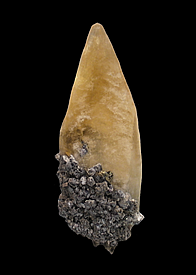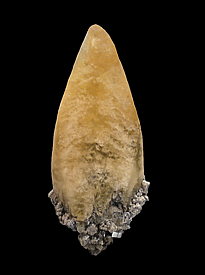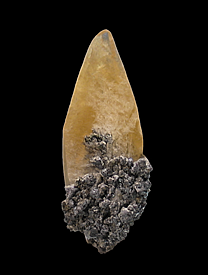 click on image for larger view
C-272 Calcite & Galena $70
Sweetwater Mine, Ellington, Viburnum Trend District, Reynolds County, MO
10 x 4.4 x 3.4 cm
This Calcite crystal is much clearer than the photos lead you to believe. This golden-yellow Calcite sits proudly in a nest of Galena crystals with the odd millimeter or so-sized Chalcopyrite thrown in for good measure. This specimen's termination is intact. A excellent example of Viburnum Trend Calcite.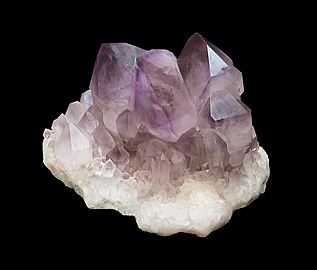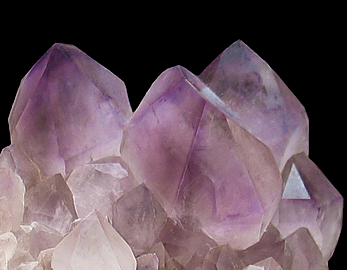 click on image for larger view
Q-470 Amethyst SOLD
Diamond Hill Quartz Mine, Antreville, Abbeville County, SC
9.4 x 6.7 x 8.6 cm
A very lustrous cluster of Amethyst crystals from the eastern United States. While not as famous as some of the other localities located in Maine, Georgia, Rhode Island, et al, this location has over the years produced some fine specimens of Quartz. This specimen is a testament to that fact. This cluster features Amethyst crystals up to 4.2 centimeters making for a well-balanced and aesthetic piece. Several of the crystals have small areas of contact on their rear and the terminations are pristine.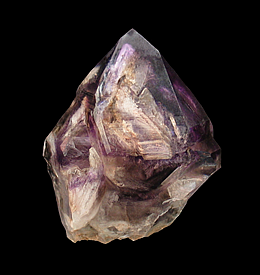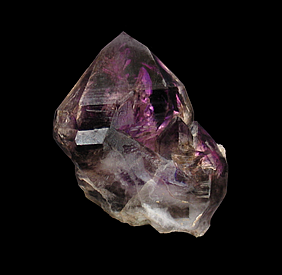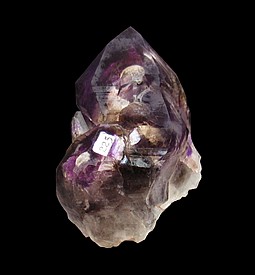 click on image for larger view
Q-471 Amethyst $125
Entia Valley, Ambalindum Station, Harts Range, Central Desert Region, Northern Territory, Australia
7.8 x 7 x 4.6 cm
This specimen is a great example of Amethyst from what many consider to be Australia's premier Quartz locality. This crystal has a rich, deep-purple hue with broad flashes of red. There are also areas of smoky color and there are some inclusions of clay (as shown in the far-left photo) as well, making for a pleasing contrast of colors. The lustre of this Amethyst is very glassy, almost mirror-like. The crystal is doubly terminated with no damage save for a sub-millimeter-sized area of wear on its termination.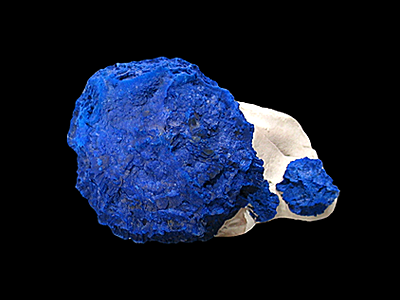 click on image for larger view
A-113 Azurite $500
Malbunka Copper Mine, Areyonga, Gardiner Range, MacDonnell Region, Northern Territory, Australia
9.4 x 6.3 x 4.4 cm
An outstanding example of an Azurite "sun" from the Malbunka Copper Mine. The Azurite on this specimen has a beautiful and rich blue color as well as an interesting texture with good (as far as Azurite from this location is concerned) crystallization. The largest Azurite on this specimen measures 7 x 7 cm and is unusually thick; at 2.1 cm it is one of the thickest Azurite nodules that I have seen from this location. 4 or 5 mm in thickness is what you usually get. These Azurite "suns" form in a fashion that is unlike any other Azurite that I've seen. These flattened discs of Azurite are formed between layers of Kaolinite which forces them to grow in a laterally compressed, radiating manner. A top quality example of this material.